Oct. 07, 2019
Sumitomo Corporation
Establishment of Joint Venture for Smart City Development in Northern Hanoi
Sumitomo Corporation (Head Office: Chiyoda-ku, Tokyo; Representative Director, President and Chief Executive Officer: Masayuki Hyodo) and BRG Group Joint Stock Company (hereafter, "BRG")*1, a large corporate group in Vietnam, have established a joint venture, a real estate development company, for the purpose of building a smart city spanning 272 hectares in the Dong Anh district in northern Hanoi, Vietnam (hereafter, "the Project").
The Project site lies to the north of Nhat Tan Bridge located halfway between Noi Bai International Airport and the center of Hanoi City. The project is divided into five phases and Sumitomo Corporation will develop the residential area with BRG in the first phase. The Project will commence after obtaining approval from Hanoi City for a partial revision to their master plan.
There is a Hanoi Metro Line 2 extending plan from downtown Hanoi, through the Project area, to Noi Bai International Airport and a new station is planned to build within the Project area. Sumitomo Corporation will implement the Project considering a transit-oriented development (TOD)*2 centered on the new station.
The Project area will be composed of hospitals, schools, disaster prevention facilities, security systems and commercial facilities, as well as lush greenery, water passage, and a Main Street lined with cherry blossom trees, and realize comfortable residential environment and community. In addition, by introducing 5G, face recognition system and blockchain technologies, the area will feature sophisticated smart city services, contributing to the sustainable development of Hanoi City.
Under its Medium-Term Management Plan 2020 initiated in April 2018, Sumitomo Corporation regards social infrastructure as one of its growth areas, and intends to place increased focus on urban development, smart city projects, and various infrastructure projects. Through this project, by responding to the urbanization demand driven by its economic and population growth, we hope to contribute to the development of Vietnamese economy and industry while building a city where everyone can enjoy a comfortable and exhilarating everyday life.
*1. A conglomerate engaged in real estate, finance, golf resort, retail, and automobile businesses, etc.
*2. Development of cities centered around public transportation, where people can move around without depending on automobiles
<Reference>
■Location of the Development site
■Illustrative image of Phase 1 (surrounded by red dotted line)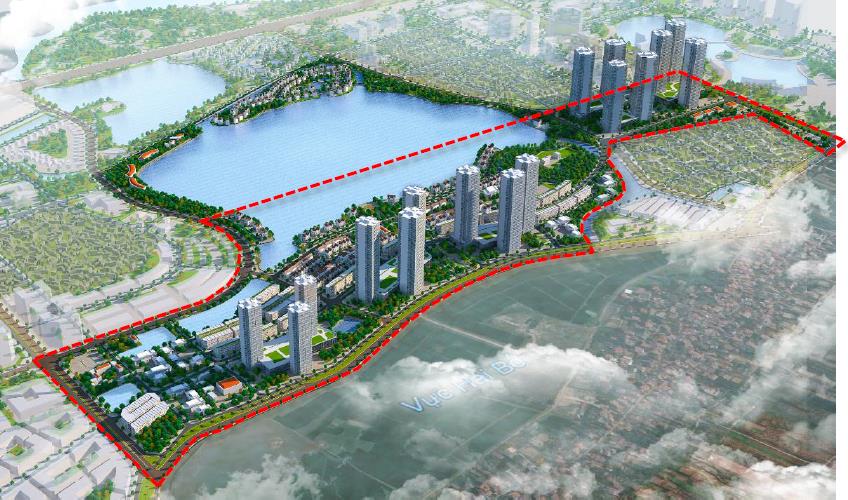 ■Sumitomo Corporation's Material Issues
Sumitomo Corporation Group positions "Six Material Issues to Achieve Sustainable Growth with Society" as an important factor in developing business strategies and in the decision-making process for individual businesses. Going forward, we will pursue sustainable growth by resolving these issues through our business activities. This project especially contributes to "the Development of Local Communities and Industries", "Establishing a Foundation for Comfortable and Enriching Lifestyles" and "Providing Diverse Accessibility".