Sep. 29, 2020
Sumitomo Corporation
Sumitomo Corporation participates in development of Five Estuaries Offshore Wind Farm in the UK
Sumitomo Corporation (Head Office: Chiyoda-ku, Tokyo; Representative Director, President and Chief Executive Officer: Masayuki Hyodo) is joining a cooperative effort to develop the Five Estuaries offshore wind farm (hereinafter, "the Project") in the UK.
The project site is about 30km off of the UK coast (Note 1) and will be developed through a business company comprised of RWE Renewables UK Limited, Siemens Financial Services GmbH, ESB II UK Limited and a consortium managed by Green Investment Group and Macquarie Infrastructure and Real Assets. The project has already acquired lease rights to 149km2 (hereinafter, "the sea area") of the North Sea sea bed. The project area is adjacent to the Galloper wind farm (Note 2) funded by Sumitomo Corporation and the above-mentioned partners. Sumitomo Corporation will work together with business partners from the initial development, including on the acquisition of licenses, with the aim of realizing an offshore wind power generation business in this new project area.
Sumitomo Corporation is involved in wind power projects in Japan, Europe, US, South Africa and China, and has developed/operated offshore wind power facilities in Belgium, UK and France. The Company's track record in the UK includes the joint management of the construction and operation of the Race Bank wind farm (total generation capacity: 573MW, completed in March 2018) and the Galloper wind farm (Note 3).
Sumitomo Corporation aims to increase the share of renewable energy in its power generation asset portfolio in order to fulfil one of its key goals – that of realizing a sustainable society. It will leverage the knowledge, know-how and partnerships it has cultivated in previous wind power projects to actively take on offshore wind power and other renewable energy projects in Europe. It will also continue helping to conserve the global environment through its renewable energy businesses.
(Note 1) The sea is 27m-36m deep.
(Note 2) The sea area: 114 km2, total generation capacity: 353MW, completed in September 2018.
(Note 3) Both projects have already been incorporated as seed assets in the first renewable energy fund formed by Spring Infrastructure Capital, in which Sumitomo Corporation jointly invested with Sumitomo Mitsui Banking Corporation and Development Bank of Japan.
<Reference>
■Map of wind farm

(Reference: 4C Offshore 2019)
■ Photos
<Galloper wind farm>
<Race Bank wind farm>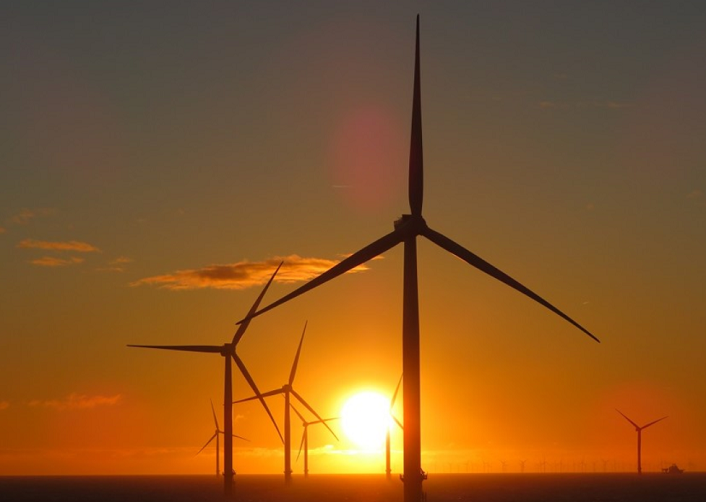 ■Sumitomo Corporation's Material Issues
Sumitomo Corporation Group positions "Six Material Issues to Achieve Sustainable Growth with Society" as an important factor in developing business strategies and in the decision-making process for individual businesses. Going forward, we will pursue sustainable growth by resolving these issues through our business activities. This Project especially contributes to "Achieving Harmony with the Global Environment","Contributing to the Development of Local Communities and Industries" and "Establishing a Foundation for Comfortable and Enriching Lifestyles".