May 07, 2021
Sumitomo Corporation
Setting Medium-term Goals for Key Social Issues Toward the Sophistication of Sustainability Management
Sumitomo Corporation (Head Office: Chiyoda-ku, Tokyo; Representative Director, President and Chief Executive Officer: Masayuki Hyodo; hereinafter, "the Company") hereby announces that it has established its medium-term goals by indicating specific action plans for the six key social issues and the long-term goals which were set in June 2020 as part of its efforts to sophisticate its sustainability management.
Going forward, the Company will disclose the initiatives and progress with achieving each goal in its communication materials, including the ESG Communication Book(*1)and the Integrated Report(*2) which are published annually.
The Company will take a step forward in its sustainability management to sustainably grow together with society by strategically allocating management resources that capture trends in long-term social issues, and by providing value that is always required in a sustainable society.
In addition, the Company revised its policy on climate change mitigation ("Policies on Climate Change Issues"), which is one of the key social issues. Please refer to the following URL for the revised policies.
https://www.sumitomocorp.com/en/jp/news/release/2021/group/14700
<Sumitomo Corporation Group's Key Social Issues and Medium/Long-term Goals>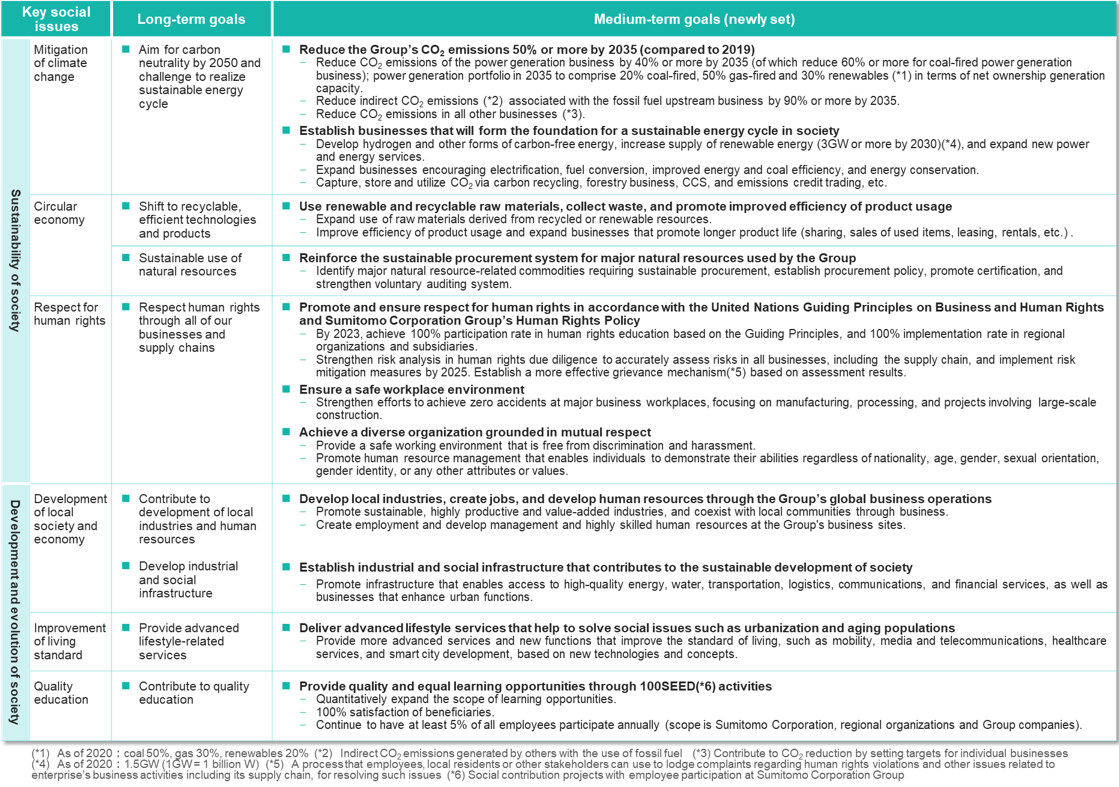 (*1) ESG Communication Book
(*2) Integrated Report