May 31, 2021
Sumitomo Corporation
Start of operations of "SOSiLA Osaka" and "SOSiLA Amagasaki", logistics facilities located close to points of consumption
The construction of "SOSiLA Osaka" (Fukushima-ku, Osaka)—a facility in the SOSiLA series of logistics facilities close to points of consumption which Sumitomo Corporation (Headquarters: Chiyoda-ku, Tokyo; Representative Director, President and Chief Executive Officer: Masayuki Hyodo) is currently developing—was completed today. Additionally, "SOSiLA Amagasaki" (Amagasaki City, Hyogo Prefecture) is scheduled for completion on July 15. Both SOSiLA Osaka and SOSiLA Amagasaki are expected to operate at full occupancy.
In recent years, the expansion of the e-commerce market has spurred growing demand for logistics facilities, while a shortage of delivery truck drivers and warehouse workers has become a major social issue. In order to provide a solution to this problem in the supply chain, under the theme of "logistics facilities connecting people and society," Sumitomo Corporation has developed the SOSiLA series, logistics facilities for the last mile (Note 1) close to points of consumption.
SOSiLA Osaka is located within 3.5 kilometers of JR Osaka Station and is suited for making last-mile deliveries to urban areas. In addition, the facility is easy to access from Hanshin Expressway No. 2 Yodogawa Sagan Route, and No. 3 Kobe Route, making wide area deliveries possible as well. Furthermore, SOSiLA Osaka was constructed where general packaging manufacturer Rengo Co., Ltd.'s (hereinafter referred to as "Rengo") Yodogawa Mill was formerly located, and its development was based on a land-space exchange system (Note 2) which is a unique method in the logistics real estate industry. Rengo, the landowner, has ownership of the first and second floor of the building, and will use these areas as their logistics center and laboratory. Sumitomo Corporation has ownership of a part of the second, entire third and fourth floor which is approximately 52,000 square meters in total , for the use of SOSiLA Osaka. Through this land-space exchange method, Rengo was able to speed up the reorganization of its bases, while Sumitomo Corporation was able to develop a logistics facility close to points of consumption, which are few and far between. Sumitomo Corporation will continue to examine further collaboration possibilities with Rengo with a view to improving logistics efficiency and creating business synergies between the two companies.
With a total floor area of approximately 44,500 square meters, SOSiLA Amagasaki is close to the Meishin Expressway and the Hanshin Expressway No. 11 Ikeda Route, making it an optimal base for last-mile deliveries to urban centers, as well as wide area deliveries. Its convenient location—only about an 11-minute walk from JR Amagasaki Station—is also attractive for people working at the facility. A decision has been finalized for Nippon Express Co., Ltd. (hereinafter referred to as "Nippon Express") to take tenancy of the whole building, and Nippon Express aims to operate SOSiLA Amagasaki to expand its business in the Kansai area.
A total of 13 SOSiLA logistics facilities have been completed so far, including SOSiLA Amagasaki (completion scheduled for July). In the Tokyo Metropolitan Area, we plan to complete "SOSiLA Yashio " (Yashio City, Saitama Prefecture), "SOSiLA Chuo Rinkan " (Yamato City, Kanagawa Prefecture), and "SOSiLA Kashiwa" (Kashiwa City, Chiba Prefecture). In the Kansai area, in addition to SOSiLA Osaka and SOSiLA Amagasaki, we plan to develop other logistics facilities close to points of consumption. We aim to promote developments of logistics facilities not only in the Tokyo Metropolitan Area and Kansai areas, but nationwide.
At Sumitomo Corporation, we position logistics real estate as the "fourth pillar" in our real estate business, along with office buildings, commercial facilities, and condominiums. The total floor area of logistics facilities developed by Sumitomo Corporation exceeds 1 million square meters (about 310,000 tsubo) (Note 3), with an asset value of over 260 billion yen (Note 4). Due to the impactof the COVID-19 outbreak over the past year, the need for logistics facilities located close to points of consumption has been increasing more than ever., We will continue to promote the development of logistics facilities for the last mile, mainly in urban areas and densely populated areas, and work to improve delivery efficiencies and working environments.
(Note 1) Last mile
The final section in the delivery of goods from a logistics hub to the end user.
(Note 2) Land-space exchange
A development method in which a land owner invests their "land," and a developer invests "building costs" for a building, with ownership allocated proportionately according to their investments.
(Note 3) The total floor area of logistics facilities developed exceeds approximately 1 million square meters (approximately 310,000 tsubo).
This is the total floor area of logistics facilities developed in which Sumitomo Corporation has participated, including consortiums.
(Note 4) Asset value exceeds 260 billion yen.
This includes not only owned assets but assets owned by funds that Sumitomo Corporation invested in. Asset value of developed properties refers to their value at the time of completion.
(Reference material)
-SOSiLA web site:
http://sosila.com/
SOSiLA Osaka, exterior photo
SOSiLA Amagasaki, exterior photo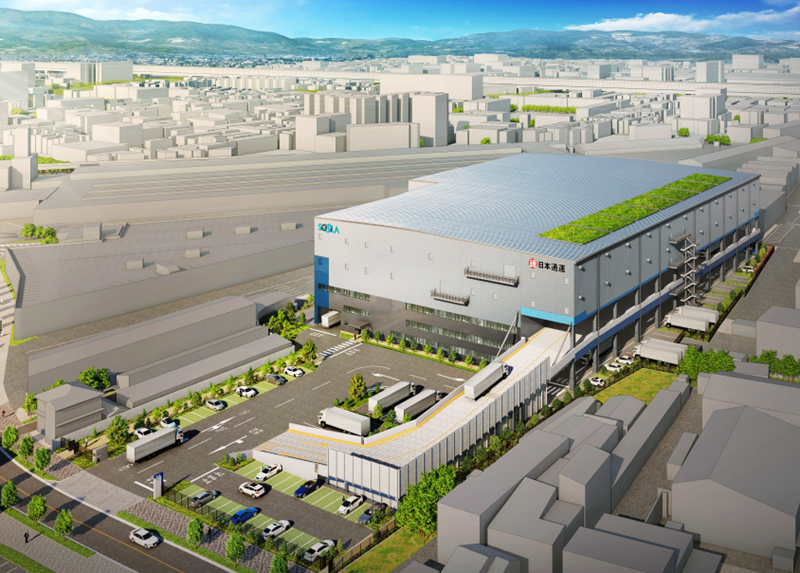 Sumitomo Corporation's Material Issues
Sumitomo Corporation Group positions "Six Material Issues to Achieve Sustainable Growth with Society" as an important factor in developing business strategies and in the decision-making process for individual businesses. Going forward, we will pursue sustainable growth by resolving these issues through our business activities. This project especially contributes to the following material Issues.
Achieving Harmony with the Global Environment
Contributing to the Development of Local Communities and Industries

Establishing a Foundation for Comfortable and Enriching Lifestyles

Providing Diverse "Accessibility"
---

Developing Human Resources and Promoting Diversity

Enhancing Governance