Feb. 19, 2018
Sumitomo Corporation
Cooperative Relationship with Hankyu Realty on Condominium Project Pursued Together with Sentul City in Indonesia
Sumitomo Corporation (head office: Chuo-ku, Tokyo; Representative Director, President and Chief Executive Officer: Kuniharu Nakamura) has recently built coopeartive relationship with Hankyu Realty Co., Ltd. (head office: Kita-ku, Osaka-shi; President and CEO: Ryuichi Morotomi; hereinafter, "Hankyu Realty") to promote the sales and marketing of three condominium towers in Sentul City, Bogor Regency, West Java, Indonesia (hereinafter, the "Project"), on which Sumitomo Coporation has been working together with a local developer, PT Sentul City Tbk (operations office: Sentul City, Bogor Regency, West Java; President Director: Keith Steven Muljadi; hereinafter, "SC")
Sumitomo Corporation has been pursuing the Project together with SC, a local developer involved in joint development in Sentul City, and in December 2017 Sumitomo Corporation jointly established a business company with SC. Recently, Sumitomo Corporation transferred 25 percentage points of its 70 percent share in this business company to Hankyu Realty and named the company PT Izumi Sentul Realty.
Sumitomo Corporation has been engaged in real estate business in Indonesia since the 1980s, and it is now actively involved in developing housing in China, India and other parts of Asia in addition to Indonesia.
Sumitomo Corporation and Hankyu Realty enjoy a solid partnership, having previously been involved in numerous joint projects in Japan, including "The Senri Residence" (completed in 2011), winner of the 2011 Good Design Award, "CLASSY SUITE GEO Higashi Azabu" (completed in 2013), a downtown compact apartment building, and "Geo Fukushima Noda The Marks" (to be completed in 2019), a large-scale condominium building with units currently being sold. The Project is the first overseas project to be jointly undertaken by Sumitomo Corporation and Hankyu Realty, and it is aimed at providing high-quality housing by fusing the two companies' know-how cultivated inside and outside Japan with SC's housing/condominium business experience in Indonesia.
Sumitomo Corporation hopes through the Project to help meet the rising need for housing in Indonesia as the economy grows and provide the infrastructure needed for people to live comfortable lives, as well as to contribute to the development of local communities.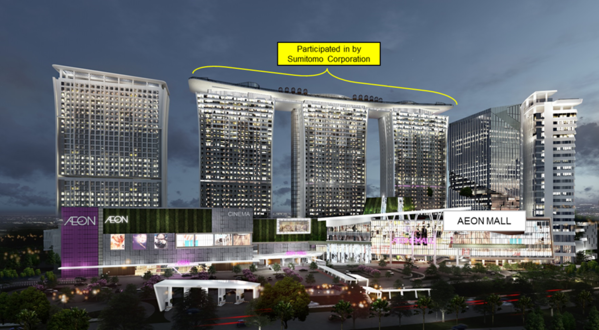 ■Sentul City

■Outline of Project
Type
:
Condominium (three-tower configuration)
Construction site
:
Bogor Regency, West Java, Indonesia
Expected completion date
:
May 2019
Development area
:
Approximately 25,086m2
Total number of units
:
1,095 units (total for three towers)
Total project cost
:
Approximately 12 billion yen
Planned location
:
Sentul City, Bogor Regency, West Java
Ownership
:
Sumitomo Corporation: 45%, Hankyu Realty: 25%, PT Sentul City Tbk: 30%
■Profile of Hankyu Realty (as of March 31, 2017)
Company name
:
Hankyu Realty Co., Ltd.
Head office
:
Higashi Hankyu Building, 1-1 Kakuda-cho, Kita-ku, Osaka-shi
Representative
:
Ryuichi Morotomi
Business
:
Land, house, and condominium sales, brokerage, rental management, renovation/remodeling, land use, office/commercial facility leasing, etc.
Capital
:
Approximately 12.4 billion yen
Sales
:
88,547,000,000 yen (term ended March 2017)
Employees
:
526
■Profile of PT Sentul City Tbk (as of December 31, 2016)
Company name
:
PT Sentul City Tbk
Operaions office
:
Bogor Regency, West Java, Indonesia
Established
:
1993 (Listed on Jakarta Stock Exchange in 1997)
Representative
:
Keith Steven Muljadi (President Director)
Business
:
Real estate development
Total assets
:
IDR11,360 billion (Approximately 94.3 billion yen)
Net sales
:
IDR1,207 billion (Approximately 10 billion yen)
Net income
:
IDR562 billion (Approximately 4.7 billion yen)
Employees
:
645
■Sumitomo Corporation's Material Issues
Sumitomo Corporation Group positions "Six Material Issues to Achieve Sustainable Growth with Society" as an important factor in developing business strategies and in the decision-making process for individual businesses. Going forward, we will pursue sustainable growth by resolving these issues through our business activities. This project especially contributes to "Contributing to the Development of Local Communities and Industries" and "Establishing a Foundation for Comfortable and Enriching Lifestyles".