Aug. 29, 2019
Tokyu Corporation
Sumitomo Corporation
Launch of Pilot Experiment on 5G Base-Station-Sharing Business in Shibuya
Tokyu Corporation and Sumitomo Corporation
Tokyu Corporation (Head Office: Shibuya-ku, Tokyo; President and Representative Director: Kazuo Takahashi) and Sumitomo Corporation (Head Office: Chiyoda-ku, Tokyo; Representative Director, President and Chief Executive Officer: Masayuki Hyodo) will launch a pilot experiment in January 2020 with the aim of commercializing during FY 2020, the fifth-generation mobile communication system (5G) antenna systems shared by multiple telecommunications companies (hereafter, the "Pilot Experiment").
As the next-generation communication technology achieving high-speed, high-capacity and low-latency communications, 5G is anticipated to be essential, for example, for disseminating the Internet of Things (IoT) and for building smart cities equipped with self-driving and remote medical care services. At the same time, due to the frequency characteristics of 5G, areas covered by a single base station are smaller in comparison to 4G, which means installation of more base stations will be required. However, building base stations in the Tokyo metropolitan area is difficult due to the limited space available and the issue of base stations detracting from the city's appearance. It is therefore assumed that telecommunications companies will need to share base stations instead of possessing their own.
Against this backdrop, Tokyu Corporation and Sumitomo Corporation will implement the Pilot Experiment in order to promote the efficient and effective installation of 5G base station networks and contribute to their accelerated proliferation. Tokyu Corporation, which owns train stations as public places and provides life services in residences along Tokyu railway areas, and Sumitomo Corporation, which has a track record in mobile communications and sharing businesses overseas, will collaborate to achieve early commercialization of the 5G base-station-sharing business in Japan. Under the Pilot Experiment, 5G wireless base stations will be installed in the Hachiko square adjacent to Shibuya Station for multiple telecommunications companies to share. By creating an environment where areas covered by telecommunications companies' individual base stations and areas covered by shared base stations overlap, mutual interference between base stations and the switching of connections to other base stations will be technologically verified. Tokyu Corporation will provide installation sites for base stations as well as racks, an electrical power source, optical fiber and other components to support the base station networks behind the scenes, while Sumitomo Corporation will be responsible for joint development and procurement primarily of the 5G shared-antenna systems.
With the Pilot Experiment as a start, Tokyu Corporation will establish a state-of-the-art communications infrastructure environment adapted to 5G in areas around Shibuya Station as part of its efforts to realize "Entertainment City SHIBUYA" where novel ideas are embodied. In addition, the outcome of the Pilot Experiment will be applied to other Tokyu railway areas to explore new services that can be offered through 5G, thereby making its area the best place to live in Japan.
Through the Pilot Experiment, Sumitomo Corporation will accumulate expertise and know-how on 5G and advance digital transformation (DX) within its Group. Moreover, by leveraging 5G, the Company will endeavor to generate next-generation businesses where the Group's signature integrated corporate strength can be fully maximized, and verify the potential of using the 5G foundation to invigorate regional communities and contribute to Society 5.0.
Based on the results of the Pilot Experiment, Tokyu Corporation and Sumitomo Corporation will look into expanding the project to cover a larger area.
Please see attachment for the outline of the Pilot Experiment.
<Attachment>
■ Outline of Pilot Experiment
(1) Period: From January 2020
(2) Service area: Around Shibuya Station
(3) Experiment description: Technological verification of 5G shared-antenna systems
■ Areas covered by 4G and 5G
■Shared antenna system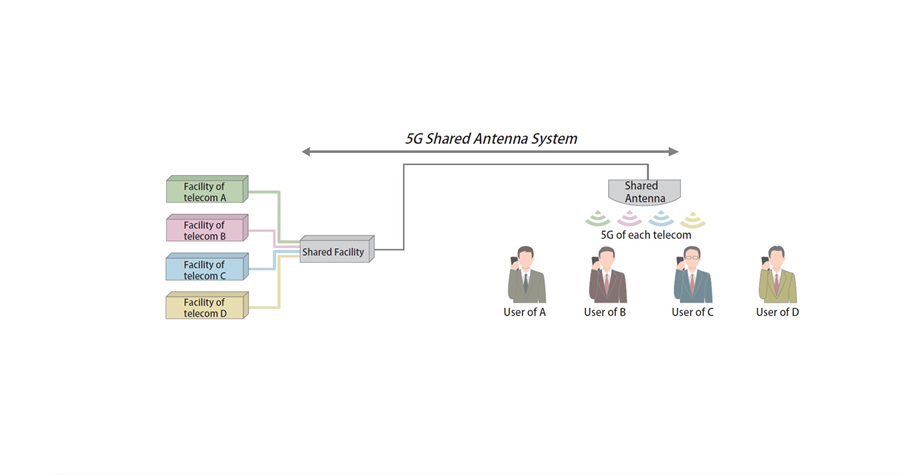 ■Antenna systems installed by individual carriers