Mar. 02, 2020
Osaka Metro Co. Ltd.
Sumitomo Corporation
Japan's first proof of concept of 5G base station sharing in a railway tunnel to begin
Experiment to be conducted between Namba Station and Shinsaibashi Station
With the aim of commercializing 5G base stations for multiple cell phone carriers in underground space in 2021, Osaka Metro Co., Ltd. (Headquarters: Osaka, Osaka; President and CEO: Hideaki Kawai; hereinafter "Osaka Metro") and Sumitomo Corporation (Headquarters: Chiyoda-ku, Tokyo; Representative Director, President and Chief Executive Officer: Masayuki Hyodo; hereinafter "Sumitomo Corporation"), will be conducting a proof of concept (hereinafter "PoC") between Namba Station and Shinsaibashi Station on the Osaka Metro Midosuji Line starting in October 2020 (planned). This will be the first PoC in Japan on 5G base station sharing in a railway tunnel.
5G is a next-generation communication technology that offers ultra-high-speed, large-capacity, low-latency communication, and is expected to be used in a variety of industries such as mobility and medicine. Meanwhile, due to the technology's frequency characteristics, more base stations will need to be installed compared to 4G, but even in the Kanto area the development of above-ground base stations has been taking the lead. In order for 5G services to be rolled out nationwide going forward, base stations will need to be established in other regions such as the Kansai area and underground.
In this PoC, Osaka Metro and Sumitomo Corporation will be installing 5G base stations in the railway tunnel between Namba Station and Shinsaibashi Station on the Midosuji Line, and inside the station premises to enable base station sharing by multiple cell phone carriers. In railway tunnels where radio waves can be easily blocked due to height differences and other conditions, the companies will be verifying connectivity between base stations, as well as how the technology can be used for crime prevention and monitoring passenger crowding conditions by transmitting 5G video from inside train cars and station premises in real-time.
In this PoC, Osaka Metro will be responsible for providing base station installation locations and building the foundational network for base stations such as racks, power supplies, and optical fiber lines. And Sumitomo Corporation will be responsible for developing and procuring shared 5G antenna systems.
Osaka Metro will be deploying the results obtained in this PoC in Osaka Metro Group's other underground spaces (subways and underground shopping malls) to provide a state-of-the-art communication infrastructure environment that is adapted to early 5G implementation with a view to the Osaka and Kansai Expo.
Sumitomo Corporation has also been working with Tokyu Corporation and Minato-ku of Tokyo to advance proofs of concept on 5G base station sharing. Going forward, the company will continue to work with other companies and local governments to contribute to the early implementation of 5G networks.
■Overview of proof of concept
(1) Experiment period
:
October 2020 (planned) onward
(2) Experiment locations
:
Specified locations between Namba Station and Shinsaibashi Station on the Osaka Metro Midosuji Line
(3) Experiment details
:
Technological verification of shared 5G antenna systems, etc.
■Artist's rendition of shared 5G antenna installed in railway tunnel
■Artist's rendition off linkage between on-train security cameras and 5G antenna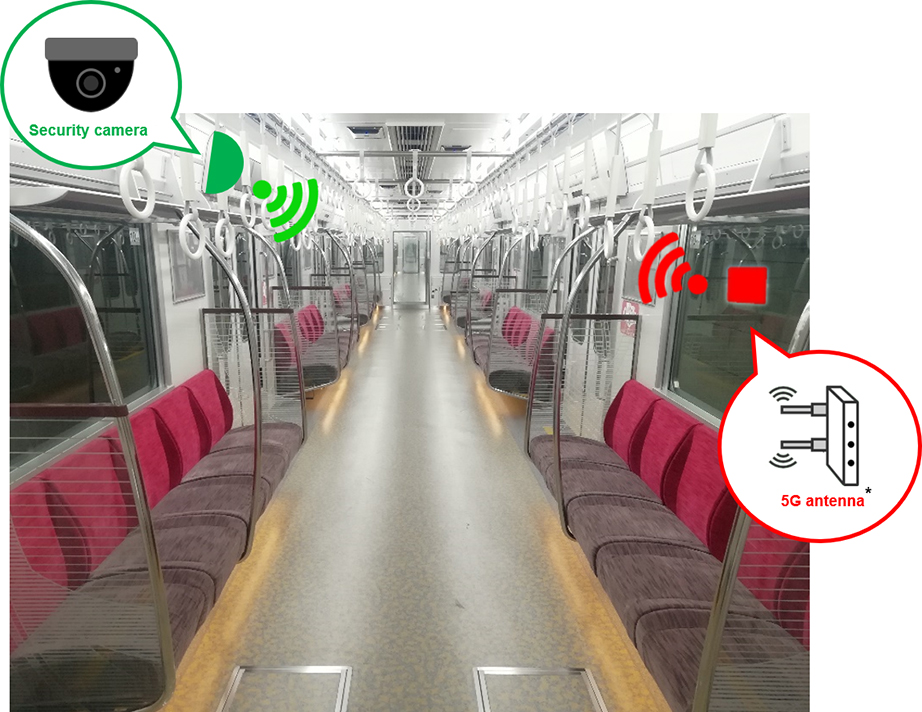 * Installed on railway tunnel walls
■Sumitomo Corporation's Material Issues
Sumitomo Corporation Group positions "Six Material Issues to Achieve Sustainable Growth with Society" as an important factor in developing business strategies and in the decision-making process for individual businesses. Going forward, we will pursue sustainable growth by resolving these issues through our business activities. This project especially contributes to "the Development of Local Communities and Industries", "Establishing a Foundation for Comfortable and Enriching Lifestyles" and "Providing Diverse Accessibility".