Nov. 19, 2021
Sumitomo Corporation
Additional Acquisition of Forest Assets in New Zealand
Sumitomo Corporation (Head Office: Chiyoda-ku, Tokyo; Representative Director, President and Chief Executive Officer: Masayuki Hyodo) has additionally acquired a total of approximately 15,000 hectares of forest assets situated in the Coromandel and Gisborne districts of New Zealand through Summit Forests New Zealand Limited (hereinafter, "SFN"), its wholly owned subsidiary engaging in forestry business. Consequently, SFN now owns and manages a total of approximately 52,000 hectares of forest assets in the country.
Forests not only contribute to achieving carbon neutrality by capturing and storing CO2, but also play a pivotal role in helping the Earth's sustainability through their functions including water storage and biodiversity conservation. In New Zealand, trees are systematically planted, grown and harvested in a cycle of approximately 30 years by taking advantage of the mild climate. With its advanced forestry, the country makes effective use of its forest assets in harmony with the global environment.
Sumitomo Corporation established SFN in 2013 to advance into the forest business in New Zealand. The newly acquired forest assets are expected to bring about strong synergistic effects with existing assets in the areas of tree logging, constructing forest roads, and log sales. SFN will promote digital transformation (DX) by mechanizing logging, afforestation, and pruning(*1) to reduce costs and enhance safety as well as by introducing drones and automated measuring techniques in processing. In addition, the subsidiary will supply FSC-certified
®
(FSC
®
-
C002097)
(*2) wood of fine quality primarily in Asia where demand is expected to grow.
Sumitomo Corporation has long worked on securing and utilizing forest assets on a sustainable basis. Currently, under the Energy Innovation Initiative (EII) established in April 2021, the Company owns a total of approximately 2.7 million hectares of forest assets in Russia and New Zealand, and its forest management track record is second to none among Japanese companies.
Upholding a long-term goal of achieving carbon neutrality in business activities by 2050 in an effort to mitigate climate change, Sumitomo Corporation engages not only in forest management, but also in businesses pertaining to emissions trading and CCUS(*3) in Japan and the rest of the world. The Company will continue to help achieve a sustainable society by securing excellent forest assets and conducting environmentally friendly forest management.
*1 Pruning
To remove underdeveloped branches in the growth process of trees to produce wood of fine quality, or to improve the growing environment of plantation forests by cutting off crowded branches and allowing more sunlight into the forest.
*2 Forest Stewardship Council (FSC)
®
certification
An international certification that certifies properly managed forests and responsibly procured forestry products.
*3 CCUS
Abbreviation for carbon dioxide capture, utilization and storage. To capture, store and utilize highly concentrated CO2 emitted from industrial activities.
(Reference material)
■Profile of Summit Forests New Zealand Limited
| | | |
| --- | --- | --- |
| Head Office Location | : | Auckland, New Zealand |
| Established | : | 2013   |
| Representative | : | Takashi Sasaoka |
| Line of business | : | Holding forest assets, forests management, log harvesting and sales, planting, silviculture |
■Overview of acquired assets
・Coromandel forest district
| | | |
| --- | --- | --- |
| Asset type | : | Forestry Right(A form of contract where only standing trees are acquired without possessing ownership of the land) |
| Land area | : | 10,581hectares |
| Forest area | : | 7,334hectares |
・Gisborne forest district
| | | |
| --- | --- | --- |
| Asset type | : | Forestry Right(A form of contract where only standing trees are acquired without possessing ownership of the land) |
| Land area | : | 11,547hectares |
| Forest area | : | 7,568hectares |
■Location of the acquired assets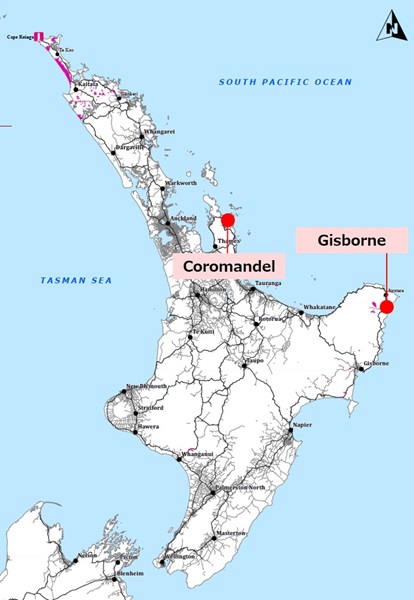 Located at North Island, New Zealand
Sumitomo Corporation's Material Issues
Sumitomo Corporation Group positions "Six Material Issues to Achieve Sustainable Growth with Society" as an important factor in developing business strategies and in the decision-making process for individual businesses. Going forward, we will pursue sustainable growth by resolving these issues through our business activities. This project especially contributes to the following material Issues.

Achieving Harmony with the Global Environment
Contributing to the Development of Local Communities and Industries

Establishing a Foundation for Comfortable and Enriching Lifestyles

Providing Diverse "Accessibility"
---

Developing Human Resources and Promoting Diversity

Enhancing Governance