Mobile Library Vehicles Donated to Myanmar's Daw Khin Kyi Foundation (DKKF)
In June 2016, Sumitomo Corporation donated three mobile library vehicles to support the efforts of the Daw Khin Kyi Foundation (DKKF) in Myanmar. The DKKF was established in 2012 by Daw Aung San Suu Kyi (*), currently the DKKF chairperson, for the purpose of improving the health, education and living standards of the people in Myanmar.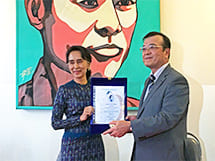 A ceremony held at Daw Aung San Suu Kyi's residence on July 18, 2016 to mark this donation was attended by Masao Sekiuchi, President & CEO of Sumitomo Corporation Asia & Oceania, and Katsuji Nakagawa, General Manager of the Yangon Office, from Sumitomo Corporation; Daw Aung San Suu Kyi and members of the DKKF Executive Committee from Myanmar; and Ambassador Tateshi Higuchi, other embassy officials, and a delegation from Summit SPA Motors (SSM) led by Managing Director Takahiko Taniyama from Japan. At the conclusion of the ceremony, Daw Aung San Suu Kyi offered some words of thanks: "I discovered the value of books during my many years of house arrest. Unlike the Internet and such tools, books are not simply a means of obtaining information but are foundations on which to build your imagination. I hope to get books into the hands of as many Burmese as possible. With that in mind, this idea came to me a few years ago. Just as I was thinking that mobile libraries would attract users and arise the interest in reading, this donation came along, for which I am very grateful."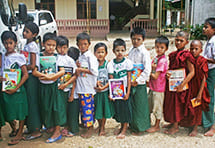 Prompted by Sumitomo Corporation's assistance in importing two mobile library vehicles donated by Hino Motors to the DKKF in 2013, this donation comprised three trucks remodeled as mobile libraries and purchased with the assistance of SSM. The donated mobile libraries are scheduled to make regular rounds, primarily in rural village areas.
The donation ceremony was widely publicized in Myanmar through local television programs and newspapers. Going forward, Sumitomo Corporation remains committed to helping build friendly relations between Myanmar and Japan and to aiding business and economic development in both countries.
* Daw Aung San Suu Kyi is now acting as State Counsellor and Minister of Foreign Affairs of Myanmar.