Investment in DocDoc, a next generation health insurance technology company developing a model for optimizing healthcare costs in Southeast Asia
Sumitomo Corporation has invested in DocDoc Pte Ltd. (head office: Singapore; hereinafter "DocDoc"), which operates a service that introduces patients to the most suitable doctors and medical providers by utilizing the largest databases of doctors in Southeast Asia (hereinafter "this investment"). Through this investment, Sumitomo Corporation will be working to establish a model for optimizing medical costs in Southeast Asia and expand its healthcare business.
The global rise in medical care demand, fueled by an aging population and a surge in lifestyle-related diseases, is magnified by recent advancements in pharmaceuticals and medical technology. This has elevated medical care costs, making it a prevalent social issue in many countries. In Southeast Asia, unlike Japan with its Universal Health Insurance system, doctors and medical providers set their own fees for services and pharmaceuticals within a certain range. This necessitates patients to choose providers who offer both high-quality care and reasonable pricing.
DocDoc has a database of more than 6,000 doctors in Singapore, Indonesia, Malaysia, and Hong Kong listing their specialties, quality of medical care, treatment costs and other relevant data, and it uses a proprietary algorithm to provide a referral service that matches the needs of patients to the appropriate doctors and medical providers. A dedicated application allows patients to check on specialists, prices, and quality of medical care for their specific ailments and use this information to select an appropriate doctor.
Sumitomo Corporation is seeking through this investment to expand DocDoc's services as well as to provide DocDoc's services to patients covered by the managed care organizations in which the Company first acquired a stake in 2019. Through these initiatives, the Company will build a model for optimizing healthcare costs in Southeast Asia and contribute to resolving social issues.
Sumitomo Corporation has identified healthcare as a next-generation growth strategy theme in its medium-term management plan "SHIFT 2023". Going forward, the Company will continue to provide high-quality and efficient medical services as a link among corporates/ insurance companies, individuals, and medical providers in the global healthcare market. It will also help improve Quality of Life by building sustainable healthcare systems in cooperation with medical providers in ways that also encompass peripheral businesses such as digital transformation, drug distribution and medical data utilization.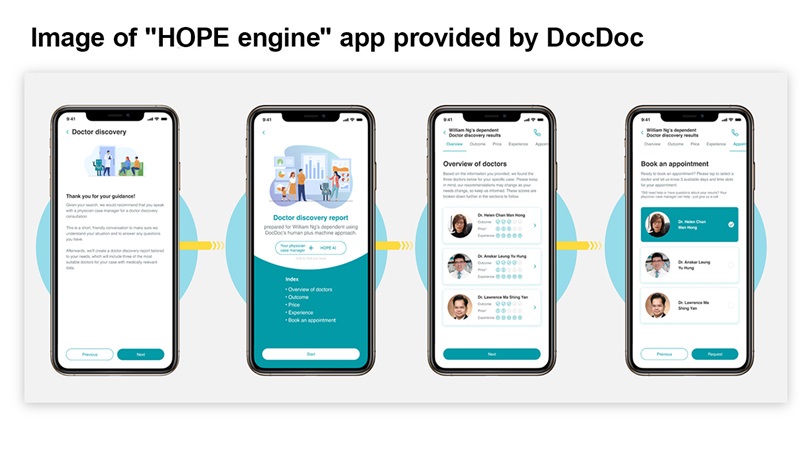 Sumitomo Corporation's healthcare business in Southeast Asia
Sumitomo Corporation is pursuing its managed care business in Southeast Asia with the aim of "building a sustainable healthcare system that helps improve individuals' quality of life." The managed care business is a system for providing medical services through third-party collaboration with corporate/private medical insurance companies, managed care companies, and medical providers in managed care systems being developed mainly in countries without adequate public healthcare systems.
Sumitomo Corporation invested in PM Care and Health Connect Holdings in Malaysia in 2019 and in Insmart in Vietnam in 2021, and then established SC Healthcare Holdings in Malaysia in 2022 as a holding company for its managed care business in Malaysia. In addition to the roles played in medical payment management and medical infrastructure that existed prior to Sumitomo Corporation's participation, SC Healthcare Holdings has been striving to enhance its managed care business and solve social issues by starting up online medical consultation and delivery of drugs and offering such value-added services as health promotion programs. As a result, demand for the managed care companies that Sumitomo Corporation has invested in and operates continues to grow against the backdrop of an expanding healthcare market and the need of corporations and private insurance companies to contain healthcare costs. Holding the largest market share in Malaysia, SC Healthcare Holdings is looking to continue expanding its business by analyzing and utilizing medical data to reduce medical expenses in Malaysia by approximately 30 billion yen by 2030, and is also actively considering extending its business into Singapore, the Philippines and other parts of Southeast Asia.
Sumitomo Corporation has invested in DocDoc, which provides medical cost containment services using a doctor database, as one step in this expansion, and it will continue broadening its healthcare business across Southeast Asia to build a model for medical cost optimization.
Profile of DocDoc Pte Ltd.
| | | |
| --- | --- | --- |
| Year established | : | 2012 |
| Year established | : | 2012 |
| Location | : | Singapore |
| Location | : | Singapore |
| Business | : | Providing medical cost containment services in Southeast Asia using a database of doctors |
| Business | : | Providing medical cost containment services in Southeast Asia using a database of doctors |
| URL | : | https://www.docdoc.com/ |
| URL | : | www.docdoc.com |