Sep. 05, 2019
Sumitomo Metal Mining Co., Ltd.
Sumitomo Corporation

Receipt of the FY2019 National Mining Society Award by Sierra Gorda S.C.M. in the Republic of Chile
Sierra Gorda S.C.M. (SGSCM, Headquarters: Santiago, Republic of Chile), in which KGHM Polska Miedź S.A., Sumitomo Metal Mining Co., Ltd. and Sumitomo Corporation have an interest, was given the FY2019 National Mining Society Award by the Sociedad Nacional de Mineria (SONAMI), the Chilean mining industry association.
SONAMI has a membership of over 70 mining companies in Chile and selects one company each in the categories of large-scale mines and small- or medium-scale mines for its award every August.
This year, the award was presented to SGSCM in recognition of its unflagging efforts and outstanding operational record, as exemplified by its increase in the ore processing quantity after overcoming numerous operational difficulties, and its continued operation on a stable basis.
The Sierra Gorda mine is determined to further improve its operation for continued stable production and increase in the processing quantity.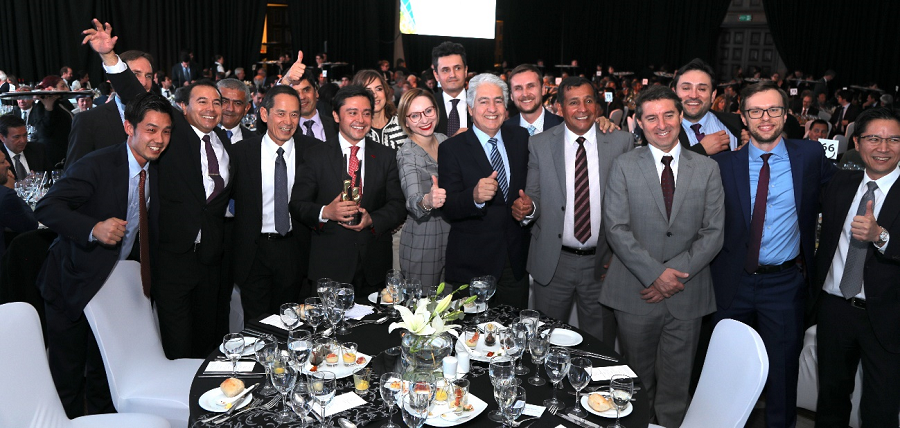 (Award ceremony: Award trophy, SGSCM employees and the mayor of Sierra Gorda village.)
(Overview of Sierra Gorda Copper Mine)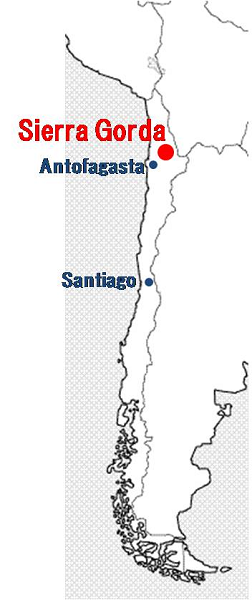 Outline of Sierra Gorda Copper Mine Project
1) Location
・Located in the region II of the Republic of Chile, 140Km to northeast from Antofagasta.
・Produced Copper Concentrates will be transported to the port of Antofagasta by an existing railway and shipped from the port.
2) Minable Ore (sulfide ore only)
About 1.5billion tonnes containing about 6 million tonnes of copper, about 300 thousand tonnes of molybdenum and about 95 tonnes of gold.
3) Project Company
Sierra Gorda S.C.M (Head office: Santiago, Chile)
Jointly owned by KGHM (55%), SMM (31.5%) and SC (13.5%)
4) Operations
・ Mining method : Open pit mining
・ Mine life : Over 20 years
・ Milling operation : Through conventional flotation method, Produces copper and molybdenum Concentrates.