Sep. 12, 2014
Metropolitan TV Sdn Bhd
Primeworks Studios Sdn Bhd
Nippon Television Network Corporation
Sumitomo Corporation
Malaysia and Japan Joint Production Announcement "Welcome To The Railworld Japan"
Metropolitan TV Sdn. Bhd (hereunder, "8TV") and Primeworks Studios Sdn. Bhd (hereunder, "Primeworks Studios"), both companies in Malaysia's media group, Media Prima Berhad (hereunder, Media Prima), Nippon Television Network Corporation (hereunder, "Nippon Television"), and Sumitomo Corporation announce the joint production and broadcasting of a railway travel television program, "Welcome To The Railworld Japan" in Malaysia.

This joint production will be a part of the "Model Business of Overseas Export of Broadcasting Content using Terrestrial Broadcasting", which is supported by the Japanese Ministry of Internal Affairs and Communications. Broadcast Program Export Association of Japan (hereunder, "BEAJ") and Mitsubishi Research Institute, Inc. will jointly take part in this business. By jointly creating content and broadcasting it on terrestrial broadcasting in Asia, a region viewed as a high potential market to promote broadcasting content, we aim to increase "Fans of Japan" in the region and to create widespread economical growth for Japan.

"Welcome To The Railworld Japan" will be the Japanese version of the hit Malaysian TV series, "Welcome To The Railworld", aired in 2010 , where the host Henry Golding travels throughout the country by railway. Primeworks Studios and Nippon Television will jointly produce the program where Henry will travel by rail throughout Japan, and the program will air on Malaysia's free-to-air channel 8TV. Primeworks Studios, who produced the program in Malaysia, and Nippon Television, who created the concept of a railway travel show with "Next Stop, Discovery" which has aired for 22 years since 1992, will join forces to create a program which will introduce the viewers to popular tourist destinations, food and culture throughout Japan, from Hokkaido to Okinawa.

The locations for the program were carefully selected by researching Malaysians' interest, and also through the cooperation of the Japanese Ministry of Tourism and Japan Governmental Tourist Office (JNTO). As a result, the destinations chosen are all off the beaten track, and we are confident the program will introduce viewers to valuable new information that would normally only be available locally.

Additionally, the program will introduce not only tourist destinations, but also the latest technology and products in Japan. The "railway", which is an important aspect of this program, is one such example. We aim to appeal to the viewers the safety, security, and comfort of Japanese railroads, including the world famous "Shinkansen (bullet train)". Through this program, we aim to inform the viewers of the wonders of "Made in Japan".

Filming for the program, which began on Sept.1, 2014, is going smoothly and is expected to be completed in mid-October. The whole team involved is dedicated to making the program a success and creating new "fans of Japan" in Malaysia. Please stay tuned.
Program Details
-Title
:
Welcome To The Railworld Japan
-Broadcasting channel
:
8TV (Malaysia)
-Broadcasting dates
:
starting January 15, 2015 at 9:30PM
(Every Thursday, 9:30-10:00PM 10 episodes)
-Content
:
To introduce tourist destinations, food and culture of 9 regions throughout Japan
(Hokkaido, Tohoku, Kanto, Chubu, Kinki, Chugoku, Shikoku, Kyushu, Okinawa regions) and Tokyo while traveling by train.
<Related Images>
The program host, Henry Golding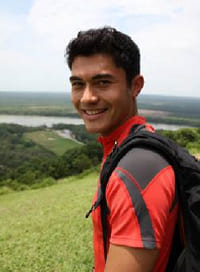 Henry Golding and his assistant filming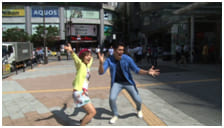 Filming at a "maid cafe" in Tokyo
Japanese and Malaysian film crew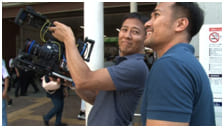 The show host Henry playing a traditional Mukkuri (Jew's Harp) from when the crew visited the Ainu in Hokkaido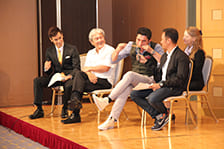 About
8TV
8TV is an interactive platform for audiences united by a common desire for authenticity and self-expression. It is a hot-bed of creativity featuring original, local and international entertainment wrapped in interactivity. 8TV began operations on January 8th 2004 and transmits free to the entire West Coast of Peninsular Malaysia and Kuantan on the UHF band. 8TV also transmits nationwide via Astro Channel 708. It has chalked up impressive achievements within only its first year of operations, successfully producing the highly-rated Malaysian Idol™ series and also winning several Asian-level industry awards for creative excellence. Since its inception, 8TV has achieved tremendous milestones in the broadcasting industry, including winning many international and local creative awards such as the Phoenix Awards, Promax/BDA Awards, Anugerah Skrin, Anugerah Sri Angkasa, Golden Awards, The Chicago International Television Awards and many others.
2013 has been an outstanding year for the station, with records that have been set and some broken, boastful viewership ratings and other great achievements, including reigning victorious at the 2013 Chicago International Television Awards as 8TV's very own in house production, Hip-Hoppin' Asia bagged the Silver Plaque in the Travel Series category.
8TV is available on Channel 708. You can catch your favourite shows as Catch Up on
http://www.tonton.com.my
or follow us via our social media platforms:
Facebook
:
(Urban – 8TV | Chinese – badukongjian)
Twitter
:
@8tv
Youtube
:
http://www.youtube.com/8tvaddicts
Instagram
:
(Urban – @8tv | Chinese - @8tvchinese)
Hashtag us at #8tv and follow our latest daily updates
About
Primeworks Studios
Primeworks Studios Sdn Bhd is the content creation subsidiary of Media Prima Berhad and Malaysia's largest production company. Producing TV content since 1984 and feature films since 1994, it generates an average of over 5,000 hours of TV content annually. Primeworks' business activities encompass content creation as well as content distribution and marketing. Content for the 4 commercial television channels in the Media Prima group i.e. TV3, NTV7, 8TV and TV9 constitutes a large part of the business and includes entertainment, magazine, documentary, drama and sports programmes. Flagship and popular shows include Anugerah Juara Lagu, Majalah 3, Nona, Welcome to the Rail World, Best in the World, Hip-Hoppin' Asia, Jalan Jalan Cari Makan, Mentor, Melodi and Jejak Rasul.
About
Nippon TV
As Japan's first commercial terrestrial broadcaster to go on the air in August 1953, Nippon TV marked its 60th year of broadcasting in 2013. Nippon TV broadcasts and produces all genres of programs ranging from news, documentaries, sports, dramas, entertainment shows to animation. One of the biggest successes for Nippon TV is its format Dragons' Den. To date, the format has been sold in 25 countries. Nippon TV has earned the highest ratings among commercial broadcasters in the all-day (6:00am to midnight) category for three years in a row and has the top ratings in all three categories so far in 2014. Nippon TV also has a wide variety of group companies that deal with movies, events, TV shopping, and merchandising.
About
Sumitomo Corporation
Sumitomo Corporation operates in a wide range of businesses at 24 bases in Japan and 115 overseas bases by leveraging our integrated corporate strengths. In fields such as media, IT, retail, lifestyle-related, and construction & real estate, we have been developing businesses providing consumer-oriented products and services globally. In Media Division, our main businesses are Cable TV, Broadcasting and Cinema.
About
BEAJ
BEAJ is dedicated to promoting content produced by Japanese broadcasters worldwide and Japanese culture as a whole, including Japanese cuisine, and the full range of Japanese products and services. BEAJ supports the creation, sharing, and implementation of initiatives designed to contribute to global content promotion.