Mar. 17, 2015
Sumitomo Corporation

Development of third cutting-edge logistics facility in Akanehama (Narashino, Chiba)
Operations scheduled to begin in September 2016
Sumitomo Corporation (Head Office: Chuo-ku, Tokyo; President: Kuniharu Nakamura) is planning to develop a logistics facility with a total floor space of about 38,000m2 in the Akanehama district of Narashino City, Chiba Prefecture and to open the facility for operations in September 2016. This will be the third logistics facility developed in this district by Sumitomo Corporation – along with the adjacent Akanehama Logistics Center(*) – and will bring the total floor area to 130,445m2 (approximately 40,000 tsubo) and the total property value to about 26 billion yen.

The Chiba Bay area in which this development will take place is one of the Tokyo metropolitan area's largest concentrations of logistics facilities, home to about 15% of the logistics facilities in the Tokyo metropolitan area. Narashino's Akanehama district offers very convenient access, about 33 kilometers from Tokyo Bay and about 33 minutes from the nearest rail station (Shin-Narashino Station on the JR Keiyo Line) to Tokyo Station. Set against a residential backdrop with an abundant workforce, the district is well suited as a distribution processing logistics base for apparel and mail-order businesses. The nearest interchange, the Yatsufunabashi IC on the Higashi-Kantō Expressway, was opened last fiscal year, and there are plans to further improve access by opening a Koya Junction connecting the Tokyo Gaikan Expressway and the Higashi-Kantō Expressway in fiscal 2017.

This newest logistics facility will have a layout oriented around usability as a distribution processing logistics center and will be equipped with truck docking berths and transport capacity, enabling it to offer services tailored to meet the requirement for small-lot, high-frequency, quick shipping. The facility is designed to complement the Akanehama Logistics Center and permit flexible expansion. Although the plan is principally targeted at apparel and mail-order companies, it will offer prospective tenants a cutting-edge facility with general versatility that allows it to meet other logistics facility needs.

Sumitomo Corporation developed the adjacent Akanehama Logistics Center (Buildings I and II). This Center serves as a logistics flagship location for the TV home shopping company Jupiter Shop Channel Co., Ltd. (Head Office: Chuo-ku, Tokyo; President: Atsushi Shinohara), the logistics company Sumisho Global Logistics Co., Ltd. (Head Office: Chuo-ku, Tokyo; President: Yasushi Fukuda), and several other apparel and mail-order companies.

Sumitomo Corporation will utilize the know-how and relations that it has cultivated in retail, logistics, real estate and other sectors as a general trading company to undertake the business of developing high-function logistics facilities. Upon completion, this logistics facility is to be sold to the Logistics Fund No. 1 generated in February 2014, bringing the fund's assets to more than 50 billion yen. By putting together still more new funds, Sumitomo Corporation is aiming to expand these assets to 100 billion yen at an early stage.

Profile of property
<Narashino Akanehama III Logistics Facility Development Plan (name tentative)>
Address
Akanehama 3-6-2, Narashino-shi, Chiba-ken
Nearest station
Shin-Narashino Station, JR Keiyo Line
Lot area
19,369 m2 (5,859 tsubo)
Floor area
38,419 m2 (11,622 tsubo) (planned)
Structure, no. of floors
Steel-reinforced concrete, 4 floors (planned)
Construction start
September 2015 (planned)
Construction end
August 2016 (planned)
Envisioned exterior view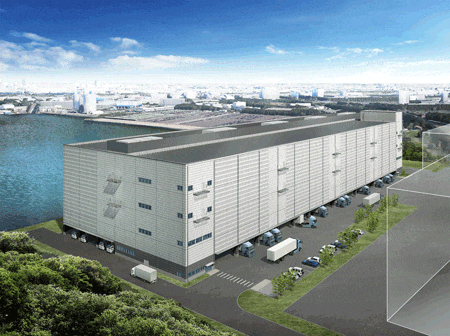 <Akanehama Logistics Center (*)>
Address
Akanehama 3-6-1, Narashino-shi, Chiba-ken
Nearest station
Shin-Narashino Station, JR Keiyo Line
Lot area
48,231m2 (14,590 tsubo)
Building I
Floor area
56,372m2 (17,053 tsubo)
Structure, no. of floors
Steel-reinforced concrete, 6 floors (warehouse portion: 4 floors)
Construction end
April 2006
Building II
Floor area
35,654m2 (10,785 tsubo)
Structure, no. of floors
Steel-reinforced concrete, 5 floors (warehouse portion: 5 floors)
Construction end
March 2007