Grand Opening of the Manganese Ferroalloy Plant in Malaysia
On March 15 of 2017, Sakura Ferroalloys(hereunder Sakura) held Opening Ceremony and commemorated the grand opening of the plant with more than 400 participants, including Chief Minister of Sarawak Datuk Abang Johari Openg and government officials, Embassy of Japan in Malaysia, shareholders and the companies which supported Sakura through the construction phase. At the ceremony, Chief Minister painted an eye on Daruma doll with a wish for Sakura's continuous success.
Sumitomo Corporation, together with Assmang and China Steel Corporation, established Sakura, a manganese ferroalloy plant, in Sarawak State, Malaysia, and started operation of Furnace 1 in May 2016 and Furnace 2 in September 2016 respectively. The ramp-up of both furnaces are on track and the annual production is expected to be around 180 thousand tons.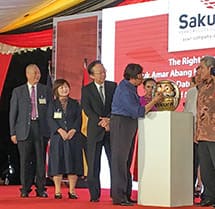 Through the investment to Sakura, Sumitomo Corporation will commit a stable supply of manganese ferroalloy in the future and contribute to the direct and indirect job creation and economic development in Sarawak state.