Sumitomo Corporation presents logistics facilities streamlining services at Logis-Tech Tokyo 2020―Innovation Expo
Sumitomo Corporation participated in Logis-Tech Tokyo 2020―Innovation Expo, which was held at Tokyo Big Sight from February 19 to 21, 2020.
In the trade fair, many companies showcased cutting-edge logistics equipment, systems and services under this year's theme of "solving workforce shortages," and the venue was busy throughout the period with exhibitors and visitors exchanging information in earnest.
Our booth introduced SOSiLA, logistics facilities developed by the company, along with other projects promoted by group companies, particularly Sofuku Koki and Sumitomo Shoji Machinex to increase efficiency in logistics operations. Exhibitions from Sofuku Koki, a manufacturer of logistics storage systems, featured its wide-ranging lineup, from mobile racking systems with a load capacity expandable up to double to the latest next-gen automated storage & retrieval systems. For Sumitomo Shoji Machinex, we highlighted collaborative robots, selected from among its diverse AI and IoT-driven automation and labor-saving service programs.
These services and programs developed by group companies can be installed in the SOSiLA logistics facilities, which will adopt advanced functions to be able to accommodate various demands from customer tenants facing labor shortages and other issues. Looking to help improve overall service quality in the logistics industry, we will support its increased physical and non-physical functionality. Going forward, we will draw on the group's integrated strengths to develop SOSiLA into a logistics function that optimally copes with the changing times, thereby becoming a strong choice for tenants.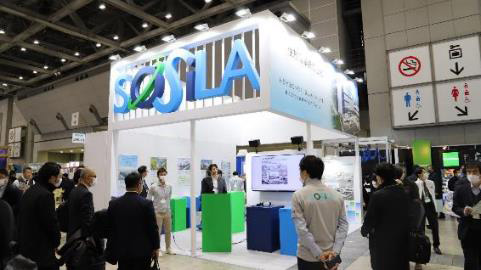 Logis-Tech Tokyo is held every two years, drawing approximately 450 exhibitors and 70,000 visitors.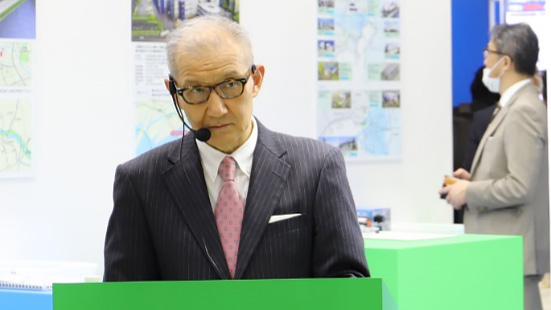 Hiroaki Yoshioka, President of Sofuku Koki, delivering a presentation on company products under the title of "Logistics storage systems driving a logistics revolution." He emphasized the need to supply advanced logistics storage systems that can effectively facilitate automated and labor-saving logistics operations in response to the exploding EC market and declining working population.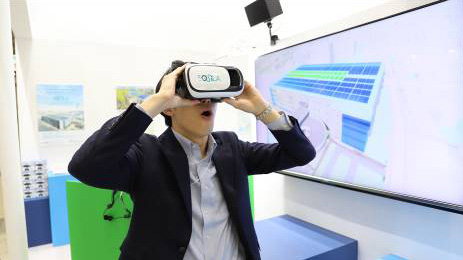 VR-enabled preview program to introduce SOSiLA, providing a realistic experience of looking around the facility with actual dimensions and details.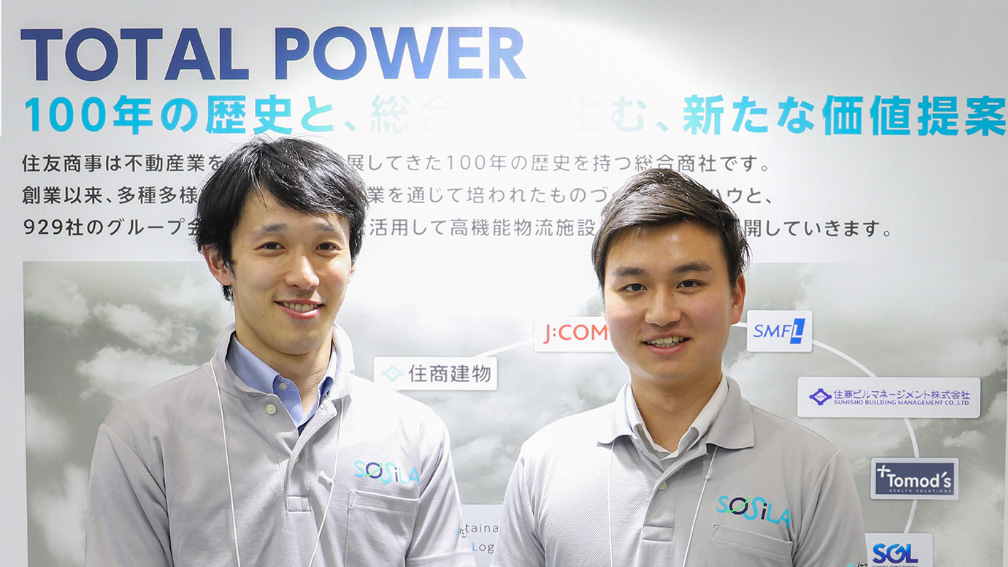 Logistics Real Estate Business Dept. members in charge of SOSiLA. Takuya Fukuda (right) is selling to SOSiLA tenants the advantage of accessing logistics efficiency solutions offered through Sumitomo Corporation's integrated strengths.