Global Cases
Maintaining steady copper supplies by participating in mine management
U.S.A. / Peru / Chile / Australia
The roots of Sumitomo Corporation's business traces back to copper mining. We have continued the copper business, which today centers on investment in overseas copper mines in order to support stable copper supplies, thereby contributing to the "Development of local society and economy" and "Improvement of living standard." We are also carrying out environmental conservation activities around the mine site, with the aim of helping the "Mitigation of climate change."
---
Leading the copper trade in Japan
Copper is the most widely used metal after iron, offering high electrical conductivity, excellent thermal conductivity, and antibacterial properties. Its utilization extends to every area of industry and people's day-to-day lives.
Japan was one of the world's leading producers of copper during the Edo Period, and Sumitomo's business roots lie in copper mining in that era. It managed the Besshi Copper Mines located in Ehime Prefecture for more than 280 years, providing the foundation for today's corporate activities.
The copper business remains an extremely important field for the Sumitomo Corporation Group. About 30% of the copper concentrate (copper ore processed for increasing copper content) imported into Japan is handled by Sumitomo Corporation.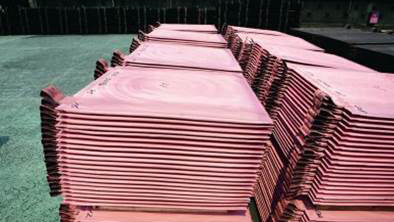 Accumulating business knowledge at copper mines worldwide
Investment in overseas copper mines serves as a major pillar in Sumitomo Corporation's copper business. Sumitomo Corporation is presently invested in six copper mines, the most prominent of which are the Morenci copper mine in the US, the world's third largest(*) in terms of copper output, and the Cerro Verde copper mine in Peru, the world's fourth largest(*). Operating both of these mines is the largest copper production company in the US, Freeport McMoRan Inc. Sumitomo Corporation has partnered with this company, as well as with their joint venture partner Sumitomo Metal Mining to produce and sell copper concentrate and copper cathode, upstream products in the copper production value chain, and to contribute thereby to the steady procurement of copper concentrate via copper smelters inside and outside Japan.
* FY2019 4Q data released by Wood McKenzie
By making business investments in mines and taking part in their management, Sumitomo Corporation has accumulated wide-ranging experience and know-how beyond the knowledge gained through its trading business. The Batu Hijau Copper Mine in Indonesia has been particularly valuable in providing such experience. Sumitomo Corporation acquired a nearly 30% share of the mine in the 1990s, and was deeply involved in the mine's management for almost 20 years until it sold its interests to a local company in 2016. It was extremely rare in the 1990s for an integrated trading company to be so heavily invested in a mining operation, and the know-how it thereby cultivated is being put to good use now.
Sustaining business by contributing to local communities
The mining business is one undertaken from a long-term perspective. For example, copper production has been underway at the Morenci copper mine for more than 100 years, and this mine is likely to continue operating far into the future. This is based on expectations of job creation through the sound growth of the mining business as well as of stimulation of the local economy through taxes, human resources development, and environmental conservation efforts around the mine.
Sumitomo Corporation views the mining business as one that can be continued over the long term while making a wide range of contributions to people, the environment, and the economy.
Employing integrated corporate strength in mine development
As emerging countries and other countries around the world see their economies grow in future, copper will undoubtedly rise in importance. At the same time, copper mine development has become increasingly difficult. New copper mines will need to be developed continually in order to secure copper on a sustained and reliable basis. This will require the Sumitomo Corporation Group to leverage the strong bonds of trust it enjoys with partners on a global basis, and to employ its knowledge and know-how of the copper business as well as its development capabilities cultivated over many long years as an integrated trading company.
Sumitomo Corporation's vision for its copper business entails identifying good copper deposits, establishing solid partnerships with major mining companies and local players, and creating new foundations for reliable supplies of copper, as well as accurately ascertaining market changes and new trends and leading not only in trading copper in Japan but also in securing increasingly rare copper resources.
Sumitomo Corporation will pass on to the next generation the business philosophy it inherited from Sumitomo's copper mine management in the Edo Period as it seeks to expand its copper business to continue supporting people's livelihoods and industries.
Keyword
Mineral Resources, Energy, Chemical & Electronics Business
The Americas
Asia and Oceania
Mineral Resources