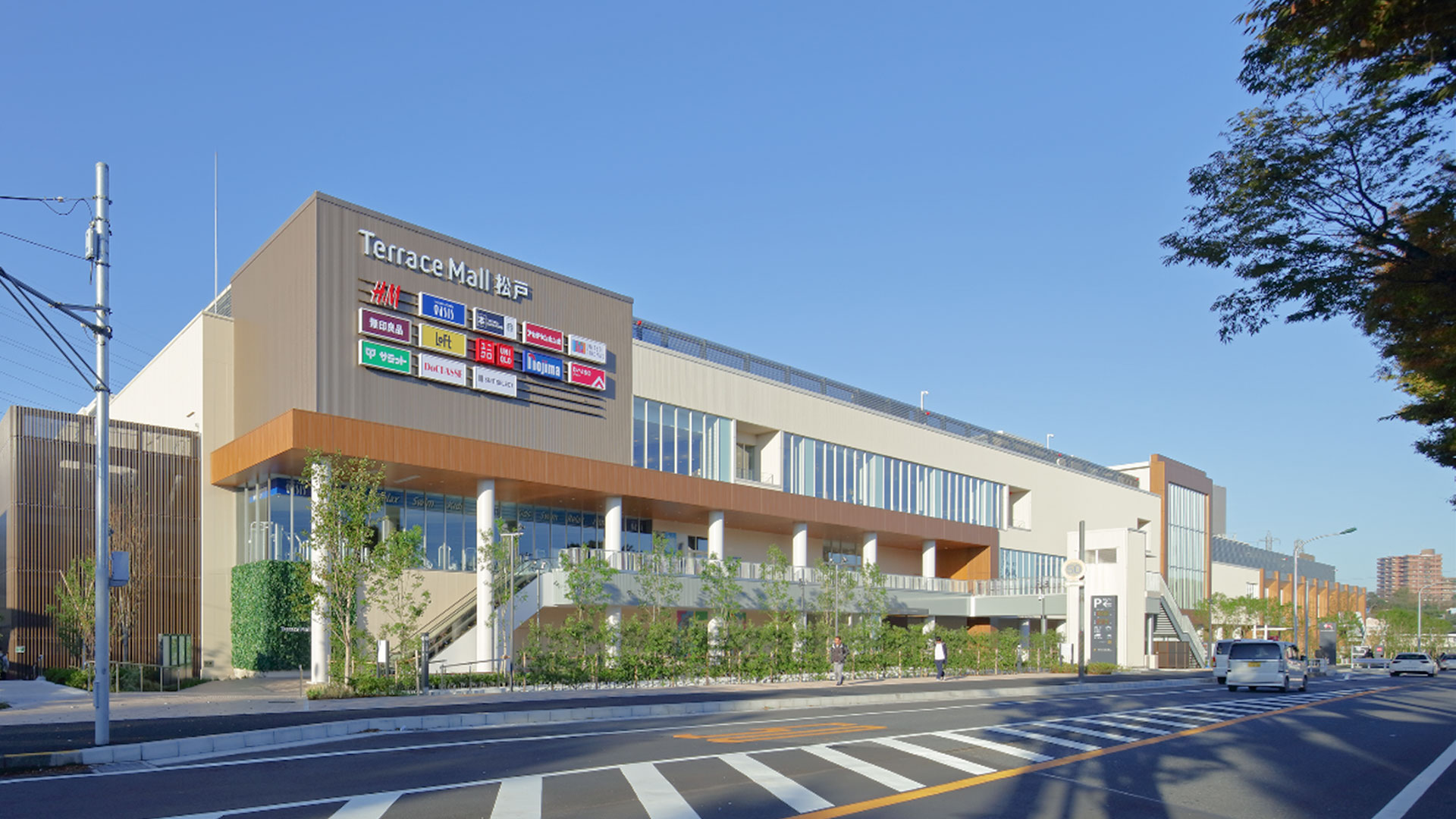 Global Cases
Grand Opening of Terrace Mall Matsudo: Enriching and Bringing Fun to Everyday Life
Corporate Communications Staff Explore the World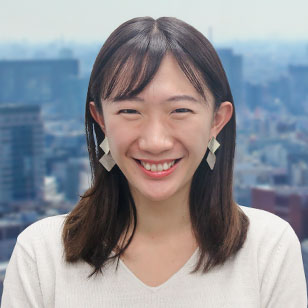 Mass Media Relations Team, Corporate Communications Department

Hikari Watanabe

I joined Sumitomo Corporation in 2017. As a member of the Mass Media Relations Team in the Corporate Communications Department, I am in charge of the Infrastructure Business Unit and the Living Related & Real Estate Business Unit. I enjoy trying new things, and try to do so as much as possible. Since I was a student, I was hesitant about getting my ears pierced. I finally tried it this year. Until right before getting the piercing, I was afraid of the pain, and wondered if I should really try it or not. I got over my fears, and now collecting earrings has become a hobby of mine. I think the next step for me is to try making my own earrings.
Terrace Mall Matsudo is a large-scale retail facility developed by Sumitomo Corporation, GIC Real Estate, and operated by Sumisho Urban Development, a group company of Sumitomo Corporation. It was opened in Matsudo City, Chiba Prefecture, in late October 2019. Terrace Mall Matsudo is one of the largest retail facilities in Matsudo and the surrounding areas.(*) It is also the second Terrace Mall, the first being Terrace Mall Shonan in Fujisawa City, Kanagawa Prefecture.
I visited Terrace Mall Matsudo to participate in private viewing.
Areas within a five-kilometer radius of the mall
What is Terrace Mall?
Located in ten-minutes' drive from Shin-Matsudo Station, Terrace Mall Matsudo is built on the 49,000 square-meters, former site of Matsudo Hokubu Market closed in 2017. The site is 1.1 times as large as Tokyo Dome. The gigantic four-stories (with partial fifth stories) facility has 177 stores, including fashion, sundry goods, service and restaurants. The building generates comfort with natural lighting through the windows.
Sumitomo Corporation Group believes that shopping malls should provide comfortable atmosphere to respond to variety of use. The element of comfort are led by oyful, pleasant, feeling that people want to visit often. This idea is called the "Terrace Philosophy," and Terrace Mall Matsudo was developed with this concept. The retail facility is designed to connect Matsudo—a historic post town that later developed into a commuter town with an abundance of nature—and the people gathering there. I would like to introduce some of the features of the mall.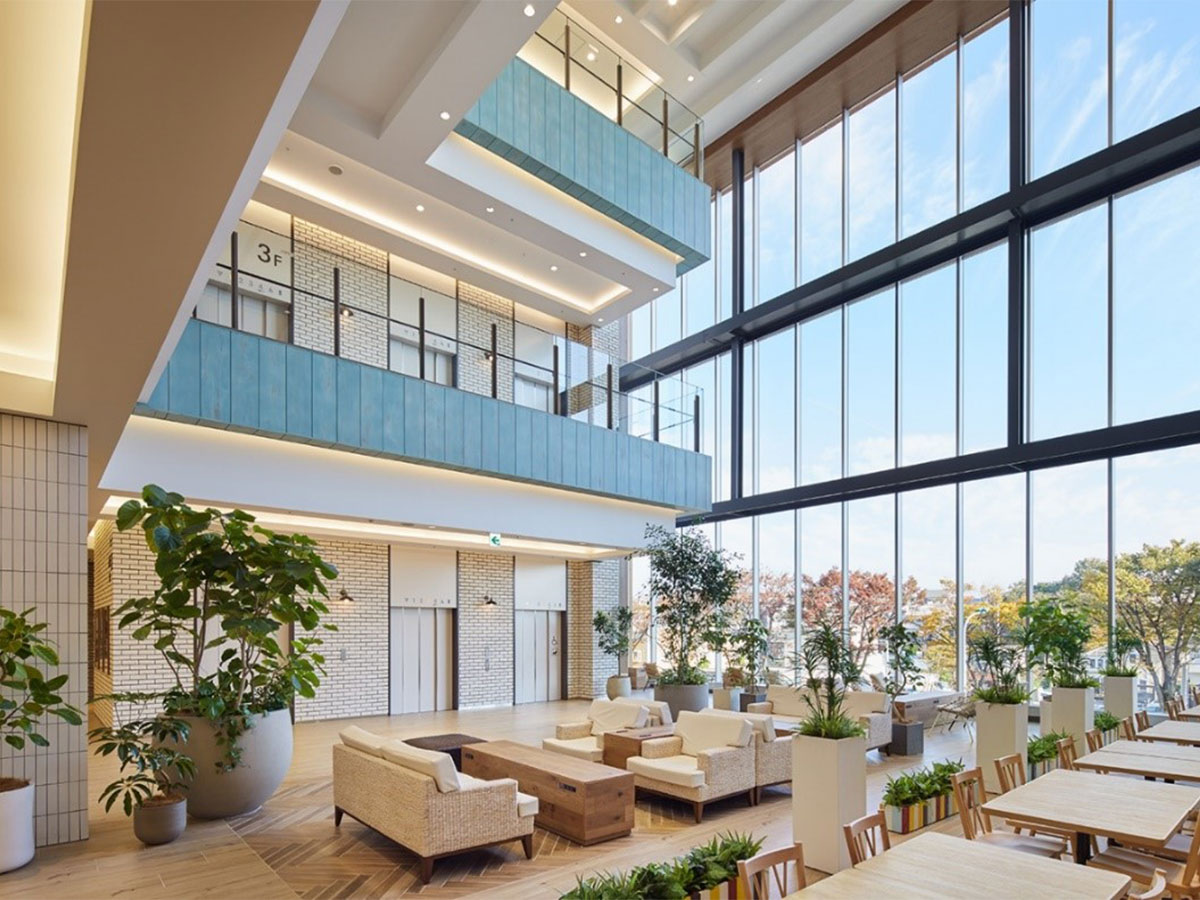 © Nacása & Partners Inc. FUTA Moriishi
Open, and bright space inside of Terrace Mall Matsudo. People can enjoy spending their time in these comfortable resting spaces available in the facility.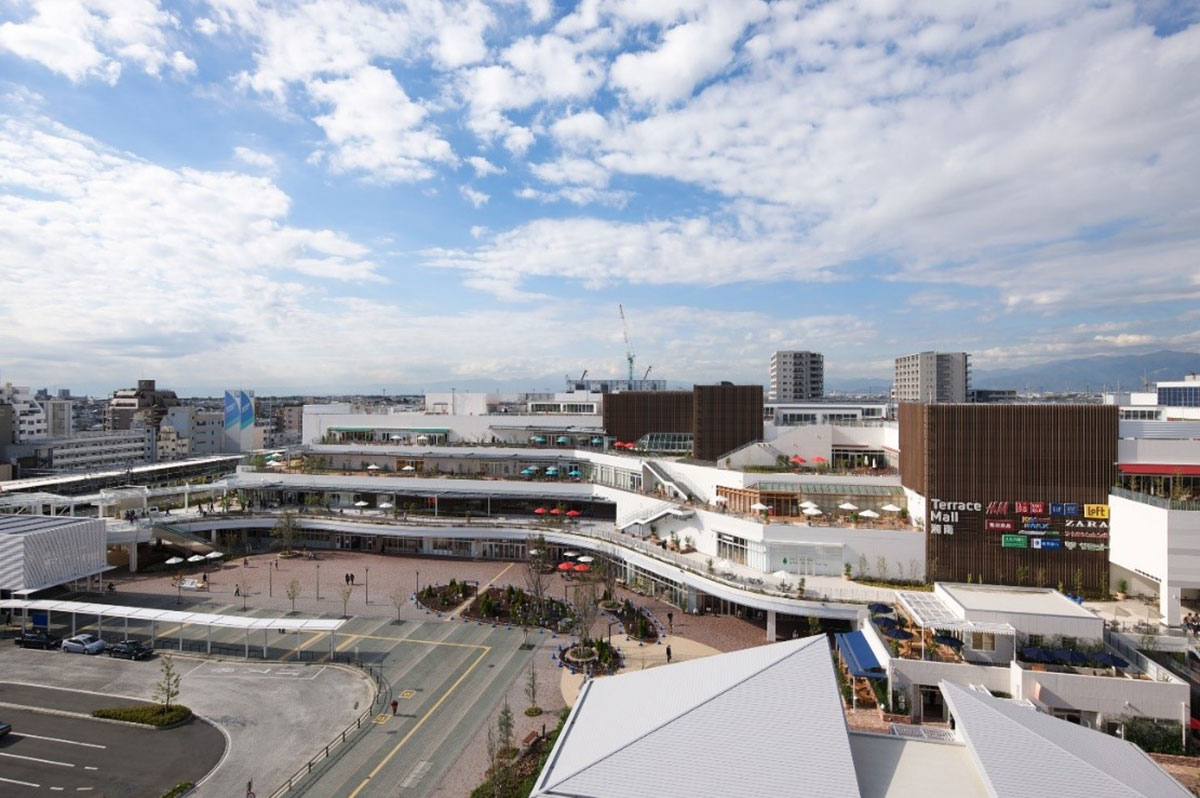 © Shinichi Sato
Terrace Mall Shonan, the first of the Terrace Mall series, won the Gold Award in the 2015 Japan Shopping Center Awards
Made to Attract People
Terrace Mall Matsudo is comprised of shopping zone from first to third floors, a food section on the first floor, a restaurant zone on the second floor, a food court on the third floor, and United Cinema on the fourth floor. With total of 11 screens and 1,900 seats, United Chinema is the only cinema complex(*) in the Matsudo area, and attracting the interest of locals. The theater features three types of leading-edge systems: IMAX® Laser, 4DX, and ScreenX. It offers mind-blowing images and sound for best movie watching experience, allowing the audience to feel as if they are in the film. There was no movie theater in this area for the last six years, so Tit has been bustling with many people since the day of the grand opening.
A movie theater that has multiple screens in one facility.
Additionally, an open ceiling space in the center of the second floor, the Atrium Terrace, has an event stage. Its name, "Komorebi Stage" (Sunlight Stage), was selected by voting from about 2,000 customers. The stage will not only be used for events hosted by the mall, but also be rented to local clubs and organizations. The food court on the third floor has a space called "Kids Space Roco Roco," where local residents of all generations can interact and obtain information about childrearing. Roco Roco is comprised of two zones: a relaxing zone where events like reading to children are held, and an active zone where children can play vigorously, so that children can choose how to play according to their character and age. Keyaki Hiroba (Elm tree square) in the north part of the mall has a water fountain that features a four-minute show with sound and light every 30 minutes.
Terrace Mall Matsudo offers a wide range of choices to meet the diverse needs and demands of people. The wood-themed facility has a structure that takes in natural light to create an open atmosphere. Every detail of the mall has been meticulously designed to provide joy and comfort, and thereby attract many visitors.
© Nacása & Partners Inc. FUTA Moriishi
Atrium Terrace, an open ceiling space with Komorebi Stage is the symbol of Terrace Mall Matsudo.
© Nacása & Partners Inc. FUTA Moriishi
Consept and its uses of Kids Space, Roco Roco was generated through discussions with Seitoku University students
Matsudo-Specific Gourmet Experience
Another key feature of Terrace Mall Matsudo is its satisfying food options. The first floor has food retail zone called "Kitaichiba" and Summit Store—the large-scale supermarket of the Sumitomo Corporation Group. Also, there is a restaurant zone called "Keyaki Dining" on the second floor and the Keyakitchen food court on the third floor. Many of the restaurants are the first branches of chain stores opened in Chiba prefecture or the Matsudo area, and attract locals.
The first-floor food retail zone Kitaichiba (north market) was named after Matsudo Hokubu Market (literally, "north market of Matsudo"). Stores in this zone include famous seafood store, Japanese deli, and trendy sweets shop. Variety of unique stores are gathered and made lively atmosphere of street market. The large supermarket, Summit Store, uses digital signs which change displays to match the season. Compared with conventional stores, Summit Store Matsudo features a curved layout to allow customers to enjoy hunting for products and to stay in the store for longer time. Additionally, there is a workshop with a lively atmosphere and an eating space called "Summit Café." These facilities make the store even more exciting.
Keyaki Dining have 12 restaurants ranging from Japanese to western food. It locates on the second floor along the Keyaki Street which lies to the north of the mall. This restaurant zone has large windows that let warm light in and resting spaces along the windows, so that people can visit there even when the restaurants are not opened. Keyakitchen on the third floor is also designed to be bright and open. 10 restaurants, including a popular local Matsudo restaurant, operate in the large food court,about 750 various types of seats. There are seats for one person and tatami floors for family use, so that customers can choose the right seating for their purposes and spend time as they like.
Terrace Mall Matsudo has been developed with a "community-made" attitude that incorporates the characteristics of the community and works on creation with the community. As I participated in the open house, I realized that the mall opened with cooperation of many parties involved. Reportedly, about 1,500 people waited in line on the day of the grand opening, even though it was raining. I truly hoped that this retail facility will be loved for many years as a place for enriching lives and connecting people.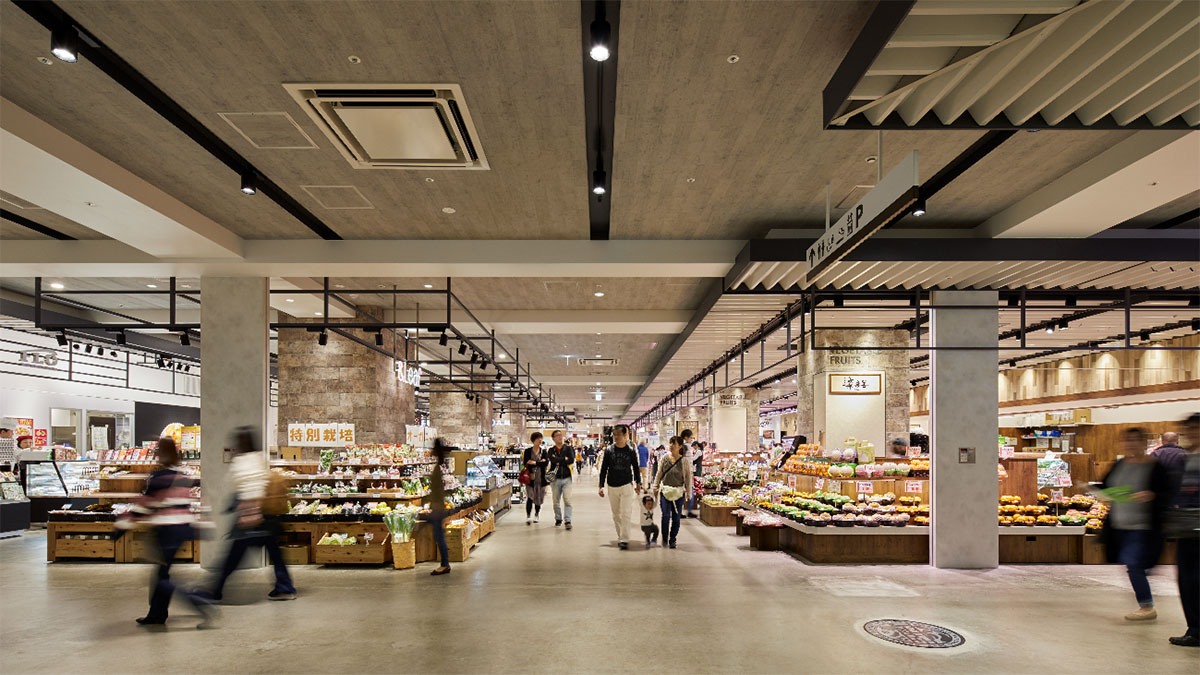 © Nacása & Partners Inc. FUTA Moriishi
Kitaichiba is designed to look like a temporary structure reminiscent of Matsudo Hokubu Market.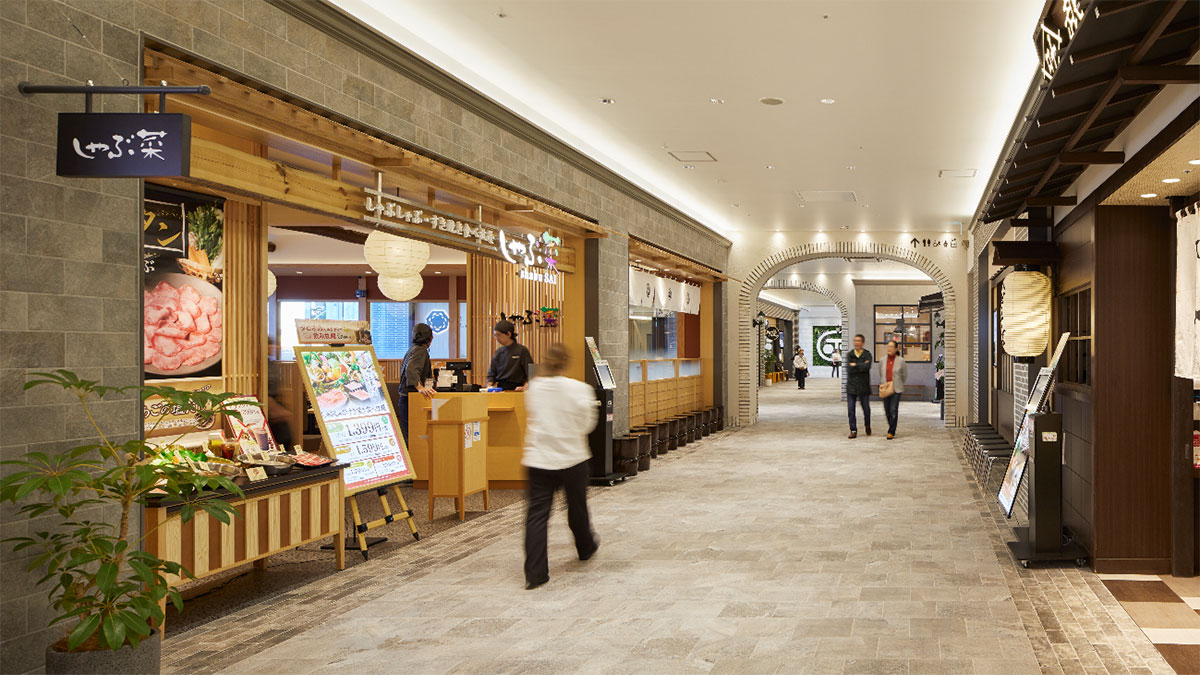 © Nacása & Partners Inc. FUTA Moriishi
Keyaki Dining integrates restaurants and the terrace to create the feeling of an open alley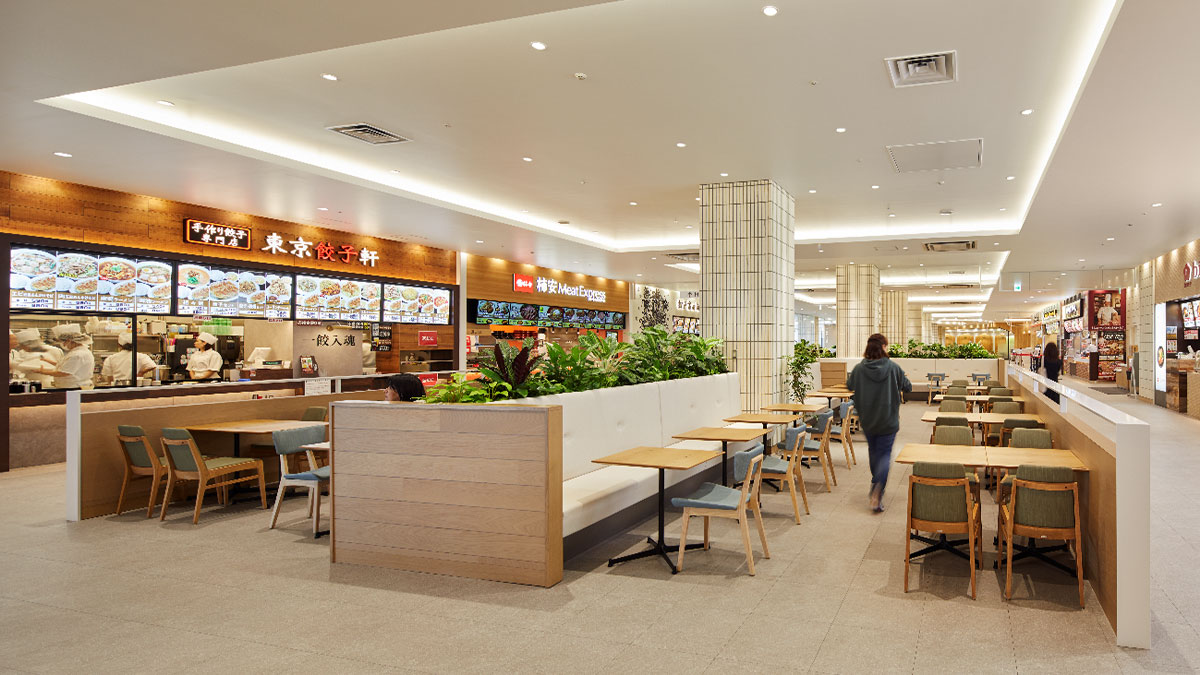 © Nacása & Partners Inc. FUTA Moriishi
Five out of ten restaurants in the food court Keyakitchen are the first branches of chains in Matsudo and surrounding areas.
(Bonus) Corporate Communications Staff Explores Matsudo
Matsudo Tomita Men-o opened in the food court on the third floor. It is a branch of Chukasoba Tomita, which originally opened in Matsudo and is now an enormously popular noodle restaurant that often has a long line outside. I'm not familiar with tsukemen (noodles dipped in broth), but I visited the restaurant after the open house because I heard that it won the grand prize at an annual tsukemen exhibition in 2018. I ordered Rich Deep-water Shrimp Tsukemen, which is available only at Terrace Mall Matsudo. I was impressed by the straightforward umami and aroma of deep-water shrimp, which must have been achieved by boiling large quantities of deep-water shrimp heads in rich pork and chicken stock. I usually don't drink all the broth, but it was so delicious that I added soup-wari (warm water added to thick dipping broths to make them more drinkable) and enjoyed the whole bowl. I didn't have time to see all the other stores and restaurants, so I hope to visit Terrace Mall Matsudo at my leisure next time.
Keyword
Living Related & Real Estate Business
Japan
Real Estate