Aug. 24, 2015
Sumitomo Corporation

New Kubota Tractor Model to Be Marketed in India
Sumitomo Corporation (head office: Chuo-ku, Tokyo; president: Kuniharu Nakamura) will be introducing into the Indian market via local joint venture, Kubota Agricultural Machinery India Private Ltd. (head office: Chennai, Tamil Nadu, India; hereinafter, "KAI") a multi-purpose tractor newly developed by Kubota Corporation (head office: Naniwa-ku, Osaka; president: Masatoshi Kimata; hereinafter "Kubota") in an effort to fully tap into India's tractor market.

India has the world's second-largest faming population, and also has world's largest tractor market, boasting an annual demand on the order of 600,000 tractors. Tractors are in use year-round in India, not only for doing agricultural work but also for pulling trailers carrying farm produce, building materials, etc.
Kubota's new tractor will meet India's particular needs and, because it has impressive 55 hp pulling power, it can be used for haulage and many other tasks besides paddy field and upland work. The tractor offers excellent durability and operability, and it features an eco-friendly Kubota-make engine with high output but good fuel economy. Mass production will begin in October 2015 at Kubota's Thailand subsidiary (Siam Kubota Corporation), and the tractors will be sold via KAI from November.

Sumitomo Corporation has been in India since an employee was posted to Bombay (now Mumbai) for the first time in 1950, and working on various businesses, such as automotive manufacture business, metallic processing business, introducing power equipment, etc. India is expected to be grown in a medium- and long-term perspective, so Sumitomo Corporation is focusing on India as a strategic regional focus, and developing new business,
In this project, by combining Kubota's advanced technology and know-how with its own wealth of overseas sales business experience, Sumitomo Corporation will through its agricultural machinery sales efforts help boost agricultural productivity in India.

[Company profile]
Company name
:
Kubota Agricultural Machinery India Private Ltd.
Establishment
:
December 2008
Headquarters
:
Located in the suburbs of Chennai, Tamil Nadu, India
Capital
:
500 million rupees
Investment ratios
:
Kubota: 60%; Sumitomo Corporation Group: 40%
Products sold
:
Tractors, combines, rice planters, etc.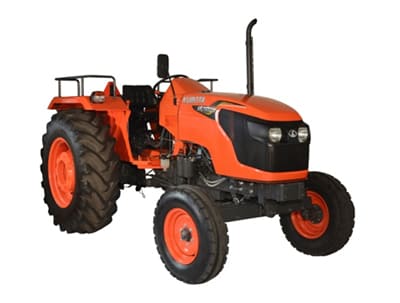 [Tractor to be marketed]
Model
:
MU5501
Launch date
:
November 2015 (scheduled)
Horsepower
:
55 hp (2WD)