Global Cases
Bringing traditional Japanese culture to tropical Ghana
Corporate Communications Staff Explores the World
Publications Team

Haruna Horie

Horie joined Sumitomo Corporation in 1998, having been working in the Construction & Real Estate Division, the Network Division, and the Media Division (these organizations' names at the time) before being assigned to the Corporate Communications Department in 2008. Her principal responsibilities now are producing in-house newsletters and corporate advertising. Her favorite pastimes are traveling around the country to secluded hot springs and swimming at a neighborhood sports club. Her post-swim chats with people of all ages in the sauna help her recharge.
The West African country of Ghana lies near the equator, between 5 and 11 degrees north latitude. Sumitomo Corporation set up an office in Ghana's capital of Accra in 2011. This office is presently engaged in liaison activities for the automobile and steel trading businesses as well as an electric power project due to complete construction in 2017. Did you know that Accra holds a "Japan Week" every year? Here I would like to describe my eight-day stay in Accra as one of the ambassadors introducing traditional Japanese culture to the local people.
Enveloped in heat after the rains in Ghana
The name "Ghana" likely evokes in the minds of many Japanese images of chocolate or the stories of Hideyo Noguchi they read in their childhood. Nearly half of the cocoa beans imported into Japan to make chocolate are in fact from Ghana(*), and chocolate sold under the brand name "Ghana" is a quite familiar product. It was also in Ghana that Hideyo Noguchi, whose portrait currently adorns the one-thousand yen note, met his end while researching yellow fever in the late 19th and early 20th centuries.
My visit to Accra on the Atlantic coast (Gulf of Guinea) in early October came across during the transition period between the rainy season and the dry season. Heavy rains poured down for a few hours each day, after which a blazing sun beat down, and so the days I spent there saw temperatures rise above 30℃ and the humidity up to 80%. The scene that greeted me at the airport on landing was the very picture of Africa. A bustle of people garbed in colorful clothing and the sauna-like humid heat enveloped me in an instant.
*According to FY2015 Ministry of Finance trade statistics
Conveying the Japanese Spirit for 20 Years
Sumitomo Corporation officially launched its efforts to introduce traditional Japanese culture overseas in fiscal 2015 in Myanmar's capital Yangon. These are part of the social contribution activities carried out by our company, which has business locations in 65 countries around the world, to build good relations with local communities.
The basis for these are the personal volunteer activities undertaken by one of our employees, Emiko Miyashiro (assigned to both the Environment & CSR Department and the Global Strategy & Coordination Department), over the past couple of decades since 1995 in Turkey, Norway, Ukraine and other countries across the globe. She has continued to put on demonstrations and workshops at local universities and other educational institutions, exposing locals to Japanese culture and increasing the number of Japan fans. The menu of instruction she offers spans a wide range, including brush calligraphy, kimono dressing, furoshiki wrapping, and origami as well as the tea ceremony (she is a licensed master in the Urasenke tradition) and flower arrangement (Sogetsu tradition). As a result of having offered such instruction on a total of 11 occasions in Ukraine, an organization called Miyashiro-juku has been launched by "apprentices" who continue to transmit Japanese culture.
I was one of four female employees (including Ms. Miyashiro) who went to Ghana to spread the Japanese spirit to other parts of the world.
Surprising Similarities between Ghana and Japan
The first event was held at the University of Ghana's Japanese Language Department. This is Ghana's oldest university, and many of its students have studied in Japan and gone on to get their PhDs. We gave two-hour class to about 100 graduate students who had just begun in September to learn Japanese. The class began with a demonstration of dressing male and female students in traditional Japanese garb, and the students' eyes lit up as we went on to explain that the materials and patterns vary by season, that the length of a woman's sleeves changes after she is married, and that brides wear gorgeous embroidered silk overcoats at their weddings. We were soon swarmed by students with smartphones, eager to get photos of two Ghanaian students in festive dress with us in our kimonos.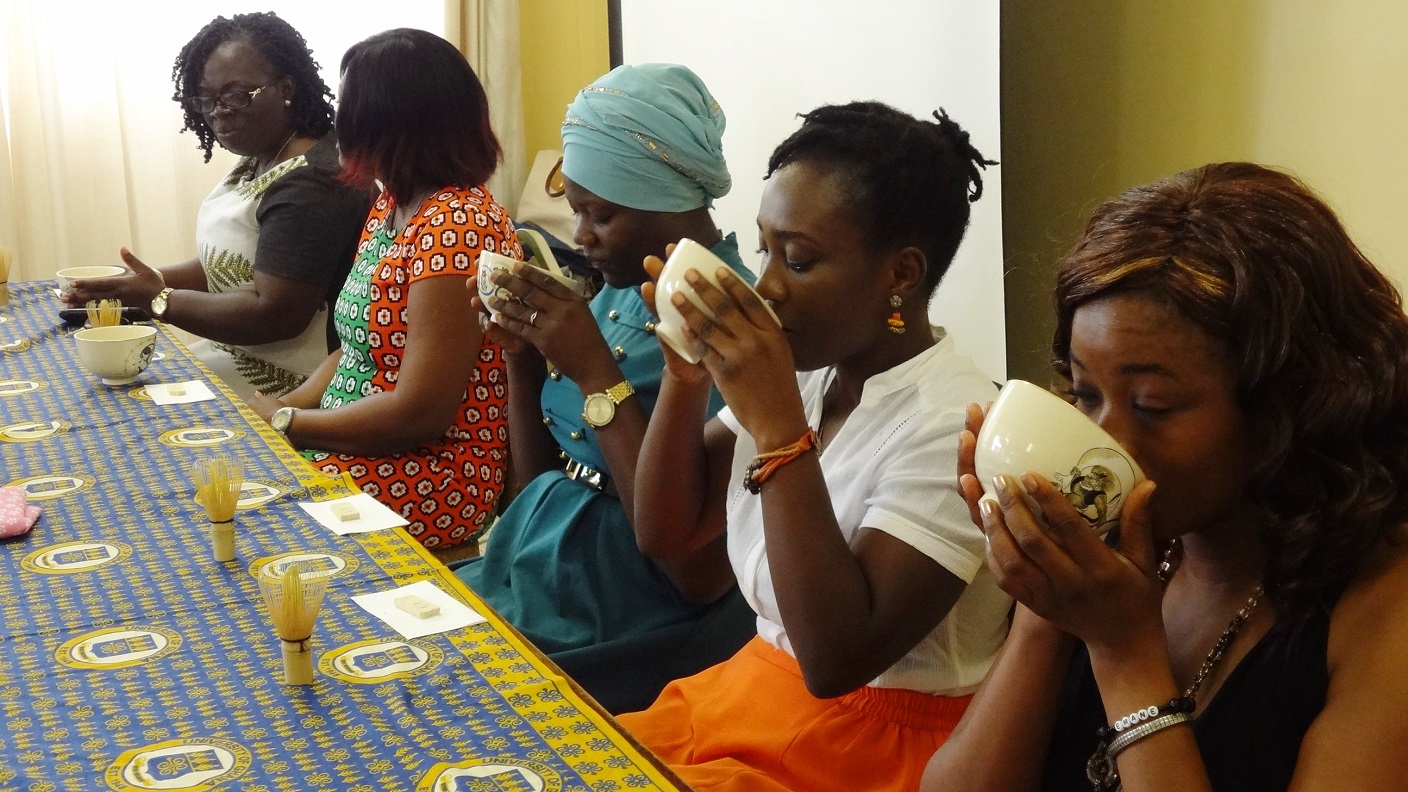 Next came the tea ceremony experience. Students were given their very first try at using a bamboo whisk to smoothly stir up a froth in preparing the tea, and with keen relish they drank down to the very last drop the tea they had made themselves. We also used food products we had brought from Japan to introduce Japanese cuisine. We made rice balls out of steamed Japanese rice, and offered them along with dried laver, soy sauce, wasabi, umeboshi, natto, and miso soup for the students to taste; they all found these delicious and kept reaching one after the other for another bite.
Toshiaki Sugimoto, posted at Sumitomo Corporation Accra Liaison Office, informed us that Ghanaians regularly use small fish and dried shrimp to make soup stock for cooking. This thus became an opportunity to learn that Japan, where soup stock is made with seaweed and bonito flakes, and Ghana, a straight-line distance of 15,000 km away, have surprisingly similar tastes.
Japanese Culture Popular with Everyone from Kids to Adults
The next day we took part in an event held on the outskirts of Accra at an international school that combined kindergarten, elementary and junior high schools. On a schoolyard stage surrounded by about 1,000 students sitting under a blazing sun, we demonstrated kimono dressing, let students try out flower arranging, and led them all through a round of Japan's "radio calisthenics." When we showed them traditional toys (cup and ball, paper balloons, battledore and shuttlecock, etc.) and animation books, the previously quiet and reserved students could no longer contain themselves, rushing en masse toward the stage, where a whirlwind of children called out "Let me touch it! Show it to me, too!" We were thrilled to see their sparkling eyes so full of pleading curiosity.
Another day, we introduced various aspects of Japanese culture at the showroom of an automobile sales company with which our company has been doing business for about 30 years. We set up a tea ceremony and brush calligraphy zone where visitors could actually try out bamboo whisks and brushes, and put on demonstrations of kimono dressing and flower arrangement. We also showed the audience how to make thick-rolled sushi, allowing some of them to make their own and eat it. About 200 visitors were in attendance, including elementary, junior high and high school students bussed in from local schools, and this very successful occasion was even covered by a local Ghanaian television station crew.
Japan's Yosakoi Festival Alive and Well in Ghana
The finale of these latest activities to introduce Japanese culture was the "The Ghana Yosakoi Japan Festival," held annually in Ghana for the past 15 years. Local residents crowded into the venue, where student groups, visiting teams from Japan and others in matching costumes performed the Yosakoi dance in unison. With their upbeat attitude and sense of rhythm, Ghanaians naturally start to move their bodies when they hear music. Their sharp dance moves are well worth seeing.
The employees engaged in the power generation project funded by our company (more details below) and their families had set up a Super Ball scooping booth, while Japanese companies operating in Ghana provided yakitori, shaved ice and other treats. The excitement was very much like a fair day. Our company's booth featured brush calligraphy and kimono dressing. Visitors to the brush calligraphy corner were very happy to have their names written in kanji characters on paper fans brought from Japan instead of the normal writing paper. At the end of the festival, a large number of attendees formed a circle in the center of the venue and had fun performing the Bon festival dance.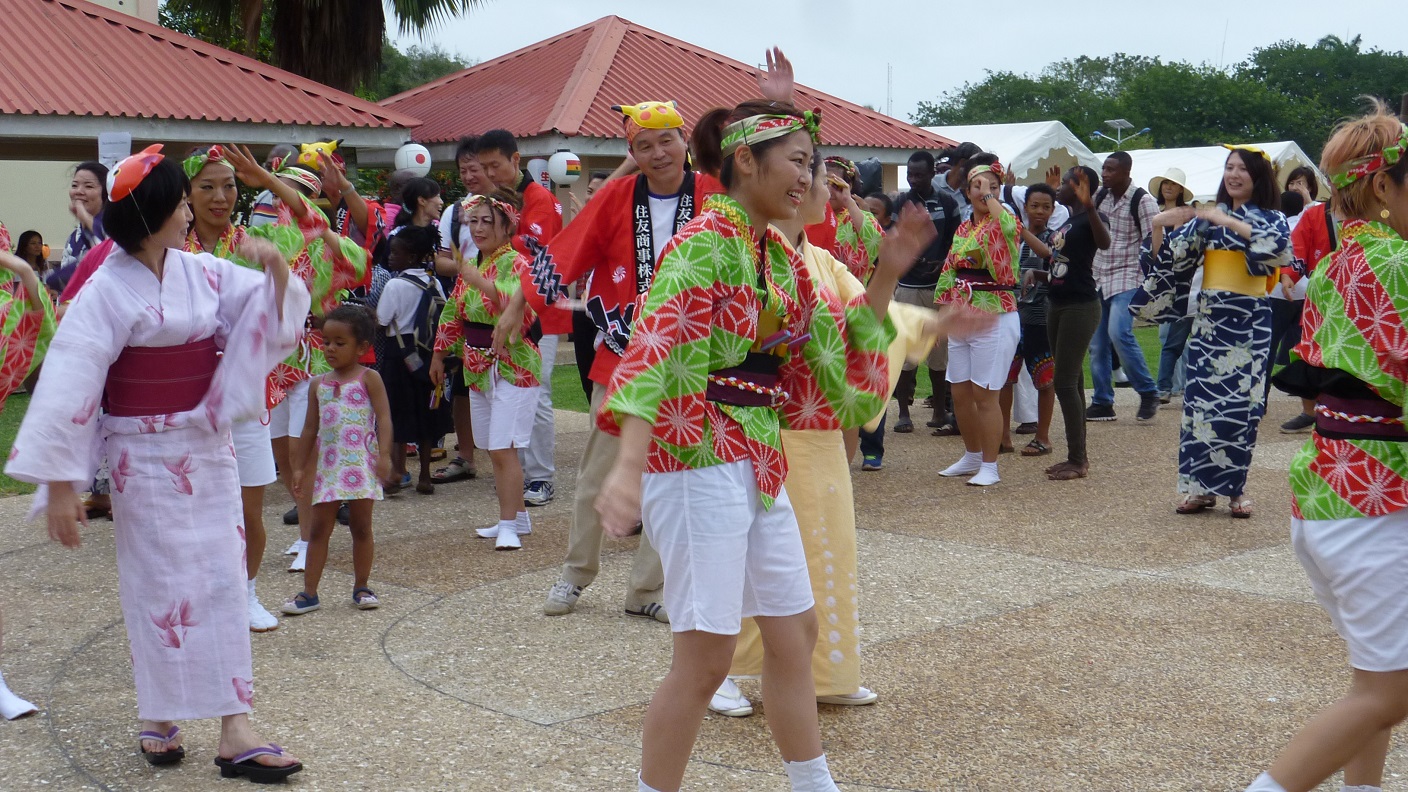 We spent several days of suffocating humid heat in traditional Japanese clothing but we strangely felt no fatigue, finding power welling up naturally as we stood in the vast expanses of Ghana. I recall the smiling faces of the people I met leaving me refreshed and causing me to forget my pouring sweat.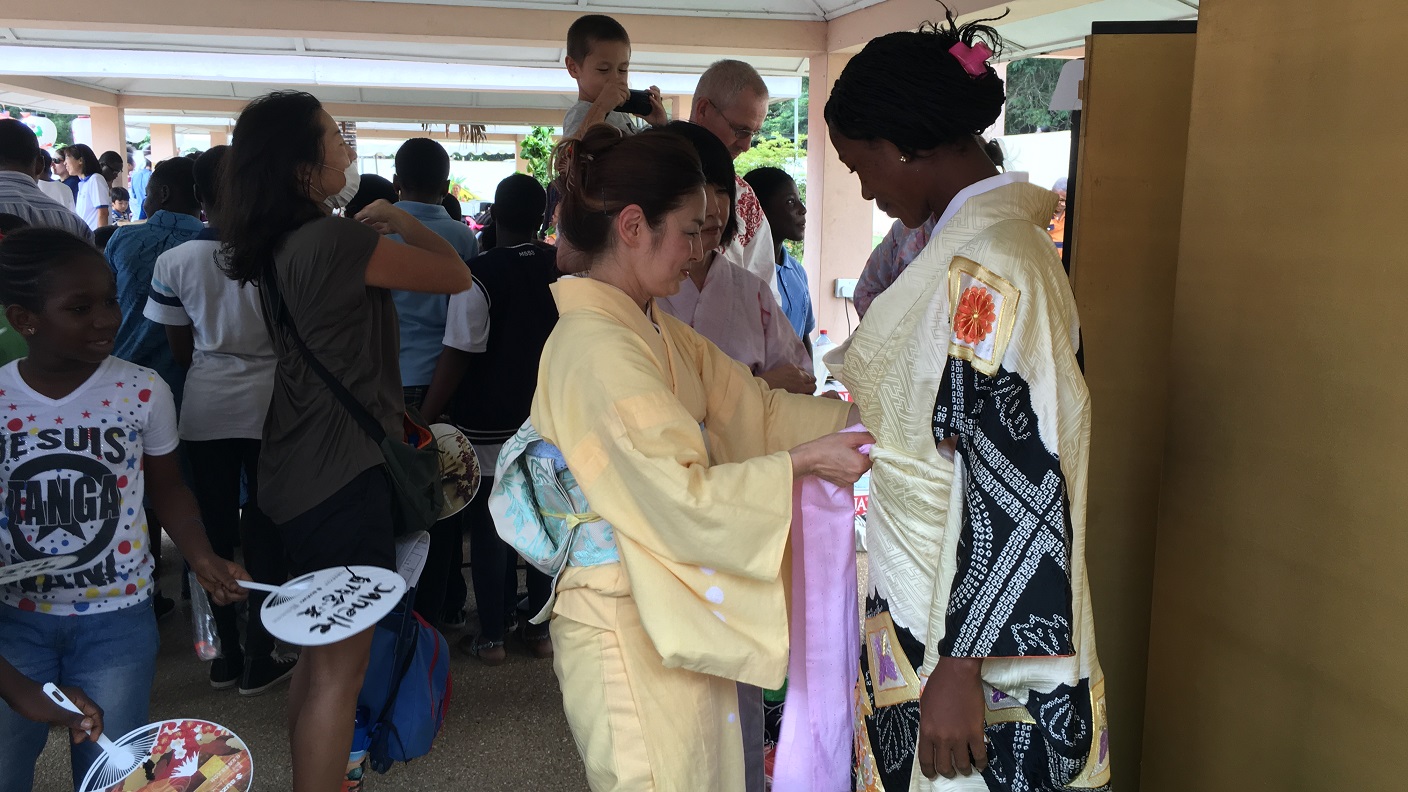 Hoping to Work Together to Make This Country's Future a Bright One
Lastly, let me describe the combined-cycle power plant project that Sumitomo Corporation is pursuing in Ghana. This project aims to construct and operate one of Ghana's largest thermal power plants (Kpone combined cycle power plant. 350 MW class) in the Tema industrial zone about 25 km from Accra. Construction is now at its height, and the plant is expected to be completed and go into commercial operation in 2017. Ghana has seen its electric power use increase as the economy has developed, and a shortage of generating capacity has resulted in chronic power outages. A power plant providing enough power for 600,000 households over a period of 20 years is thus a source of great hope for Ghana.
Five employees have been posted by our company to a local business partner in order to oversee the project's progress. They have also been working to ensure good relationships with the local community, inviting residents in the vicinity to the construction site and undertaking efforts to protect the sea turtles that come to the nearby coast to lay their eggs. Around 1,300 laborers are working on a round-the-clock basis at the red-soil construction site, whose main zone covers about 50,000 square meters. The day on which the people of Ghana can begin enjoying a brighter and more convenient life is not far off.
We were struck by the enthusiasm and warm expressions of the people thronging in the streets. With democracy having taken root and public order being good, the country has earned the title of "Africa's rising star," and this national character seemed to be expressed in the vividly colorful clothing of the people in the towns and cities. We were greatly energized by Ghana during our activities. I very much hope that the people there will take an interest in Japan and come to like Japan, and that the relations between our two countries as well as Ghana's own development will accelerate.
Keyword
Infrastructure Business
Middle East, Africa
Electric Power Energy