Australia is unique in its biodiversity; it is home to more than one million species of plants and animals, many of which are found nowhere else in the world. A diverse number of native plants, wildlife and their habitats are preserved by over 500 national parks around the country, together with state forests, nature parks and conservation reserves. These parklands maintain the most amazing ecosystems and unspoilt landscapes.
It is for these reasons that Sumitomo Australia started participating in the Conservation Volunteers program in 2014. A team of volunteers from Sydney, Melbourne, Perth and Auckland offices joined the project for a day of bush re-generations and habitat restoration activities.
In October 2014, The Sydney volunteers worked in Sydney Harbour National Park, Bradleys Head, improving the habitat for endangered red-crowned frogs by removing invasive weeds known as Asparagus Fern. Asparagus Fern has very long and stubborn roots and its effective removal was not an easy task. Our hard work, however, was rewarded by a bush walk in the surrounding areas which introduced us to a variety of native plants and flowers and, to top it off, soft but definite sounds of the red-crowned frogs !
The Melbourne volunteers spent a day at La Trobe Wildlife Sanctuary, over 30ha of woodlands and grasslands, and planted more than 100 trees as part of the habitat restoration and management of indigenous plants and animals.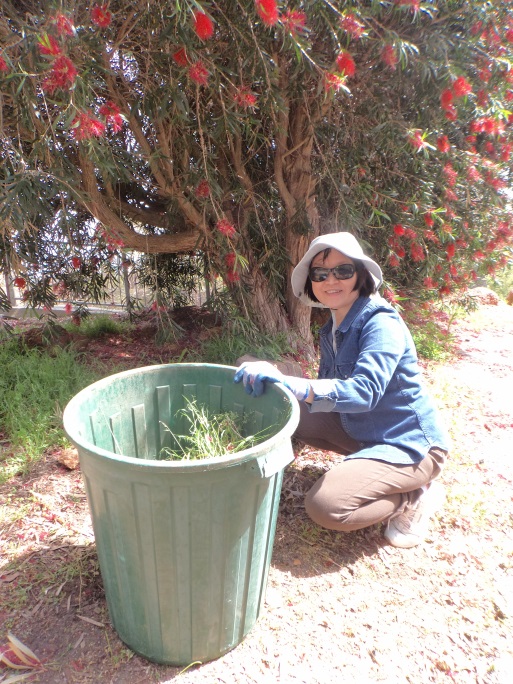 On June 5 2015, World Environment Day, Sydney office volunteers assembled again for the Tree Planting Challenge in Kamay National Park, Kurnell on the southern coastal fringe of Sydney. Kurnell is historically significant as the landing of Captain Cook in 1770. Equipped with gloves and tools, we spent the morning clearing Asparagus Fern (yet again !) from a patch of ground in the park, followed by planting native grass, bushes and trees. This process involved making sure that the new plant was pressed firmly in the earth, covered with mulch and marked with a stake to protect it from trampling feet. After work, we enjoyed a BBQ lunch and moved to nearby Cape Solander to watch humpback whales migrating north. What a treat !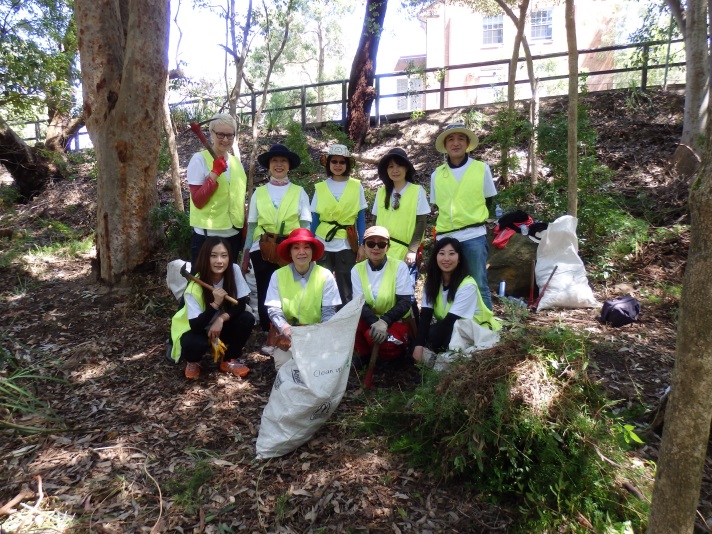 The project location for the Auckland office volunteers was the Atiu Creek Regional Park, a spectacular 450ha park overlooking New Zealand's largest harbour, 80km north-west of Auckland. We were joined by staff from partner suppliers, in a fun day including mud, rainbows, and sizzling sausages! Oh, and our team also planted 500 shrubs and flaxes.
This park is a working farm which was gifted to the people of Auckland little more than 10 years ago. The long-term plan is to convert most of the grazing land into native bush, requiring at least 20,000 plants. So there are plenty of future Conservation Day challenges for us ahead!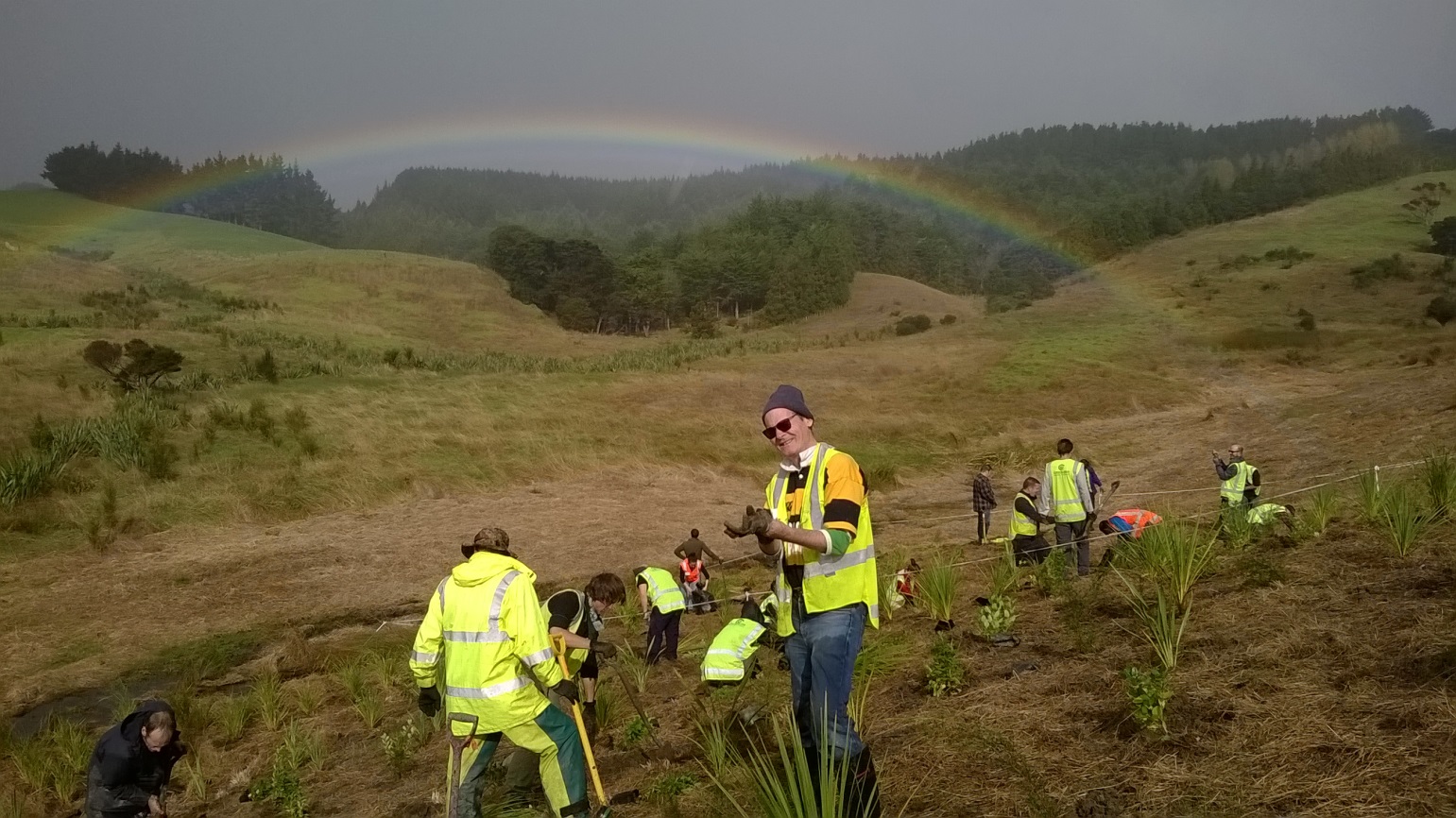 Clean Up Day Challenge - Sydney
A group of seven volunteers from Sydney office rolled up their sleeves and joined in the Clean Up Day Challenge, organised by Conservation Volunteers Australia.
Four corporate teams gathered at Rose Bay Beach, one of the popular harbourside beaches, located in the heart of Sydney. Sydney Harbour has important ecological communities, critical in forming habitat for invertebrates, fish and a multitude of other marine species, however, many beaches are under threat, due to excess human disturbance, storm water pollution and most importantly, the mass accumulation of litter within the harbour.
This project had two purposes; firstly to collect sample micro plastics so that they could be sent off to a university lab for analysis and later on used to educate local manufacturers for better environment management as well as resources for schools and residents. Micro plastics are plastic pieces of 1mm-5mm in size. We placed scoops of sand in a sieve, pour water gently and carefully take out organic matters and sort out tiny plastic pieces. They are so small and some in bright colours, no wonder they could be mistaken as food by some fish and birds. The second mission was to collect as much rubbish as possible from the designated areas of the beach in one hour in a competition format.
Sumitomo Australia team collected 576 pieces of rubbish including over 350 cigarette butts, 4 bags of dog litter, 2 dog leashes among others and came 2nd to a team who collected over 1,000 pieces.
It was an educational day and most importantly a reminder to think about all the plastic items that make our life easy but are causing serious danger to our environment and our own health.
It is important to think about and act on how we can reduce the use of and better manage the plastic, which we are already so used to using. Can we stop using plastic cups and bottles or pick up at least 3 pieces of plastic rubbish whenever we go out? That's a good start! It is also a good conversation topic at dinner table at home particularly when you have children. Let's all start doing something to make a difference collectively. Sydney office has since stop providing foam and plastic cups in the staff kitchen.