Global Cases
Contributing to the advancement of
railway infrastructure development
in the growing economy of the Philippines
Philippines
A long track record with a focus on Asia
Sumitomo Corporation has long been engaged in railway vehicle export projects. Also, we have been partnering with railway manufacturers such as Mitsubishi Heavy Industries (MHI) since the 1980s on projects to export railway systems in ways that address the needs of countries around the world. We have exported mainly to Asian countries including the Philippines, Indonesia, Taiwan, Thailand and Myanmar, and also to the United States. These projects come in a wide variety: full turnkey projects that include the construction of civil engineering structures and railway tracks, supply of railcars and operation systems, O&M businesses, production and technology transfers to different areas, and locomotive and railcar lease businesses.
First urban railway system constructed by a Japanese company outside of Japan
The railway business is broadly divided into two groups. "Lower deliverables" include the provision of civil engineering structures such as tunnels, viaducts, and stations. "Upper deliverables," on the other hand, include railcars, tracks, power facilities, communication signals, and operation systems. Sumitomo Corporation's strength lies in its ability to handle them all. Full turnkey projects must be completely finished to the point where railrway operators need only to turn a key—just as the name implies—to immediately begin operations.
Sumitomo Corporation positions Asia as a priority market for its railway business, with the Philippines being our most important market. Urban railways currently operating in the Philippines are the Manila Light Rail Transit System (LRT) Line 1, LRT Line 2 and Manila Metro Rail Transit System (MRT) Line 3. We have been involved in the construction of all three of these railway lines.
Our history with railway projects in the Philippines dates back to 1997. This started with our project to construct MRT Line 3 in partnership with MHI. MRT Line 3 is an urban railway that runs alongside EDSA, Manila's main highway. The project was planned with the objective of eliminating chronic traffic congestion on EDSA. It involved the construction of a complete urban transport system spanning a total of 17 kilometers with a total of 13 stations. We were responsible for providing the elevated structures, stations, rails, signals, telecommunications equipment, substation facilities, overhead lines, depots and railcars. This was the first urban railway system outside of Japan constructed by a Japanese company. We also had a 12-year maintenance contract starting from 2000, when the full extent of the line opened, to 2012. MRT Line 3 has been providing a means of transportation for the people of Manila for nearly 20 years.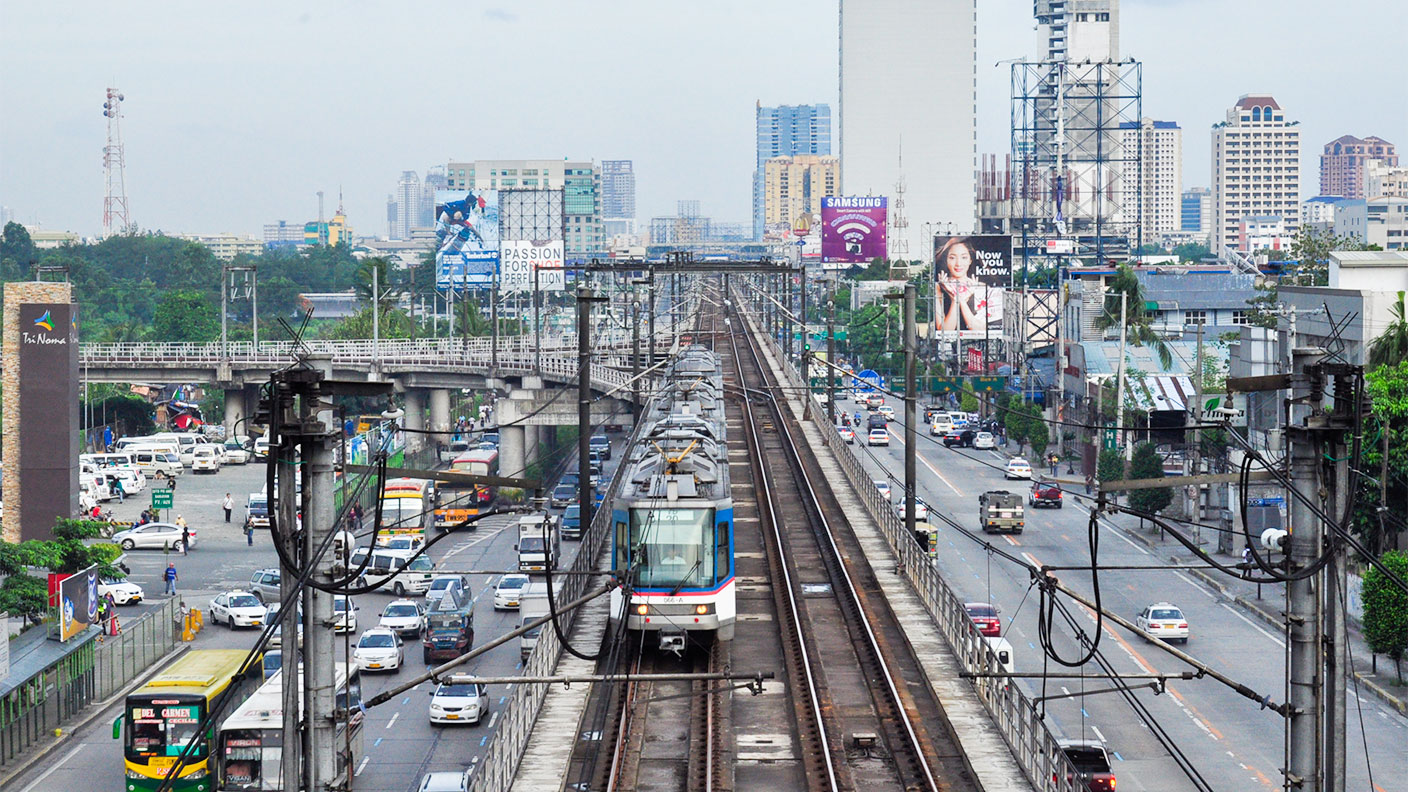 MRT Line 3 Renewal Project
Following the end of our maintenance contract in 2012, there were frequent changes to the maintenance contractors responsible for MRT Line 3. This caused the system to age, and also resulted in delays in the procurement of maintenance parts. As a result, the line's transport capacity fell to less than half of what it was in its peak years.
In 2018, Sumitomo Corporation and the MHI Group received a request from the Philippine Government's Department of Transportation, which sought to immediately improve the situation. The companies received a renovation and maintenance project for MRT Line 3, bolstered by support from the Japanese government in the form of ODA loans. The overall purpose of this project is to restore safety and efficiency to the line. We will carry out large-scale renovations on all railcars and facilities with rates of operation that have declined due to aging and other issues. Work will be conducted while the line maintains its daily operations. In addition, we will be establishing a new, safe maintenance system to ensure that high operation rates can be maintained after the renovation is completed.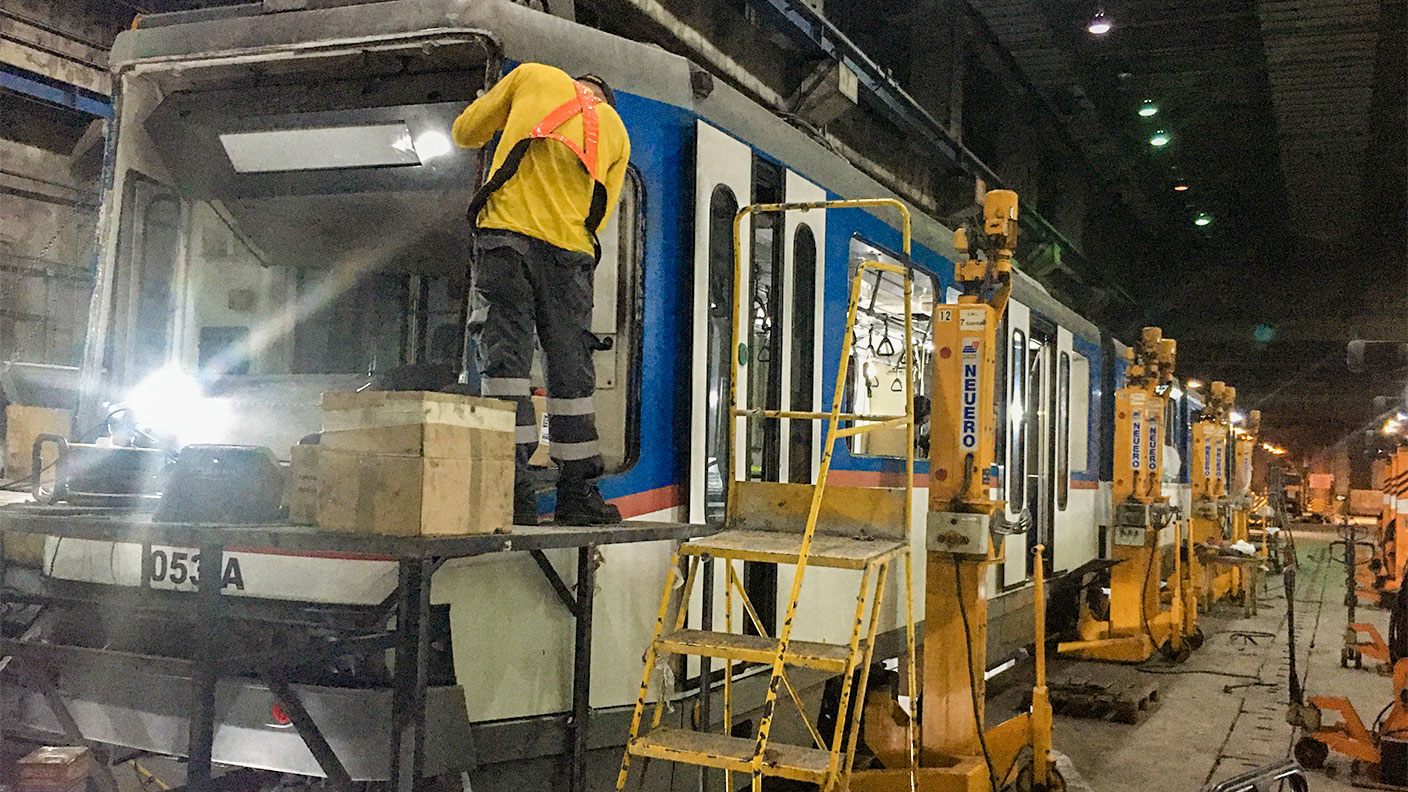 Towards further development and growth of urban railway networks in the Philippines
The Philippines enjoys one of the highest economic growth rates among ASEAN countries. The country's population has topped 100 million and is especially rapidly increasing in Metro Manila. This concentration of population is causing serious traffic congestion issues. The economic loss due to traffic congestion, including the impact on the mobility of people and freight logistics, is estimated to reach roughly 3.5 billion pesos (roughly 70 million US$) every day. Further, CO2 emissions from the increased traffic may result in serious air pollution in Manila.
Given this situation, the current Philippine administration is promoting its "Build, Build, Build" policy (*) for infrastructure development, and positions railways as the most important of these infrastructures. In addition to the MRT Line 3 renewal project, Sumitomo Corporation together with Japan Transport Engineering Company, won a contract for Phase 1 of the North-South Commuter Railway Project in 2019 (contract for delivery of 104 cars), for the Metro Manila Subway project in 2020 (contract for delivery of 240 cars), and for Phase 2&3 of the North-South Commuter Railway Extension project in 2022 (contract for delivery of 304 cars).
We seek to use our vast experience in railway infrastructure development to enhance the transportation network in Metro Manila. We are committed to contributing to the economic development of the Philippines by constructing inexpensive and convenient public transportation, improving the environment by reducing traffic congestion, and eliminating economic losses.
In addition to railway infrastructure construction, we are also expanding our business into railway operations and maintenance. In 2020, we invested in a railway concession project in Metro Manila and began full-fledged operations as a railway operator jointly with local private companies. In addition to the operations and maintenance of railways, this business will also involve other aspects that are incidental to the railway business, including retail on facility premises, economical utilization of facilities, and advertising, thereby expanding the scope of our business to the broader base tiers of the railway industry.
"Build, Build, Build" policy: The Philippines' proactive infrastructure development policy.
Its purpose is to develop infrastructure such as ports, airports and railways, and to create domestic employment in the process.
Keyword
Infrastructure Business
Asia and Oceania
Transportation