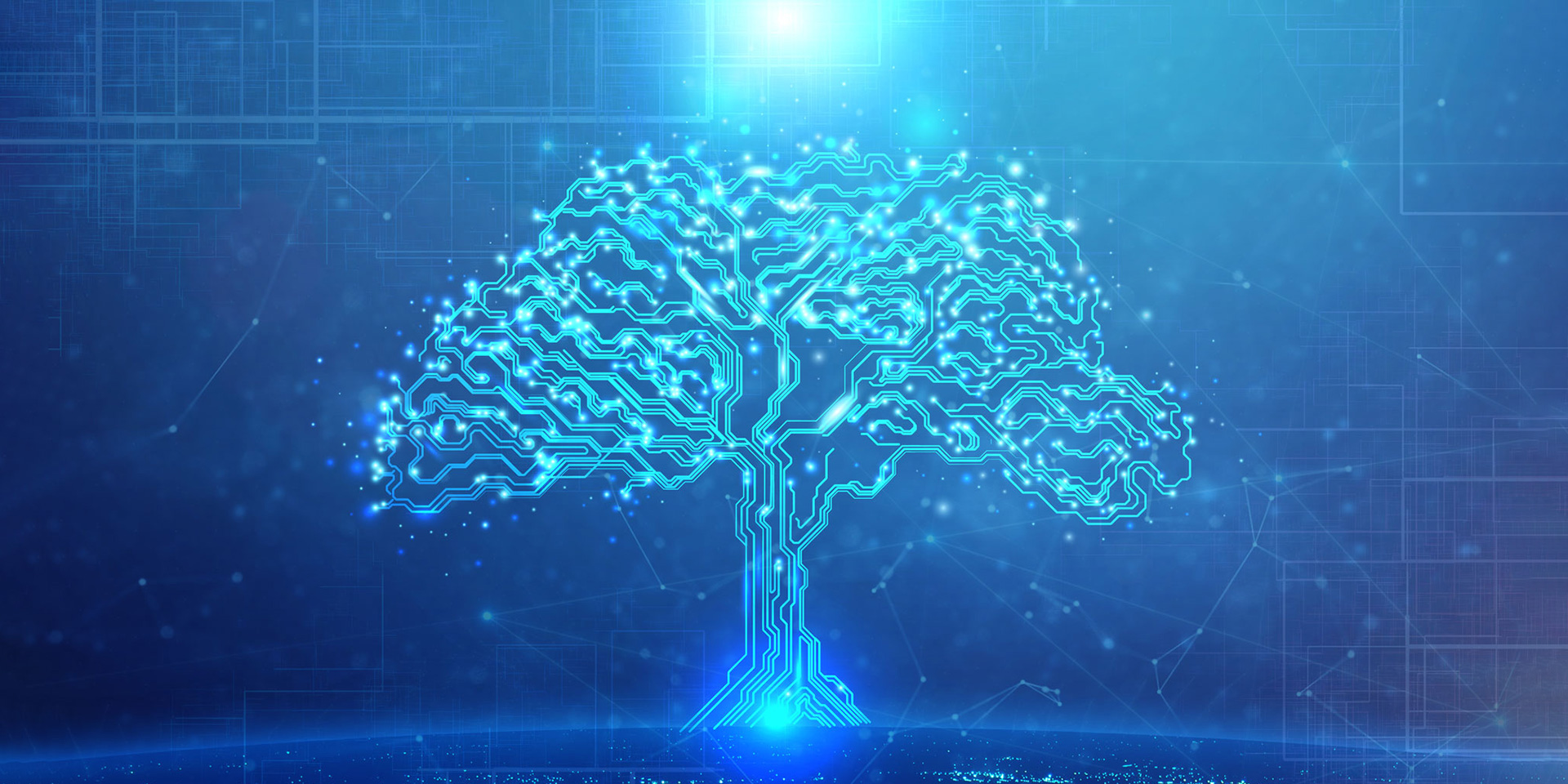 Global Cases
Digital transformation (DX) driven by cutting-edge technologies
global
Reforming the organization, structure, and corporate culture through Digital Transformation (DX)
Sumitomo Corporation Group is pursuing Digital Transformation (DX). For instance, we create new value by incorporating digital technologies into our current wide range of industry fields and also provide cross-industry solutions to social issues.
In April 2018, an organization dedicated to DX, the "DX Center", was established under the Digital Business Division.
Since then, we have been working with approximately 150 people worldwide to pursue DX. We also have been collaborating closely with SCSK, an IT service company in Sumitomo Corporation Group. As a result, more than 300 DX projects have been created. Furthermore, we have been establishing systems to promote DX, such as expanding our corporate venture capital (CVC)*1 fields and conducting the accelerator business in the hardware domain through HAX Tokyo.*2
We also have promoted the utilization of our business data for marketing, and established "Insight Edge," a technology subsidiary specialized in DX.
Going forward, we are aiming to create business models that transcends industry boundaries. We will conduct joint development with startups and open collaboration initiatives with global major players and tech companies in each industry. By pursuing projects that cross multiple industries and reforming our HR system, we are further accelerating our group's corporate transformation (CX).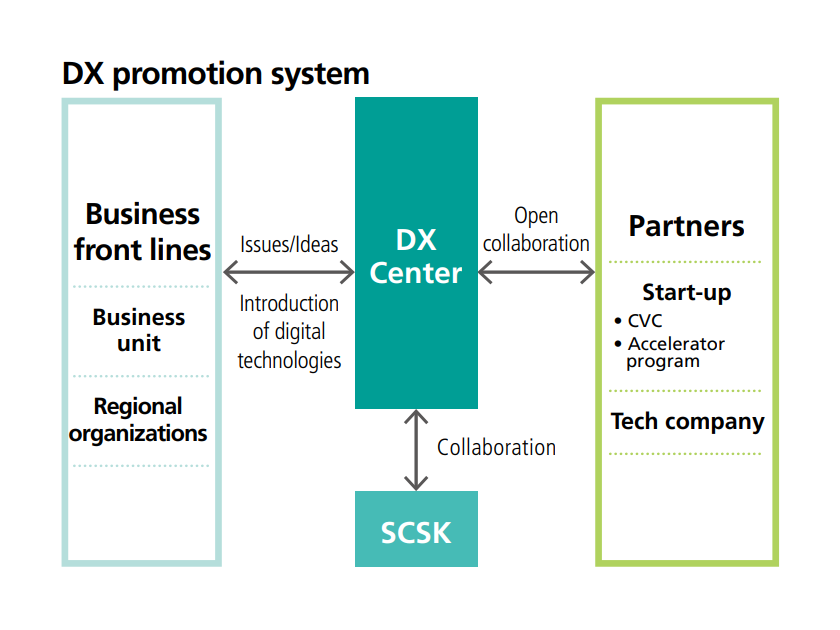 In recognition of such proactive corporate change and instilment of DX into the company's foundation, our company was selected as Digital Transformation Stock (DX Stock) 2020 and Noteworthy DX Company 2021 by the Ministry of Economy, Trade and Industry (METI) and the Tokyo Stock Exchange and as a "DX Certified Business Operator" under the "DX Certification" established by METI.
The entire Sumitomo Corporation Group around the world will come together to take on the challenges of solving social issues through DX and creating a smart society in which people can enjoy their lives in comfort.
Corporate venture capital: An organization activity that provides investment and support with funding composed of a company's own capital, primarily for unlisted startup companies
HAX Tokyo: HAX is an accelerator program (an initiative that performs such activities as the provision of the knowledge and experience necessary for new business creation and project development to startups that are in the possessions of innovative technology and business models, and accelerates growth) related to hardware such as robotics and IoT for startups that boasts a global track record, and HAX Tokyo is jointly managed by Sumitomo Corporation, SOSV (a U.S. venture capital that is the management body of HAX), and SCSK.
Establishment of DX technology subsidiary
In July 2019, Sumitomo Corporation established Insight Edge, a DX technology subsidiary. Its engineering members include AI engineers, IT architects, full-stack engineers, UI/UX*3 designers, and others. It offers the functions of providing measures and ideas for issue resolution, which are the keys to DX implementation.
For example, in trade, retail and other services, market condition/demand predictions, credit risk analysis, and inventory optimization, are needed. In factories and plants, it is necessary to work on improvements in quality of operational processes, such as defect detection and predictive maintenance. We will solve these issues through the power of AI.
Also, we conduct the development of web and smartphone applications that are necessary for new business development and digitalization of operations by using the agile development methodology.*4
We are providing different ways to draw close to commercialization through getting feedback from customers, conducting business feasibility verifications, etc.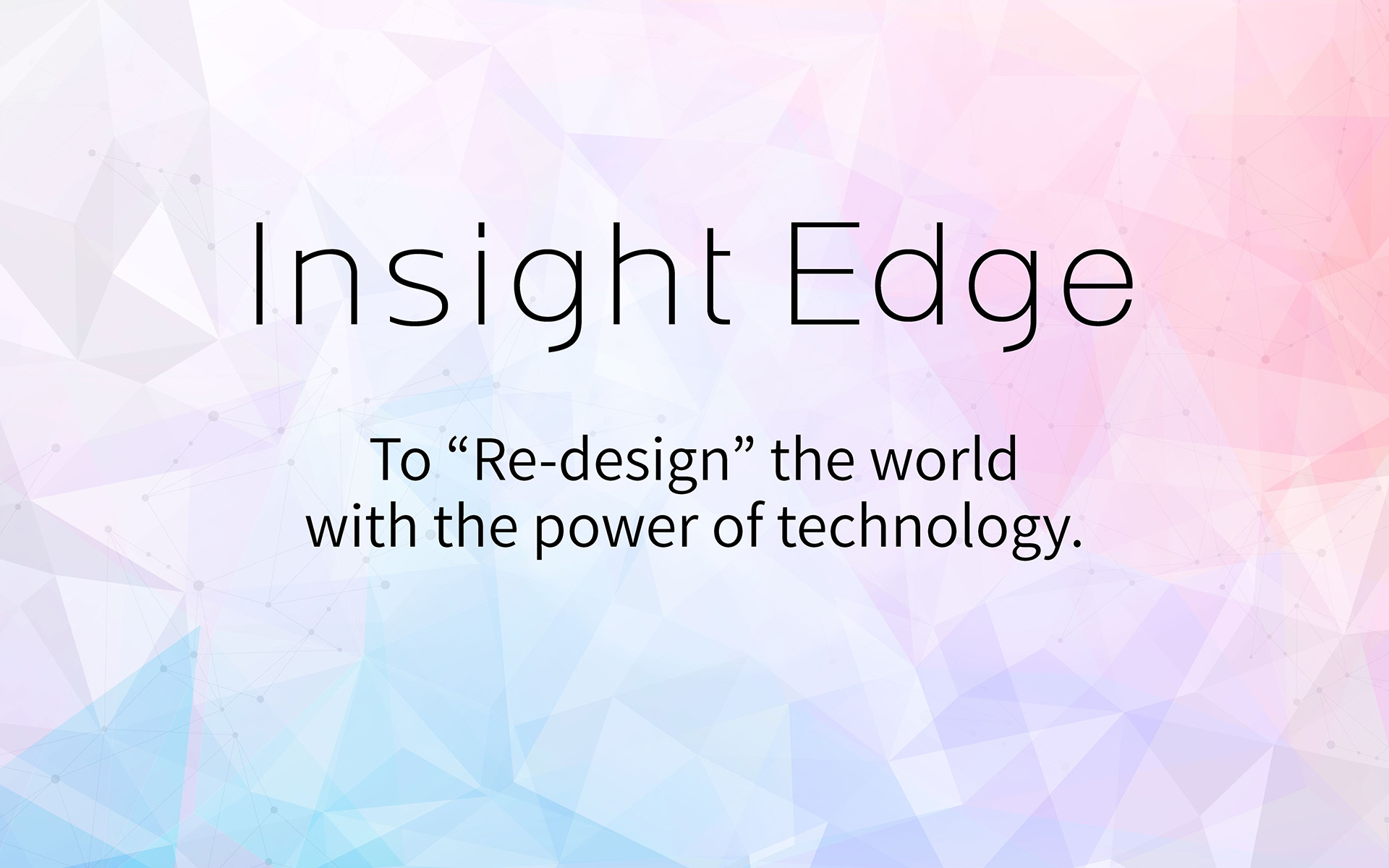 In AI projects and new business development, it is necessary to quickly execute cycles of trial and error. We are accumulating experience and knowledge acquired through individual projects and continuing to make efforts that lead to further value creation.
UI/UX: User interface (all visual information that a user comes into contact with when using a product or service) / user experience (all sensations and experiences that a user comes into contact with when using a product or service)
Agile development methodology: A general term for a methodology that involves conducting development while making revisions and that is faster and more flexible than the conventional method of launching development after creating a detailed plan of the final functionality and development process. It is effective for such projects as the development of prototype software using advanced technology.
Application of Local 5G
Local 5G is a next-generation communication technology that makes possible ultra-fast speeds, ultra-low latency, and large number of simultaneous connections. With a wireless communications system that can be flexibly constructed and used within local limitations, there are expectations that it will be used as the infrastructure that will support DX in various industrial fields.
In June 2019, Sumitomo Corporation performed the first pilot experiment of this technology in Japan. In December of the same year, we launched GRAPE ONE and have made efforts in the wireless platform business that is necessary for local 5G use.
Since January 2021, in collaboration with group companies including Sumitomo Corporation Global Metals, Sumitomo Shoji Machinex, and GRAPE ONE, we have been conducting a pilot experiment*5 using local 5G at the Osaka Factory of Sumitomo Corporation Global Metals' subsidiary Summit Steel.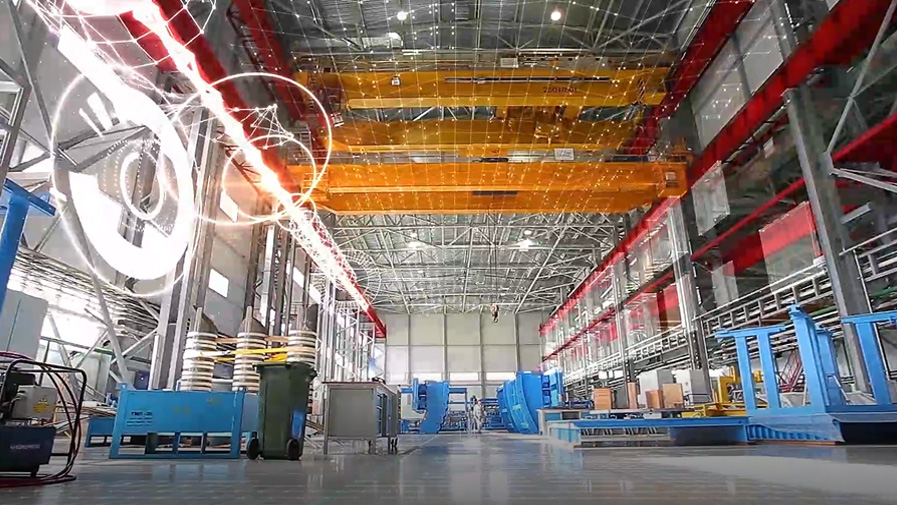 The experiment involves constructing a local 5G environment inside the plant, and performing verification related to "the automation of visual inspections using AI analysis and 8K high-definition images" and "quality confirmations from a distance through the transmission of 4K high-definition images." This initiative is focused on a vision of the future for plants, in ways such as using local 5G to solve wide-ranging issues simultaneously.
Going forward, we will promote a wide range of DX in each industrial field, making efforts to solve regional issues and achieve regional revitalization by using local 5G.
This pilot experiment was selected by the Ministry of Internal Affairs and Communications as a consignment project involving the investigation/examination of technological conditions for local 5G at manufacturing plants in connection with its FY2020 Development Demonstrations for Realizing Local 5G to Solve Local Issues.
Keyword
Metal Products Business
Transportation & Construction Systems Business
Infrastructure Business
Media & Digital Business
Living Related & Real Estate Business
Mineral Resources, Energy, Chemical & Electronics Business
Japan
East Asia
Asia and Oceania
Europe, CIS
Middle East, Africa
The Americas
Information Telecommunications