Global Cases
Participation in European offshore wind power projects
Germany / Belgium / U.K. / France
Rapid development of offshore wind power generation in Europe
The European Union ("EU") aims to increase its use of renewable energy to at least 32% of the EU's total energy consumption by 2030. In July 2021, the European Commission announced policy packages containing a proposal for raising the target ratio to 40%. Under this circumstance, the development of offshore wind power generation projects is growing rapidly in Europe. This technology involves large turbines installed in the sea that harness the power of the wind to produce electricity. Wind farms are currently being constructed in earnest, mainly in the North Sea, which borders Norway, Denmark, Germany, the Netherlands, Belgium, France and the United Kingdom ("UK").
The greatest advantage of offshore wind power generation is the absence of physical obstacles to wind, such as mountains and buildings. This increases efficiency in energy conversion and facilitates output projection. The vast open spaces of the sea are also convenient for the transportation of turbine blades, a headache for onshore wind power projects situated on restrictive land sites. The North Sea is particularly suited to wind farms since shallow waters stretch out for over 40 kilometers off the coast.
Four Belgian projects
Sumitomo Corporation entered the offshore wind power business in 2014. Under a strategic partnership with Parkwind, a Belgian offshore wind company, we participated in Belwind, Northwind and Nobelwind wind farm projects, then in operation, under construction or in development in the North Sea.
Since August 2018, Sumitomo Corporation has also participated in Northwester 2, the fourth joint project with Parkwind. Construction was completed in May 2020. Recently, the European offshore wind power market has been shifting toward ever larger turbines driven by technology innovation. Northwester 2 is running the world's largest turbines currently in commercial operation. Constructing and operating these huge wind turbines requires stable funding, management skills to see the project through, and operational expertise. Having already accumulated considerable related experience through building and running conventional power plants and participating in onshore wind power projects in North America, China and South Africa, Sumitomo Corporation has been able to bring about successful outcomes in the Belgian projects.
Participation in projects expanding in Europe: From Belgium to the UK and then to France
Sumitomo's European bases for its offshore wind power business are Dusseldorf in Germany (European hub), Leuven in Belgium, London in the UK, and Paris in France. We have been exploring new business possibilities, working locally as an IPP firmly anchored in each locale and utilizing our global network as an integrated trading and business investment company to gather information.
In fact, it was due to our steady local efforts, in addition to our highly acclaimed role in the Belgian projects, that we were able to successively take part in two British offshore wind farm projects, Galloper in 2016 and Race Bank in 2017. Wind farms of Race Bank and Galloper, far larger in scale than their Belgian projects, were completed in March and September 2018, respectively. Sumitomo Corporation's experience and know-how accumulated through the Belgian projects is utilized in the operation of these British wind farms. Following them, we have started the new project Five Estuaries, an extension of Galloper.
In 2018, we took part in the Le Tréport and Noirmoutier offshore wind projects in France, following our participation in Belgium and the UK. Le Tréport project is being developed in the English Channel about 15 kilometers off the coast of France and Noirmoutier project is being developed in the Bay of Biscay about 12 kilometers off the coast of France. We are currently working to achieve financial close*. The two projects have a total power generation capacity of 992 megawatts, enough to meet the consumption needs of 1.64 million people.
As evidenced here, the European offshore wind power market is expanding year by year. Our goal is to expand our business in this field by increasing our participation in projects in European countries, including for floating offshore wind turbine farms, an area for which growth is expected going forward. Today, the renewable energy business, which thus far has largely been supported by government subsidies, is quickly transitioning to a self-supporting model. Sumitomo Corporation is also moving in this direction, pursuing greater stability in power generation and higher cost competitiveness, so as to ensure continuity of power supply in Europe.
Financial Close: Entering into a loan agreement for a project and meeting the lending requirements
Potential in Asia
Outside Europe, Asia, Oceania, and North America are attracting global attention for their lofty potential in offshore wind power generation.
In Asia, Japan, Vietnam and other countries are whose who draw much attention, not only because of its abundant wind resources over spacious oceans but also thanks to the government's commitment to renewable energy. Although there are obstacles to be overcome, such as frequent typhoons and less extensive shallows than in the North Sea, Sumitomo Corporation believes that it will be able to apply the expertise acquired through the European projects to initiatives in Japan and the rest of Asia and Oceania in the near future.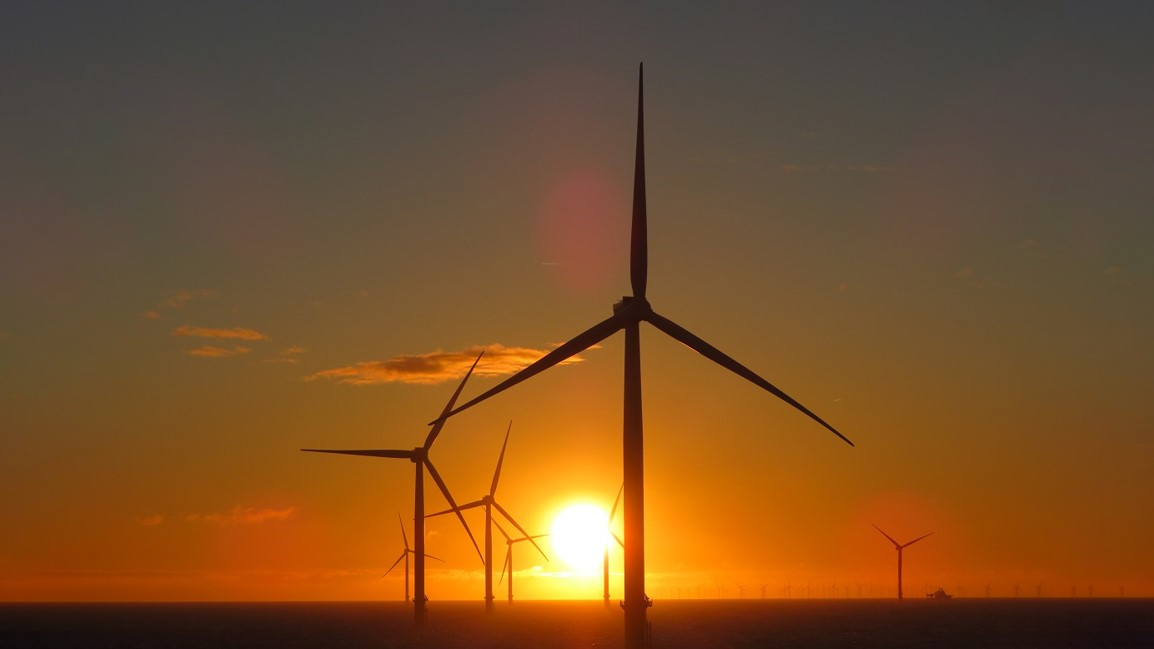 Establishment of the Fund to Expand the Renewable Energy Business
In April 2018, Sumitomo Corporation integrated its conventional power and renewable energy business segments and established a global system to enable it to work on power generation projects in a seamless fashion. The company's objective in this area is to establish a robust energy business that contributes to society and preserves the global environment for future generations.
In 2019, Sumitomo Corporation, Sumitomo Mitsui Banking Corporation and the Development Bank of Japan established the first fund through Spring Infrastructure Capital (SIC), a fund management company jointly established by the three companies. The fund—the first fund in Japan to invest in offshore wind power projects overseas—has acquired the UK-based Race Bank and Galloper offshore wind farm as seed assets (assets for investment by the fund). In 2022, SIC established a second fund to acquire solar power generation projects in Japan as seed assets.
Through SIC, we will provide institutional investors with opportunities to invest in renewable energy assets both in Japan and overseas, and contribute to the development of global infrastructure centered on renewable energy.
To protect our planet while guaranteeing the day-to-day comfort and convenience that electricity provides, Sumitomo Corporation continues to vigorously promote its renewable energy business.
Keyword
Infrastructure Business
Europe
Electric Power Energy
Environment