Dec. 19, 2018
Sumitomo Corporation
Participation in Offshore Wind Farm Projects (Le Tréport and Noirmoutier) in France
Sumitomo Corporation (Head Office: Chuo-ku, Tokyo; Representative Director, President and Chief Executive Officer: Masayuki Hyodo) as of December 18, 2018 has acquired 29.5% of the shares of Le Tréport project and Noirmoutier project (hereinafter, "the Projects"), which projects are under development by Engie (Head Office: France, Note 1) and EDP Renewables (Head Office: Spain, Note 2), offshore wind farm developers, and will hereafter be participating in the Projects.

Le Tréport project is currently being developed in the English Channel about 15 kilometers off the coast of France and Noirmoutier project is currently being developed in the Bay of Biscay about 12 kilometers off the coast of France. With a total power-generating capacity of 992 MW (496 MW each), the Projects should cost around 4 billion Euros overall, and the funds are to be procured primarily through non-recourse project finance. The Projects have a 25-year lifespan and will supply enough electricity to meet the consumption needs of 1,640,000 people in France . Power offtake for both projects is secured via long term PPA.

The Projects are at the development phase and are located in France where a large number of offshore wind power projects are expected to be installed. Together with our partners' expertise, Sumitomo Corporation will contribute to the Projects using expertise gained through our development, construction and operation of existing offshore wind projects and other power projects. Engie is one of our strategic partners and we aim to strengthen our partnership through our further collaboration on renewable energy and other business fields. Furthermore, the Projects signal the start of a long term partnership with EDP Renewables, with whom Sumitomo Corporation will seek collaborations on renewable energy businesses.

Sumitomo Corporation has been involved in wind power generation projects in Japan, Europe, the US, South Africa and China, and it is currently part of three major offshore wind projects in Belgium (total gross capacity of 600MW and net capacity of 194.9MW)) and two in the UK (total gross capacity of 909MW and net capacity of 113.7 MW).

For the realization of a sustainable society, Sumitomo Corporation aims to increase the shares of renewable energy power assets in its power assets portfolio. Sumitomo Corporation will put the experience and know-how it cultivates through the Projects to good use in actively tackling renewable energy projects and helping conserve the global environment.

(Note 1)
ENGIE is a global energy and services group, focused on low-carbon power generation (mainly based on natural gas and renewable energy), global networks and customer solutions. Driven by the ambition to contribute to a harmonious progress, ENGIE takes up major global challenges (such as the fight against global warming, access to energy to all, or mobility) and offer residential customers, businesses and communities energy production solutions and services that reconcile individual and collective interests.
2017 turnover: 65 billion Euros. Listed in Paris and Brussels (ENGI), the Group is represented in the main financial (CAC 40, BEL 20, Euro STOXX 50, STOXX Europe 600, MSCI Europe, Euronext 100, FTSE Eurotop 100, Euro STOXX Utilities, STOXX Europe 600 Utilities) and extra-financial indices (DJSI World, DJSI Europe and Euronext Vigeo Eiris - World 120, Eurozone 120, Europe 120, France 20, CAC 40 Governance). To learn more: www.engie.com
ENGIE, is the leader in renewable energies in France and is the reference shareholder of the two project companies developing the offshore wind projects of Dieppe Le Tréport and Yeu Noirmoutier.

(Note 2)
EDP Renewables (Euronext: EDPR) is a global leader in the renewable energy sector and the world's fourth-largest wind energy producer. With a sound development pipeline, first class assets and market-leading operating capacity, EDPR has undergone exceptional development in recent years and is currently present in 13 markets (Belgium, Brazil, Canada, France, Greece, Italy, Mexico, Poland, Portugal, Romania, Spain, the UK and the US). Energias de Portugal, S.A. ("EDP"), the principal shareholder of EDPR, is a global energy company and a leader in value creation, innovation and sustainability. EDP has been a Dow Jones Sustainability Index for 11 consecutive years. For further rel="noopener noreferrer" information, visit www.edpr.com.





<Reference>
■Wind farm map
■Project summary
Project name
:
Le Téport offshore wind farm project
Project company
:
Éolien en Mer Dieppe Le Tréport
Shareholding
:
Engie 31%, EDP Renewables 29.5%,Caisse des Dépôts et Consignations 10%, Sumitomo Corporation 29.5%

Total project cost
:
Approx. 2 billion euros

Total capacity
:
496MW
| | | |
| --- | --- | --- |
| Project name | : | Iles d'Yeu et de Noirmoutier offshore wind farm project |
| Project company | : | Éolien en Mer Iles d'Yeu et de Noirmoutier |
| Shareholding | : | Engie 31%, EDP Renewables 29.5%, Caisse des Dépôts et Consignations 10%, Sumitomo Corporation 29.5% |
| Total project cost | : | Approx. 2 billion euros |
| Total capacity | : | 496MW |
■Reference photo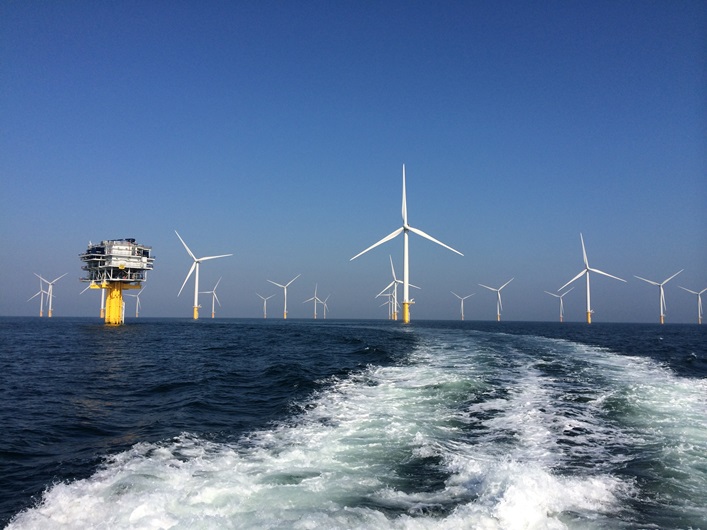 <Reference data>
■Sumitomo Corporation's Material Issues
Sumitomo Corporation Group positions "Six Material Issues to Achieve Sustainable Growth with Society" as an important factor in developing business strategies and in the decision-making process for individual businesses. Going forward, we will pursue sustainable growth by resolving these issues through our business activities. This project especially contributes to "Achieving Harmony with the Global Environment" and "Contributing to the Development of Local Communities and Industries" and "Establishing a Foundation for Comfortable and Enriching Lifestyles".