Global Cases
One of Tohoku's largest woody biomass power plants enters into commercial operation in Sakata City, Yamagata Prefecture
Corporate Communications Staff Explores the World
Mass Media Relations Team, Corporate Communications Department

Hikari Watanabe,

Joined Sumitomo Corporation in 2017. She currently works with the Infrastructure Business Unit and Human Resources, General Affairs & Legal Group at the Media Relations Team of the Corporate Communications Department. Taken on the rooftop of the 50 meter-high boiler building, this profile picture shows the author in low spirits due to the excessive height (which she is not fond of) and the fact that the supplied hard hat was too small (which was later found to be size-adjustable).
Sakata Biomass Power Plant in Sakata City, Yamagata Prefecture was completed and commenced commercial operation in August 2018. Built by Summit Sakata Power Corporation, this is the third large-scale biomass power plant constructed on behalf of Summit Energy Corporation, a Sumitomo Corporation Group company. The 50-MW power plant, among the largest of its kind in the Tohoku region in terms of output capacity, is located at Sakata Rinkai Industrial Park facing Sakata North Port. I attended the plant tour held for members of the press in late August.
Summit Sakata Power's contribution to local forestry
From Shōnai Airport, we arrived at Sakata Rinkai Industrial Park after a 30-minute drive along the Sea of Japan coast. Situated by the sea, this industrial park is a rarity in the country in that it has three different types of renewable-energy power plants—wind, photovoltaic, and biomass. Sakata Biomass Power Plant was a short distance away from the entrance to the industrial park. The complex looked impressive, and was far larger than it appeared from a distance. The grounds are roughly the same size as that of Tokyo Dome stadium, and include a building for receiving biomass fuel, a boiler building, and a turbine building, laid out in a streamlined manner.
Sakata Biomass Power Plant annually uses 160,000 tonnes of domestic wood chips and 100,000 tonnes of imported wood pellets as the main fuel. The plant receives large and numerous truckloads of domestic wood chips, which are tipped into receptacles and conveyed to a wood chip tank with a capacity of about 1,050 tonnes. Unloaded wood pellets are temporarily stored in a 12,500 m2 warehouse at the wharf, from where they are trucked daily to a 650 tonnes -capacity pellet tank.
According to Masamichi Takase, the president and CEO of Summit Sakata Power, the use of domestic wood chips is what makes Sakata Biomass Power Plant special. The 160,000 tonnes of domestic wood chips used at the plant is comprised of un-merchantable wood and other logging residue mainly from Yamagata Prefecture. Mr.Takase added that the plant is unrivalled in the country in the amount of domestic wood chips it uses, and that he hoped to contribute to the revitalization of local forestry and to the mitigation of global warming by actively using locally-produced wood chips.
Transferring wood chips into a chip tank
The plant tour offered participants the chance to see wood chips being unloaded. Deliveries of wood chips arrive at a pace of four trucks per hour (roughly 30 trucks a day on average). Truck drivers accurately park their trucks on a "truck dumper" inside the building for receiving and storing wood chips. The maneuver requires skill, as the truck dumper is only slightly wider than the vehicle itself. Prior to unloading, staff were removing small amounts of wood chips from the truck containers, which they stored on shelves inside the machine operating room. I learned that these actions were for measuring the moisture content of the wood chips. Moisture control is very important for stable power generation because high moisture levels can compromise combustion efficiency.
"Stand back, please," we were told, as the floor underneath the truck started to rise. As we watched with bated breath, the slanting truck discharged wood chips from the back of its open container into a hopper. I was amazed by the sight because I had been expecting the task to be completed by a huge scoop or shovel. The hydraulic truck dumper is capable of a tilt of up to 50 degrees, and seeing it up-close was very impressive.
When I visited, every truck was parked exactly once. (1min 13sec)
Since it tilts to a maximum of 50 degrees, the wooden chips in the truck are thrown in without being left behind. (3min 05sec)
Aiming for stable operation by creating a worker-friendly environment
The tour moved on to the boiler building, turbine building and central control room. Each type of fuel goes into a 45 m-high circulating fluidized bed boiler where high-temperature, high-pressure steam is generated. Of course, one cannot see inside the boiler, which is completely enclosed, but inside the boiler, biomass and silica sand(*1) are mixed with jets of combustion air introduced from the bottom of the boiler, and allowed to vigorously flow and circulate. This causes the silica sand to act as a heat medium, which keeps the temperature inside the boiler stable, resulting in high combustion efficiency. Steam generated by the circulating fluidized bed boiler is converted into rotational energy by turning the turbine blades, and the generator connected to the turbine turns and generates power. Inside the turbine building, I was surprised by the loud roar of the rotating turbine blades. After doing its job of turning the turbine, the steam is converted back into water in a condenser to be fed again into the boiler.
Mr.Takase says his goal is for the power plant to remain in stable operation mode for 20 years, as a start. For this, he thinks it is important for the power plant to be a pleasant, comfortable workplace where his staff members want to continue to come and work. No doubt reflecting this idea, the central control room had a café space for staff to refresh in, and elsewhere there were facilities such as stylishly-designed and pristine changing rooms and restrooms. Observing the motivated and happy-looking staff members, I could see that the power plant is a worker-friendly workplace.
*1 biomass and silica sand: Quartz sand composed mainly of silicon dioxide (SiO2)
Circulating fluidized bed boilers are known to have less environmental impact than conventional boilers because they achieve complete combustion at relatively low temperatures, keeping NOx(*2) emissions lower.
*2 NOx: Oxides of nitrogen, such as nitric monoxide and nitrogen dioxide, which in large concentrations can be harmful to the environment and human health.
Power plant operation is monitored and controlled round the clock by staff manning the central control room.
Amenities for employees on 24-hour shift coverage include a well-designed cafe space.
(Bonus) Gourmet Chronicles
The catchy and cute-sounding "Oishii Shonai Airport" (Delicious Shonai Airport) is actually the official nickname of Shonai Airport. "Oishii" means favorable and excellent things that are not limited to food, and the "oishii" in the nickname refers to Shonai's people and food, as well as natural and cultural attractions. Topping the list of unforgettable tastes from my trip to Sakata is kogashi soy sauce ramen, a dish recommended by Summit Sakata Power's president, Mr.Takase. The pleasantly springy noodles are served in a broth that is not too heavy or salty, topped with grilled onions and leeks. Though slightly different from the lighter soy-sauce-based ramen Sakata is perhaps better known for, I recommend anyone visiting this city to also try the kogashi soy sauce ramen.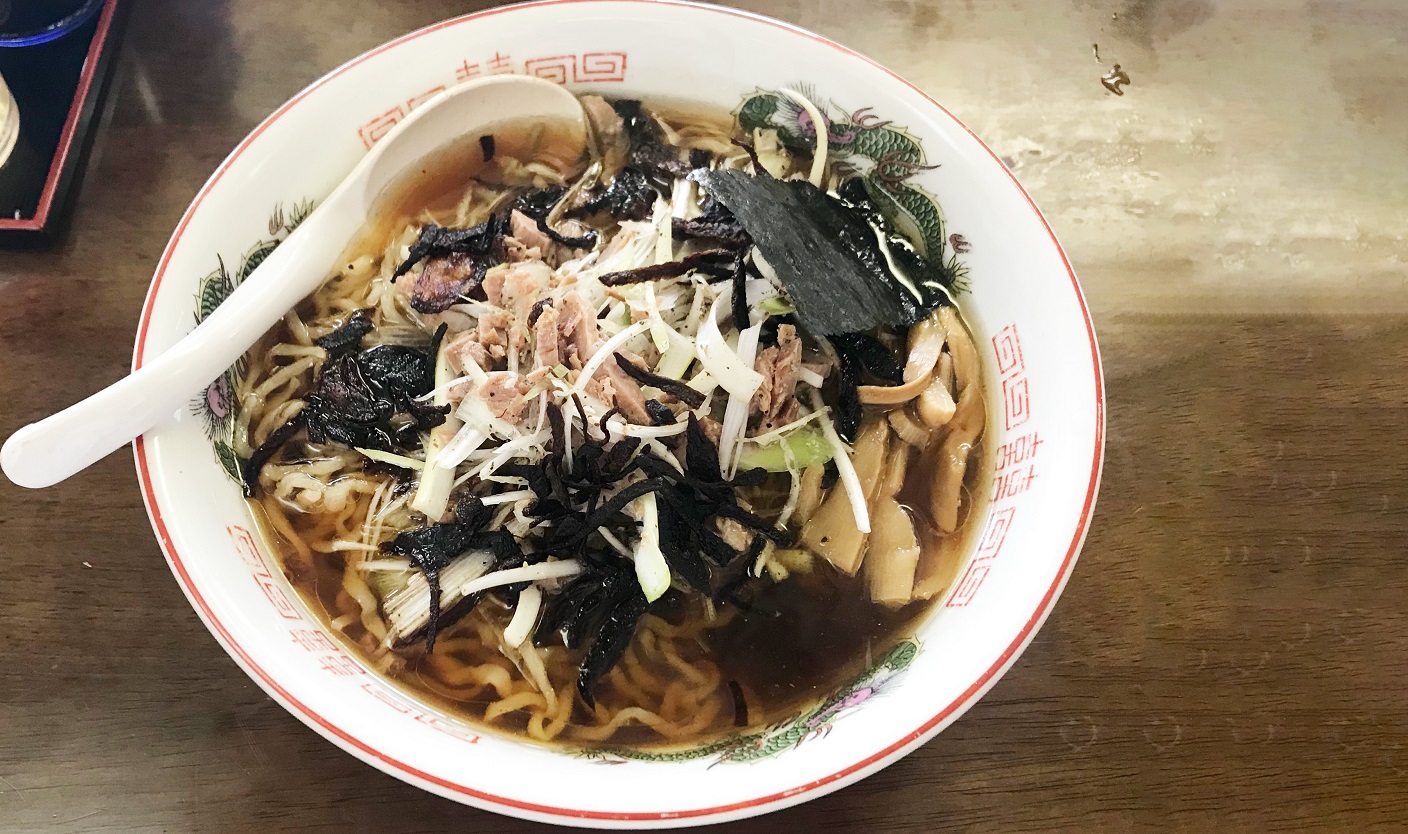 Keyword
Infrastructure Business
Japan
Electric Power Energy
Environment