Aug. 28, 2018
Sumitomo Corporation
Summit Energy Corporation
Summit Sakata Power Corporation
Completion of a Biomass Power Plant in Sakata City, Yamagata Prefecture
On August 23, Sumitomo Corporation (Head Office: Chuo-ku, Tokyo; Representative Director, President and Chief Executive Officer: Masayuki Hyodo) began the commercial operation of the biomass power plant constructed in Sakata City, Yamagata Prefecture through Summit Energy Corporation (Head Office: Chiyoda-ku, Tokyo; President and Chief Executive Officer: Junji Ozawa, hereinafter, "Summit Energy"), which is a wholly owned subsidiary of Sumitomo Corporation.
The Sakata Biomass Power Plant was constructed in the Sakata Rinkai Industrial Park facing Sakata North Port. It will be operated by Summit Sakata Power Corporation (Head Office: Sakata City, Yamagata Prefecture; Representative Director: Masamichi Takase; hereinafter, "Summit Sakata Power."), which was established by Summit Energy in December 2012. The 50 MW biomass power plant will be the largest of its kind in Yamagata Prefecture and also one of the largest of its kind in the Tohoku region. Biomass fuels, such as Japanese wood chips and imported wood pellets, will be procured through Sumitomo Corporation's Materials, Supplies & Real Estate Division. The Japanese wood chips will comprise unused wood materials and timber off-cuts mainly generated in Yamagata Prefecture and will cover about 40% of the biomass fuel, while wood pellets imported from across the world will also be used as fuel. Electricity generated at the plant will be sold to power consumers through Summit Energy.

Biomass power generation uses wood chips (unused wood materials, forest thinning and general wood materials), wood pellets, palm kernel shells (PKSs), and others as a renewable source of fuel to generate electricity in a carbon-neutral manner. Moreover, in the renewable energy classification, biomass-fired power generation is categorized as base load power generation, which means it is cable of consistently generating electricity to its full potential around the clock regardless of weather conditions.

Summit Energy is one of the largest biomass power plant owners and operators in Japan, holding and operating the Itogawa Biomass Plant (50 MW) and the Handa Biomass Plant (75 MW) as well as the Sakata Biomass Plant through its subsidiaries. Sumitomo Corporation, Summit Energy and Summit Sakata Power will continue to contribute to the creation of a low-carbon society through environment-friendly biomass power generation.
<Reference Materials>
■Photos
(Exterior of the Sakata Biomass Power Plant)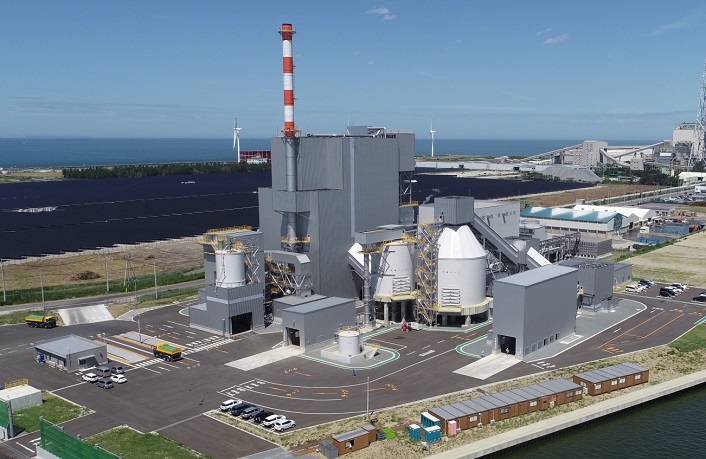 (Central control room)

(Layout plan)

■Sumitomo Corporation's Material Issues
Sumitomo Corporation Group positions "Six Material Issues to Achieve Sustainable Growth with Society" as an important factor in developing business strategies and in the decision-making process for individual businesses. Going forward, we will pursue sustainable growth by resolving these issues through our business activities. This project especially contributes to "Achieving Harmony with the Global Environment" and "the Development of Local Communities and Industries" and "Providing Diverse Accessibility".