Global Cases
Sustaining Indonesia's power supply with geothermal power generation
Indonesia
Renewable energy that is less susceptible to climate conditions
Geothermal power generation is a method used to generate electricity with a renewable energy source. The mechanism itself is simple: ground water is heated by deep underground magma near volcanoes, and the resulting steam turns the turbine of a generator that produces electricity. As it requires no fossil fuel consumption, geothermal power generation has a low environmental impact. Also, the cost of generating electricity is unaffected by fuel market fluctuations. Compared to other renewable energy sources such as solar and wind power, geothermal energy is undisturbed by climate conditions. Accordingly, this generation method can deliver electricity on a stable basis.
However, geothermal power generation entails some risks. It is unclear to know if enough hot water or steam (i.e. geothermal fluid) can be obtained for power generation until after a deep well has been drilled. In fact, some projects must be aborted as a result of drilling 2,000 to 3,000 meters in depth. Developing geothermal energy projects requires know-how of surface level surveys, ability to fund wells for drilling, ample time, and even a certain amount of luck.
Steamfield Above-Ground System (SAGS) extending from the Ulubelu production well (Ulubelu power station [left] and Lahendong power station [right])
Abundant geothermal resources in Indonesia
Business models for power generation infrastructure are generally grouped into two main categories: EPC and IPP. EPC refers to construction contracts where the Engineering, Procurement, and Construction of a power plant are contracted. Under EPC arrangements, the contract is typically fulfilled when the completed facility is delivered to the local government or company. IPP stands for Independent Power Producer, where the operator becomes the owner of the generating facility and sells electricity on an ongoing basis.
With a view to the diversification of power sources in the future, Sumitomo Corporation has kept a keen eye on geothermal power generation since the early days when these projects were becoming larger in scale and more practical, and began delivering related equipment in the 1970s. Indonesia has the second highest number of geothermal resources in the world. We began our work in geothermal power generation there in 1995, and won our first EPC contract for a geothermal power plant in 1997. To date, we have been involved in a total of 12 projects (17 units totaling approximately 900 megawatts of power generation capacity). This represents 43 percent of the total geothermal capacity in the country and is the highest among Japanese integrated trading and business investment companies.
Our success with numerous geothermal EPC projects has been built on the productive partnerships we have forged. Our partners include Fuji Electric Co., Ltd. the world's leading manufacturer of steam turbines for geothermal power stations, and an Indonesian company PT. Rekayasa Industri, which take charge of civil construction, installation and local procurement. Among our recent geothermal EPC projects are the Lahendong power station in north Sulawesi and the Ulubelu power station in south Sumatra.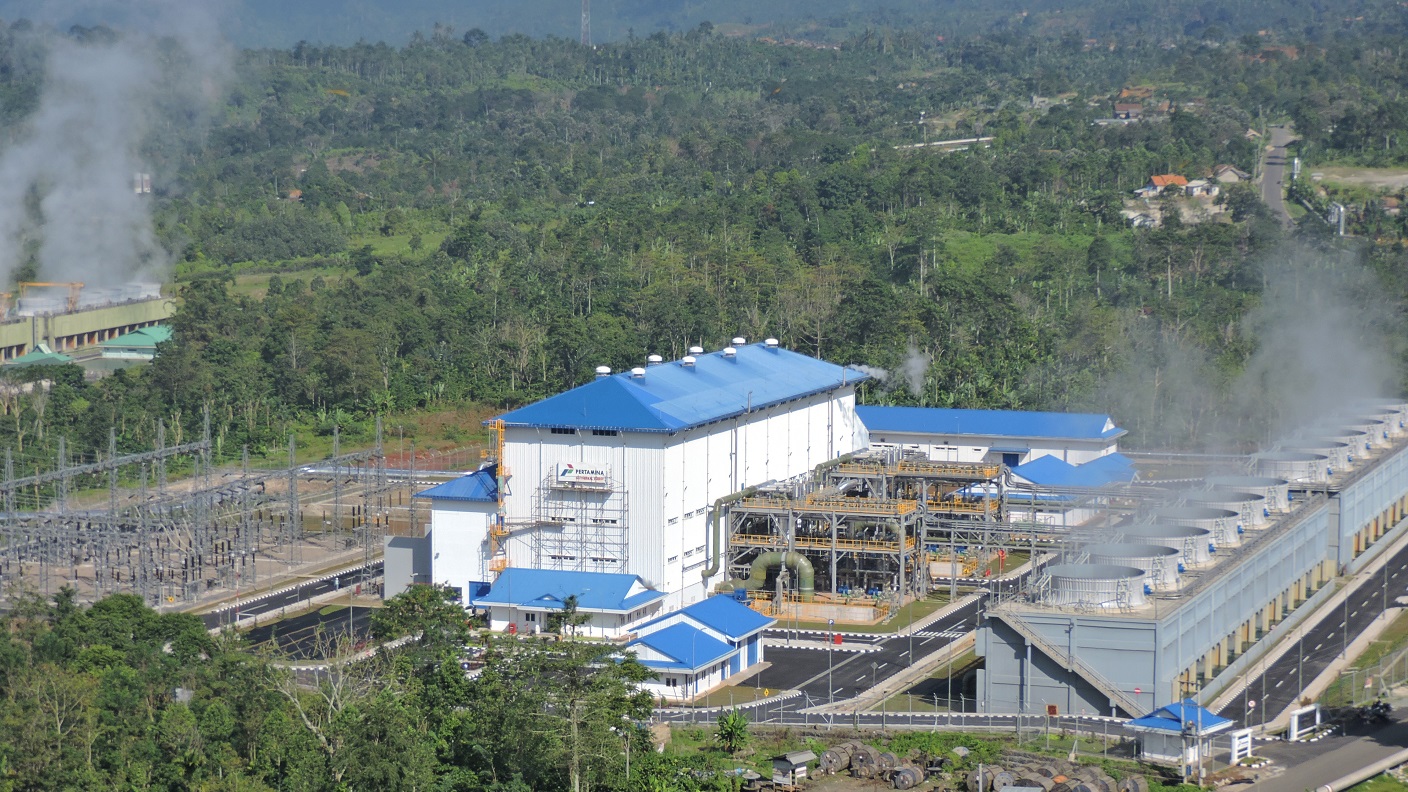 Most geothermal power stations are located deep in rural mountainous areas. Encountering Sumatran tigers posed a threat during construction work for the Ulubelu power station on in Sumatra. (Ulubelu power station [left] and Lahendong power station [right])
Demonstrating persistence in geothermal IPP project development
Our first geothermal IPP project in Indonesia was the Muara Laboh project, launched in west Sumatra in 2011.
Geothermal power stations are generally developed and built in untouched mountainous areas near volcanoes. Development of a geothermal project beings with construction works which consists of clearing and leveling the ground at the project site. Muara Laboh is located in a remote area, requiring four to five hours of overland travel from the nearest airport. In March 2012, the Project Company which Sumitomo Corporation along with its partners invests in entered into a long-term power purchase agreement over 30 years with the Indonesian state-owned electricity utility. After obtaining a Government Guarantee Letter from the Ministry of Finance of the Republic of Indonesia, the Project Company embarked on trial well drilling.
However, as a result of drilling exploration wells, the need to downscale power generation capacity became clear. We renegotiated with the Indonesian government and the Indonesian state-owned electricity utility regarding the terms and conditions of the project. It took nearly two years before all parties reached a unanimous agreement. The next step was to make financial arrangements for the actual power station construction. After five years of concluding the initial long-term power purchase agreement, we were able to achieve finance close and start the construction work in March 2017.
We were also contracted to provide EPC services for the construction of this plant. To achieve our goal of completing our first geothermal IPP project in Indonesia on time and contributing to the country's electricity supply, we not only leveraged our expertise as an operator that we have cultivated through other IPP projects, but also our extensive experience in geothermal EPC projects and the comprehensive strengths of our electric power infrastructure business as well. Finally, we were able to commence commercial operation in December 2019.
It was unprecedented for a Japanese company to be involved in the development of an Indonesian geothermal power project from the earliest stage, even prior to test drilling. Systemic difficulties made negotiations on project terms and conditions as well as financial arrangements a prolonged endeavor. Despite this obstacle, the successful completion of the power plant was achieved, helping us build a foothold for our next projects in Indonesia. Our projects currently underway include expansion work for the Muara Laboh power plant and the construction of our next geothermal IPP project, the Rajabasa power plant, on Sumatra Island
Indonesia to increase geothermal power generation capacity by 2.5 times by 2030
With the fourth largest population in the world at more than 270 million people, and an economy that continues to grow at around 5 percent per year, shifting to renewable energy and ensuring a stable supply of electricity have been national challenges for Indonesia. Geothermal power generation, which utilizes Indonesia's abundant geothermal resources, has been recognized as an effective means to simultaneously solve both of these issues, and the Indonesian government plans to increase its geothermal power generation capacity from the current 2,400 megawatts to 5,800 megawatts by 2030. The government is looking to Sumitomo Corporation, with its 20-plus years of experience in the construction of geothermal power plants and its experience in Muara Laboh geothermal IPP project, for support in this endeavor.
Geothermal power projects entail unique risks that other power sources do not. Building on our accumulated knowledge and expertise, we will contribute to the realization of a low-carbon society in Indonesia by managing those risks in cooperation with government agencies and financial institutions.
Good communication is essential among project staff. We also value communication with local community members and promote local hiring.
Keyword
Infrastructure Business
Asia and Oceania
Electric Power Energy
Environment