Dec. 16, 2019
Sumitomo Corporation
Start of Commercial Operation at Muara Laboh Geothermal Power Plant in Indonesia
Sumitomo Corporation (Head Office: Chiyoda-ku, Tokyo; Representative Director, President and Chief Executive Officer: Masayuki Hyodo) has been jointly engaged with PT. Supreme Energy, a private Indonesian geothermal power generation project developer, and Engie, a leading European global energy company (hereinafter collectively referred to as "the three companies"), in the Muara Laboh geothermal power project (hereinafter, "the Project") in Indonesia's West Sumatra Province. On December 16, 2019, the three companies put the Muara Laboh Geothermal Power Plant into commercial operation.
Sumitomo Corporation has participated in the Project since the exploration well drilling, which is the earliest stage in geothermal power development in Indonesia for a Japanese company to be involved in. Sumitomo Corporation joined this Project in 2011 and, after concluding a long-term (30-year) power sale agreement in 2012 with PT. PLN (hereinafter, "PLN"), Indonesia's state-owned electric utility, it joined with investment partners in taking on this 70 billion yen project. The principal equipment – the geothermal steam turbines and power generators – was supplied by Fuji Electric Co., Ltd and the engineering, procurement and construction (EPC) work was carried out in collaboration with PT. Rekayasa Industri, a local partner, and Sumitomo Corporation Power & Mobility Co., Ltd., a wholly-owned subsidiary of Sumitomo Corporation. With construction having been recently completed, the power plant has now gone into commercial operation with a generation capacity of 85 megawatts, equivalent to the power usage of 420,000 households on Indonesia's Sumatra Island.
Project finance for the Project was secured through a syndicated loan from the Japan Bank for International Cooperation (JBIC), the Asian Development Bank (ADB), Mizuho Bank, Ltd., Sumitomo Mitsui Banking Corporation, MUFG Bank, Ltd., and LEAP (Note 1). The financing from private Japanese financial institutions is covered by overseas untied loan insurance offered by the Nippon Export and Investment Insurance (NEXI), and the Project has thus been undertaken through the consolidated efforts of Japanese companies.
Indonesia has the second largest amount of potential geothermal power resources (Note 2) in the world, totaling about 28,000 megawatts. The Indonesian government has set a target of increasing geothermal power generation from the present 2,000 megawatts to about 6,000 megawatts by 2028, giving rise to expectations for further geothermal resource development. Sumitomo Corporation has begun considering future expansions to the Project as well as the development of new geothermal projects.
Sumitomo Corporation and Sumitomo Corporation Power & Mobility have a track record of 31 projects worldwide in which they have delivered geothermal power generation facilities with a total generation capacity of 2,525 megawatts. In Indonesia, the companies have delivered facilities producing 903 megawatts, accounting for roughly half of the country's total generation capacity. Sumitomo Corporation will be making use of the know-how it has cultivated thus far to contribute to the Indonesian government's future plans to promote geothermal power generation.
Sumitomo Corporation is looking to increase the use of renewable energies in the generation capacity it owns from 20% to 30% by 2035. Committed to reliably supplying the electric power that is essential to Indonesia's economic and industrial development, the company will be pursuing power generation projects utilizing geothermal energy and other renewable energies.
(Note 1) Leading Asia's Private Infrastructure Fund: a trust jointly established by ADB and the Japan International Cooperation Agency (JICA)
(Note 2) The amount of geothermal energy that theoretically exists in an area
<Reference>
■ Map of power plant location
■ Photo of power plant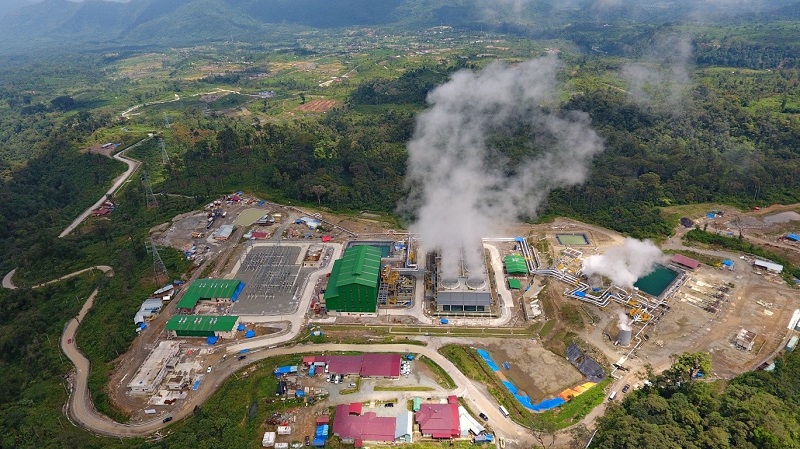 ■Sumitomo Corporation's Material Issues
Sumitomo Corporation Group positions "Six Material Issues to Achieve Sustainable Growth with Society" as an important factor in developing business strategies and in the decision-making process for individual businesses. Going forward, we will pursue sustainable growth by resolving these issues through our business activities. This project especially contributes to "Achieving Harmony with the Global Environment", "the Development of Local Communities and Industries" and "Establishing a Foundation for Comfortable and Enriching Lifestyles".