Feb. 07, 2012
Sumitomo Corporation
Toshiba Corporation
Mitsui Engineering & Shipbuilding Co., Ltd.
Completion Ceremony of Tanjung Jati B Coal-Fired Power Plant Expansion in Indonesia
Sumitomo Corporation (Sumitomo Corporation; Head Office: Chuo-ku, Tokyo; President and CEO: Susumu Kato), Toshiba Corporation (Toshiba; Head Office: Minato-ku, Tokyo; President: Norio Sasaki), Mitsui Engineering & Shipbuilding Co., Ltd. (MES; Head office: Chuo-ku, Tokyo; President: Yasuhiko Kato), Mitsubishi Heavy Industries, Ltd. (MHI) and others have expedited the expansion of the Tanjung Jati B Coal-Fired Power Plant (TJB) in the Republic of Indonesia. To mark the recent completion of the expansion work and begin a test run of TJB Units 3 and 4 (total power generation capacity of 1,320 MW (660 MW per unit), as well as kicking off the start of supplying electricity to the state electricity company PT. PLN (PLN), a completion ceremony was held on February 6, 2012.
PLN hosted the completion ceremony at the TJB site, located in the heart of Java Island. About 200 people attended the event, including Indonesia's Minister of Energy and Mineral Resources Jero Wacik as the guest of honor, the governor of Central Java Province and other Indonesian government officials, representatives from Japanese companies involved in the construction, Japan Bank for International Cooperation (JBIC), Nippon Export and Investment Insurance, and private banks as well as local residents.
At the ceremony, Minister Wacik expressed his appreciation and emphasized the importance of the power generation project in Indonesia.
Speaking at the event, Sumitomo Corporation's President Kato said, "Between June 2006 when we proposed the expansion work to PLN and the end of fiscal 2008 when we signed the lease agreement, and even after starting the construction work, we faced various difficulties which we had to overcome. I am pleased to be here today to celebrate the results of hard work and commitment of individuals from both Indonesia and Japan who addressed the challenges head-on with enthusiasm and overcame the barriers. I believe that TJB will operate in harmony with the local community and contribute to Indonesia's development for years to come."
Toshiba's President Sasaki also affirmed, "We believe that the steam turbine generators we provided for this project will contribute to the safe and efficient operation of TJB. Toshiba will continue to provide highly reliable and efficient power-generating equipment for coal-fired power plants as a base load power source, as well as for geothermal power generation systems, which is expected to gain greater importance as a renewable energy source."

MES's President Kato added, "We are thankful for the opportunity to have undertaken the engineering, procurement and construction of the entire civil and architectural works for the Plant on a design and build basis. We will continue to operate our business including such civil and architectural works for the thermal power plants which are in great demand particularly in the emerging markets, by utilizing the expertise and know-how we have acquired as a general engineering enterprise for years."
Indonesia has been facing a tight electricity demand-supply situation in line with increased electricity needs that come with increased economic growth. Moreover, electricity demand throughout the country is estimated to grow at an average rate of 9% per year until 2019. To solve the power shortage, the Indonesian government developed the first and second crush programs in 2006 and 2010, respectively. Under these circumstances, the stakeholders worked hard on the project to complete the construction as early as possible and managed to complete both units, even with an output and efficiency surpassing the required levels under the contract terms, more than three months ahead of schedule--Unit 3 was completed on October 13, 2011 and Unit 4 on January 1, 2012. The generation capacity of TJB, with new Units 3 and 4 and existing Units 1 and 2 combined, now totals 2,640 MW, accounting for about 13% of the power supply for the entire Java-Bali power system in Indonesia.
【Attachment】
1.Outline of TJB Power Generation Project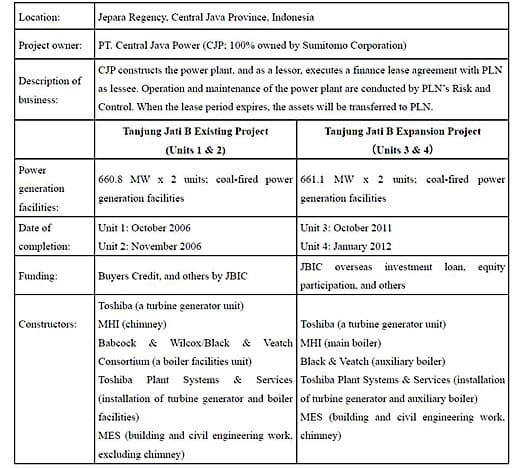 2.Tanjung Jati B Expansion Project (Unit 3 & 4)