Feb. 05, 2013
Sumitomo Corporation
Sumitomo Corporation Europe
Sumitomo to acquire 100% shares of Sutton & East Surrey Water
Sumitomo Corporation (Head Office: Chuo-ku, Tokyo, President and CEO: Kuniharu Nakamura) and Sumitomo Corporation Europe (Head Office: London, United Kingdom, General Manager and CEO: Masaru Nakamura, collectively hereafter, "Sumitomo") have acquired Sutton & East Surrey Water plc ("SESW"), a water only supply and distribution company in England, through the acquisition of 100% of the share capital of East Surrey Holdings Ltd. As the new owner of SESW, Sumitomo will be involved in the operation and management of SESW and will endeavour to contribute to improve quality of service by leveraging Sumitomo's extensive water sector experience.
SESW, established in 1862, is the monopoly supplier of drinking water to residential and business customers in the affluent east Surrey, west Sussex, west Kent and south London areas, including Gatwick airport. SESW's supply area covers a total of 835 km2 and a population of approximately 655,000, through a network including 3,445km of mains, 8 treatment works, 38 pumping stations and 35 service reservoirs and water towers. SESW's water concession business is responsible for the operation and maintenance of, and the management of capital investment in its water supply infrastructure. SESW undertakes the complete range of water concession business activities, including the abstraction, treatment and distribution of drinking water, as well as billing, collection and other customer services.
The global water utilities market is expected to continue growing as a result of population increase and economic growth in developing countries. Privatizations and the role of the private sector more generally are expected to become increasingly important trends in the water utilities market. Sumitomo has a keen interest in developing its principal business in the expanding market for water concessions, and through the acquisition of SESW, Sumitomo will become eligible for further water concession opportunities. Sumitomo will continue to seek further potential opportunities in water concessions around the world, in addition to its ongoing successes in the BOOT/BOO (*) based water business in the waste water treatment desalination sectors in the Americas, Asia, China and the Middle East.
Sumitomo has a strategic focus on building and investing in water infrastructure, which makes a contribution to improvements in living standards around the world. Sumitomo intends to continue its strategy of becoming a major player in water infrastructure, utilising its integrated corporate strength to contribute to the provision of stable water supply and solving global water issues.
(*) BOOT:Build-Own-Operate-Transfer
  BOO:Build-Own-Operate
<REFERENCE>
-- Outline of ESH
| | | |
| --- | --- | --- |
| Name | : | East Surrey Holdings Ltd. |
| Financials | : | Turnover GBP 68million *1 ( Y/E 31 March 2012 ) |
-- Overview of SESW
| | | |
| --- | --- | --- |
| Name | : | Sutton & East Surrey Water plc. |
| Founded | : | 1862 |
| Address | : | London Road, Redhill, Surrey, UK |
| Business | : | Water concession business |
| Service area | : | Southern area to London (835km2) |
| Service population | : | c. 655,000 |
| Employees | : | c. 230/td> |
-- Service area
-- Facility / Reservoir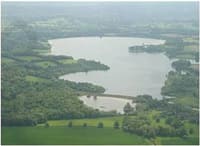 *1.Sourced from Aqueduct Capital (UK) Limited accounts for the financial year ended 31 March 2012. Aqueduct Capital (UK) Limited is the direct holding company of East Surrey Holdings.