Participation in Residential Development Project in Hangzhou, China
In Partnership with Landsea Group
Sumitomo Corporation (head office: Chuo-ku, Tokyo; President and CEO: Kuniharu Nakamura), through Sumitomo Corporation (China) Holding Ltd., and Landsea Group Co. Ltd. (head office: Nanjing, Jiangsu Province, China; Chairman: Ming Tian), a leading Chinese real estate developer, signed an MOU for strategic partnership in real estate business.

Landsea Group has conducted real estate business primarily in Chinese major cities situated Shanghai, Suzhou, Hangzhou, Nanjing, Wuhan, Chengdu, Tianjin and Baoding, undertaking a total of more than 80 projects so far. Focusing on the rising consumer awareness of the environment and health in China early on, the company has pursued the introduction of advanced housing features, including proprietary air cleaning/conditioning central control systems. Demonstrating its strength in this area, Landsea Group has won a high reputation as the country's leading environment- and health-oriented residential developer.

Sumitomo Corporation has developed its condominium business in Japan, centering on the CLASSY HOUSE brand. Conclusion of the recent MOU was based on Landsea Group's recognition of our know-how cultivated over years of operating the condominium business as well as similarities between the two companies in commitment to quality and area strategies for the Chinese market. Under the new agreement, Sumitomo Corporation will introduce its housing development technologies and construction management methods in joint project development, seeking to increase the value of the projects while strengthening ties with Landsea Group.

In the initial joint project under the strategic partnership agreement, the two companies have participated in the Hangzhou Linping residential development project planned in Zhejiang Province.

The project is to construct a residential facility with a total floor area of 11,000 tsubo to house 800 dwelling units, within the Yuhang Economic and Technological Development Zone ("Yuhang ETDZ"), located around 20 km northeast of the city center of Hangzhou. Completion is scheduled for 2019.

Sumitomo Corporation has already launched housing development business in the two Chinese cities of Shanghai and Suzhou. We will work to enhance our real estate business in China, paying close attention to housing policies and market trends, aiming to contribute to improving the living environments of Chinese consumers.


■Information

About Hangzhou
As the capital city of Zhejiang Province, Hangzhou has developed into a political and economic center of the region. Situated only a one-hour high-speed railway ride from Shanghai, the city prospers as a key business center in East China, enjoying strong economic growth chiefly driven by thriving technology and software sectors, and hosting many Japanese companies. Against this background, consumer spending has been increasing remarkably. Hangzhou is also known as one of China's most popular tourist destinations, attracting many visitors from in and outside the country.

About Yuhang ETDZ
The Yuhang ETDZ, in Zhejiang Province, has been built as the district's sole biopharmaceutical industry model zone, hosting many leading companies. The Hangzhou Linping residential development project is planned to provide high-quality housing based on solid differentiation strategies, primarily targeting employees of companies based in the zone. Additionally, a plan is being considered to construct a new subway line (Line No. 9) that would connect the Linping area and the city center of Hangzhou, which is expected to expand housing demand in the project area.
Area map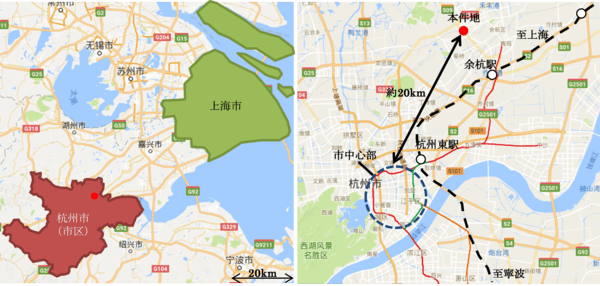 Project outline
Location
:
Linping, Yuhang District, Hangzhou City, Zhejiang Province
Total site area (approx.)
:
15,000 square meters (4,600 tsubo)
Facility (approx.)
:
800 dwelling units; 20 retail units
Total floor area (approx.)
:
38,000 square meters (11,000 tsubo)
Completion scheduled for
:
April 2019