May 16, 2018
Sumitomo Corporation

Industrial Park Sales Collaboration in Poipet, Cambodia
Sumitomo Corporation (Head Office: Chuo-ku, Tokyo: President and CEO: Masayuki Hyodo) has reached an accord with Poipet PPSEZ Co., Ltd. (Head Office: Poipet, Banteay Meanchey Province, Kingdom of Cambodia; CEO: Hiroshi Uematsu), wholly-owned by Phnom Penh SEZ Plc. (hereinafter, "PPSEZ"), on sales collaboration with respect to the Poipet PPSEZ under construction in the city of Poipet (Banteay Meanchey Province, Kingdom of Cambodia), and the parties have concluded an exclusive agency agreement to that effect.
The ASEAN Economic Community was established in Southeast Asia at the end of 2015, and it can already count the lifting of tariffs among its successes. Further economic integration, including in areas for liberalization, should be achieved by 2025. Economic development centered on Thailand's manufacturing industry is expected to have spillover effects in the Greater Mekong Subregion (Note 1).
Cambodia offers geographical advantages, logistics infrastructure, and an abundance of young low-cost workers (with an average age of 24) as well as synergy with Thailand-Plus-One (Note 2), and numerous foreign companies have already expanded into the country, where border economic zones are being formed. Three million people live in and around the city of Poipet, which, in addition to its plentiful human resources, enjoys a favorable location along the Southern Economic Corridor on the border with Thailand, and future development is likely to center on manufacturing goods for Thailand.
Construction work is proceeding steadily at Poipet PPSEZ, and sales are underway.
Located about 8 kilometers from the border with Thailand, Poipet PPSEZ has good access from National Route 5, part of the Southern Economic Corridor that runs from the Cambodian capital of Phnom Penh to Thailand. The 70-hectare site is to be outfitted with sufficient infrastructure to ensure reliable power supply and water supply/drainage, and there are plans to construct rental plants in conjunction with land sales. PPSEZ has developed and operated the Phnom Penh Special Economic Zone on the outskirts of the capital Phnom Penh since 2006, and it will put the know-how gained from this to use in meeting the diverse needs of companies expanding into the area.
Sumitomo Corporation has been involved in development, sales and operation for industrial parks in Indonesia, the Philippines, Vietnam, Myanmar, India and elsewhere since 1990, and has over that time gained a wealth of knowledge. In Cambodia, it has been engaged in sales for an industrial park run by PPSEZ near Phnom Penh since 2012, garnering considerable know-how in the process. In this latest project, too, Sumitomo Corporation will be providing support to Japanese companies expanding into Cambodia.
Sumitronics Manufacturing (Cambodia) Co., Ltd., a contract manufacturer of electronic equipment and an affiliate of Sumitomo Corporation, has already become the first tenant company in Poipet PPSEZ, and it plans to begin construction on a plant later this year. Sumitomo Corporation and Poipet PPSEZ will continue collaborating and cooperating to help Japanese companies move into Cambodia and contribute to industrial development in Cambodia and the Greater Mekong Subregion.
(Note 1) A collective term for the region of the Mekong River basin encompassing Thailand, Vietnam, Cambodia, Laos and Myanmar as well as China's Yunnan Province and the Guangxi Zhuang Autonomous Region.
(Note 2) Thailand-Plus-One: A business model in which companies operating in industrial centers in Thailand shift the labor-intensive portions of their production processes to special economic zones located on the borders of neighboring countries
<Reference data>
■ Profile of Poipet PPSEZ
(1)Operating body
:
Poipet PPSEZ Co., Ltd.
(2)Investment ratio
:
Phnom Penh SEZ Plc.: 100%
(3)Location
:
Banteay Meanchey Province, Kingdom of Cambodia(about 6 kilometers east of central Poipet)
(4)Area to be developed
:
68.4 hectares
(5)Start of operations
:
Summer 2018
■ Map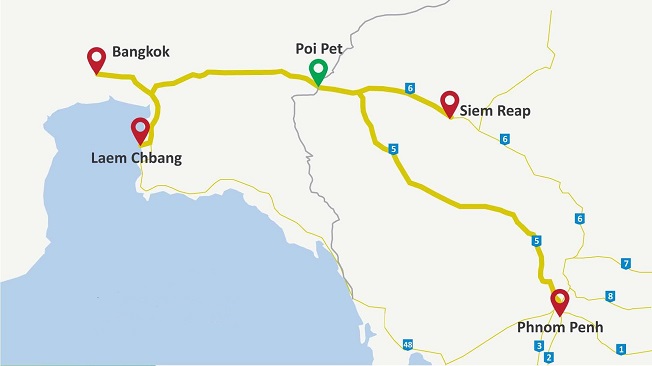 ■Sumitomo Corporation's Material Issues
Sumitomo Corporation Group positions "Six Material Issues to Achieve Sustainable Growth with Society" as an important factor in developing business strategies and in the decision-making process for individual businesses. Going forward, we will pursue sustainable growth by resolving these issues through our business activities. This Project especially contributes to "the Development of Local Communities and Industries" and "Providing Diverse Accessibility".