Oct. 01, 2019
Sumitomo Corporation
Development of SOSiLA Urban Logistics Facilities in Osaka's Fukushima-ku, and Kanagawa's Chuorinkan
—No Vacancies at All Completed Logistics Facilities; Setting Up a SOSiLA Logistics REIT—
Having promoted urban logistics facilities, SOSiLA, Sumitomo Corporation (Head Office: Chiyoda-ku, Tokyo; Representative Director, President and Chief Executive Officer: Masayuki Hyodo) has started the development of SOSiLA Osaka (tentative name) together with the largest cardboard and paperboard manufacturer and seller, Rengo Co., Ltd. (Head Office: Kita-ku, Osaka City, Osaka Prefecture; Chairman and President: Kiyoshi Otsubo), at the site of Rengo's old Yodogawa Mill. At the same time, in the Tokyo Metropolitan Area, Sumitomo Corporation has begun to develop SOSiLA Chuorinkan (tentative name), the largest of the SOSiLA series, in Yamato City, Kanagawa Prefecture.
In recent years, a shortage of delivery trucks, drivers, and warehouse workers has become a social issue, while mail order businesses and retailers have started to provide services that meet consumers' need for fast delivery. To address such social issues in supply chains under the theme of "logistics facilities connecting people and society," Sumitomo Corporation has developed SOSiLA, logistics facilities for the last mile1 close to points of consumption.
SOSiLA Osaka is very close to Osaka's business district, which is the most appropriate location for last mile delivery. With completion scheduled for the end of May 2021. Rengo as a general packaging industry (GPI) has provided comprehensive solutions for all packaging needs in all industries and created new value in the supply chain. Thus, with a view to improving logistics efficiency, Sumitomo Corporation will consider collaborating with Rengo.
SOSiLA Chuorinkan, located in a densely populated area in the inland area of Kanagawa Prefecture, is to be completed by the end of 2022. Its asset scale upon completion will be more than 30 billion yen, which will bring Sumitomo Corporation's total logistics real estate asset scale to over 220 billion yen2. As SOSiLA Kasukabe, which has already been put into operation, has recently become fully occupied, all completed SOSiLA series facilities will be operated in a stable manner, with no vacancies after October 2019.
At the end of August 2019, SOSiLA Logistics REIT (hereinafter, "the REIT"), a real estate investment trust company focusing primarily on logistics facility investment, was set up. The SOSiLA series aim to contribute achievement of rich society, by environment-friendly specifications, including rooftop-greening and water-saving systems. Using these properties, Sumitomo Corporation will operate non-asset business3 to provide opportunities for ESG investment, and will also take the two-pronged approach of aggressively developing logistics facilities and operating the Listed REIT for further expansion of the logistics real estate business and for asset cycle management.
Sumitomo Corporation regards logistics properties as the fourth pillar of its real estate business, following office buildings, commercial facilities and condominiums, and will continue to develop logistics facilities for the last mile that are located close to city centers or densely populated areas and designed to be highly convenient for delivery.
| | |
| --- | --- |
| 1 | The last segment connecting logistics facilities to end-users via product delivery |
| 2 | The figure includes not only in-house assets but also assets owned by funds in which Sumitomo Corporation has investments, and reflects the asset scale of developed properties upon completion. |
| 3 | Businesses that do not hold assets themselves but instead invest in real estate development using funds collected from outside parties. |
<Reference>
■ SOSiLA website: http://sosila.com/
■ Overview of SOSiLA Osaka (tentative name)
| | |
| --- | --- |
| Location | Fukushima-ku, Osaka City, Osaka Prefecture |
| Transportation | Yodogawa Station on the Hanshin Main Line, and Noda Hanshin Station on the Osaka Metro Sen-nichimae Line |
| Access | 300 meters, or 1 minute by car, from the Ohiraki Interchange on the Hanshin Expressway Route 2 Yodogawa-Sagan Line |
| Total floor area | About 101,000 square meters |
| Rental area | About 52,000 square meters |
| Date of completion | End of May 2021 (TBD) |
[Bird's eye view illustration of SOSiLA Osaka]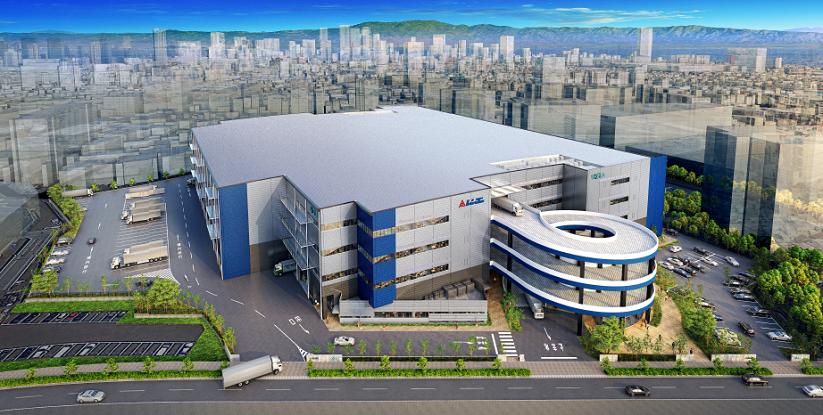 ■Overview of SOSiLA Chuorinkan (tentative name)
| | |
| --- | --- |
| Location | Yamato City, Kanagawa Prefecture |
| Transportation | Chuorinkan Station on the Tokyu Den-en-toshi Line and the Odakyu Enoshima Line |
| Access | 5 kilometers, or 20 minutes by car, from the Yokohama Machida Interchange on the Tomei Expressway |
■Overview of SOSiLA Kasukabe
| | |
| --- | --- |
| Location | Shimoyanagi, Kasukabe City, Saitama Prefecture |
| Transportation | Fujino-ushijima Station on the Tobu Urban Park Line |
| Access | 13 kilometers, or 25 minutes by car, from the Iwatsuki Interchange on the Tohoku Expressway |
| Total floor area | 52,900 square meters |
| Date of completion | March 2019 |
[Photograph of the exterior of SOSiLA Kasukabe]
■Sumitomo Corporation's Material Issues
Sumitomo Corporation Group positions "Six Material Issues to Achieve Sustainable Growth with Society" as an important factor in developing business strategies and in the decision-making process for individual businesses. Going forward, we will pursue sustainable growth by resolving these issues through our business activities. This project especially contributes to "Achieving Harmony with the Global Environment", "Contributing to the Development of Local Communities and Industries," "Establishing a Foundation for Comfortable and Enriching Lifestyles," and "Providing Diverse 'Accessibility.'"