Feb. 10, 2020
Aerosense Inc.
Sumitomo Corporation
Capital and Business Tie-up between Aerosense and Sumitomo Corporation
Entering Next-generation Construction using Drones
Aerosense Inc. (Head office: Bunkyo-ku, Tokyo; President & CEO: Kohtaro Sabe) and Sumitomo Corporation (Head Office: Chiyoda-ku, Tokyo; Representative Director, President and Chief Executive Officer: Masayuki Hyodo) concluded a capital and business tie-up agreement for entry into the field of next-generation construction using drones.
Currently, construction sites in Japan are facing a severe labor shortage due to the aging of construction workers and have an urgent need for manpower-saving and productivity improvement using robots including drones.
Upholding the vision of "changing society from the sky," Aerosense is developing automation systems incorporating drones and AI technology. For drone-based measurement, which is increasingly used in the field of construction, Aerosense provides a one-stop service that covers all stages from measurement using autonomous drones to data analysis using cloud computing as AEROBO measurement 2.0. The company is also developing solutions for inspection, logistics and aerial photography.
Through the tie-up and in partnership with customers, Aerosense and Sumitomo Corporation will strive to open up new work styles of people and robots to solve issues in the construction industry. Specifically, the two companies will jointly work on automating tasks at construction sites using drone technology in environments where GPS is not available and build a business model for automating indoor inspection, taking advantage of Aerosense's technologies for drones and AI image analysis and Sumitomo Corporation's sales capabilities in the construction market.
With the aspiration of using drone technology for the benefit of society, Aerosense will provide truly easy-to-use solutions by developing drone hardware, autonomous control and measurement technologies, and cloud data analysis in an integrated manner.
The Sumitomo Corporation Group has been globally operating the business of construction system leasing, sales and services, with the aim to be the "No.1 One Stop Solution Provider" that satisfies customers around the globe. In Japan, the group is engaged in construction system leasing through Taiyo Kenki Rental Co., Ltd. and will continue to address issues in the construction sector to contribute to social infrastructure improvement and economic development.
<Reference>
■Photo"Aerosense's drone"
<MC-03:Survey・Inspection>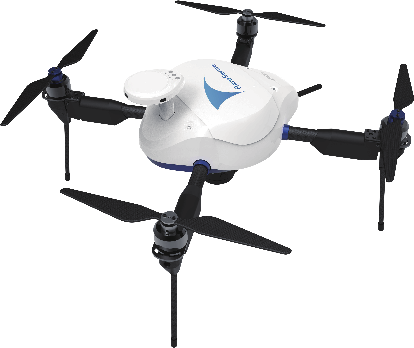 <MC-03-W:Long time flight>