May 29, 2020
Sumitomo Corporation
Investment in LRT-1 Operator in Manila, the Philippines
Sumitomo Corporation (Head Office: Chiyoda-ku, Tokyo; Representative Director, President and Chief Executive Officer: Masayuki Hyodo) has indirectly acquired about 19.2% share of Light Rail Manila Corporation (Head Office: Pasay City, Metro Manila; hereinafter, "LRMC"), which undertakes operation and maintenance of the Manila Light Rail Transit System Line 1 (hereinafter, "LRT-1"), a passenger railway in Metro Manila (hereinafter, "the Investment Project").
The Philippines is one of the fastest growing regions within the ASEAN group. Its population is forecasted to continue to increase over the next several decades. Notably, the population of Metro Manila is projected to expand approximately 1.3-fold to some 18 million people by 2035. In addition, according to a report by the Asian Development Bank (ADB), Metro Manila is the most congested of 278 major cities in Asia, and therefore in urgent need to develop an efficient and economical public transit system.
The Investment Project is the first investment Sumitomo Corporation has made in the operation of a passenger railway business in Southeast Asia. LRT-1 runs some 20 kilometres in a north-south direction along Manila Bay in Metro Manila, between Roosevelt Station in Quezon City and Baclaran Station in Pasay City. LRMC first joined the Manila public transport market in 2015, securing a concession to operate, maintain and extend the LRT-1 Line. Since then, the company has been rehabilitating and repairing existing rail facilities and increasing the frequency and quality of train service. Further LRMC is extending routes, enhancing interconnections with other transit routes, and developed a schedule of works to further expand its transportation capacity going forward.
Sumitomo Corporation has a well-established presence in railway-related businesses both inside and outside Japan, and has been involved in numerous railway construction and rolling stock export projects, mostly in Southeast Asia, the US and East Asia. Notably, Sumitomo Corporation has an extensive track record of receiving orders for multiple existing routes in Metro Manila (LRT-1, LRT-2, MRT-3), and is currently executing its rehabilitation and maintenance agreement for MRT-3 as well as a rolling stock delivery agreement for the North-South Commuter Railway.
In collaboration with LRMC and its other shareholders*, Sumitomo Corporation will endeavour to make LRT-1 even safer and more convenient in order to strengthen Metro Manila transportation network. Furthermore, through its participation in LRT-1, Sumitomo Corporation hopes to improve the living environment and meaningfully reduce economic losses for many commuting people in Metro Manila, by mitigating traffic congestion. Thereby contributing to local communities and the economic development of the Philippines.
* Besides Sumitomo Corporation, LRMC has three other shareholders: Metro Pacific Investments Corporation, an infrastructure investment company that is based in the Philippine; AC Infrastructure Holdings Corporation that is subsidiary of Ayala Corporation, country's oldest and largest conglomerate; and the Macquarie Group, a global financial service provider.
<Reference>
■Overview of LRT-1
| | | |
| --- | --- | --- |
| Start of service | : | 1984 |
| Owner of facilities | : | Light Rail Transit Authority, Department of Transportation, Government of the Philippines |
| Note | : | LRMC has been implementing operation and maintenance since 2015 |
| Route | : | Approximately 20 kilometers between Roosevelt Station in Quezon City and Baclaran Station in Pasay City |
| Number of stations | : | 20 |
■Route map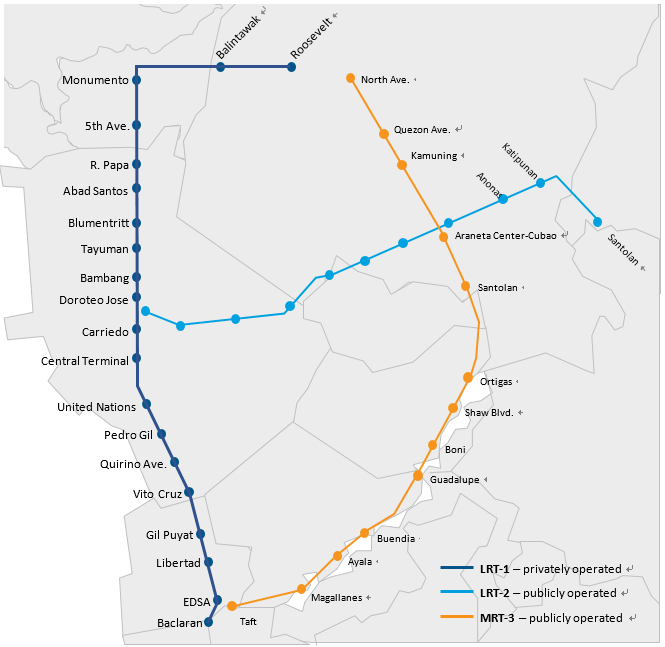 ■Photos
(Manila LRT-1 Fleet)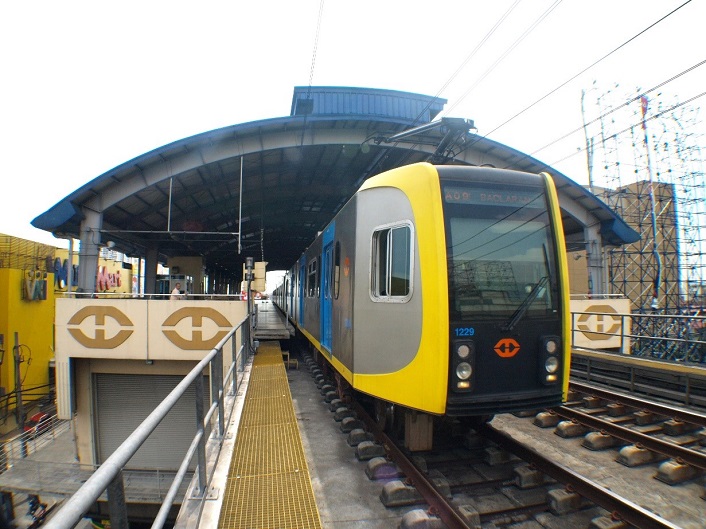 (Inside Manila LRT-1 Monumento Station)
■Sumitomo Corporation's Material Issues
Sumitomo Corporation Group positions "Six Material Issues to Achieve Sustainable Growth with Society" as an important factor in developing business strategies and in the decision-making process for individual businesses. Going forward, we will pursue sustainable growth by resolving these issues through our business activities. This project especially contributes to "Achieving Harmony with the Global Environment", "the Development of Local Communities and Industries", "Establishing a Foundation for Comfortable and Enriching Lifestyles" and "Providing Diverse Accessibility".