Jun. 12, 2020
Sumitomo Corporation
Sumitomo Corporation Europe Limited


Start-up Investment in Israel
Stake acquired in Anagog, a company providing edge computing AI solution that addresses privacy issue
Sumitomo Corporation (Head Office: Chiyoda-ku, Tokyo; Representative Director, President and Chief Executive Officer: Masayuki Hyodo) and Sumitomo Corporation Europe Limited (Head Office: London, UK; CEO: Takashi Yamana; hereinafter, these two companies will be collectively termed "the Sumitomo Corporation Group"), acquired a stake in Anagog Ltd. (hereinafter, "Anagog"), which develops smartphone-based position/movement information analysis tools, through the corporate venture capital (hereinafter, "CVC"), IN Venture established in Israel in June 2019.
Active efforts have been made in recent years to utilize position information obtained through smartphone apps in marketing and service upgrades. The market for mobile marketing via position information is said to have grown by an average of about 20% per year since 2017 and is expected to reach $32 billion in 2021. Due consideration must be given to users' personal information and privacy when analyzing such data.
Anagog is developing JedAI, a software package that works on smartphone apps to perform data analysis. JedAI uses information obtained through GPS, Wi-Fi and acceleration sensors installed on devices to analyze such elements as users' positions, movements, habits and tastes. This analysis is carried out entirely on the devices, with the results sent to app companies as anonymous information if and only if the user has given permission. The app companies can then utilize the data to provide services tailored to individual needs.
In June 2019, the Sumitomo Corporation Group founded IN Venture in Tel Aviv, making Israel the fifth country to which the Group has expanded its global CVC efforts. Israel boasts a world-class entrepreneurial environment, with the government offering support programs for entrepreneurs and R&D, and 700 to 800 startup companies are reportedly established each year. The country's strengths lie in such sectors as AI, cybersecurity, agriculture and health care, and numerous global companies have set up operations there to pursue innovation. The Sumitomo Corporation Group will continue striving to promote its own digital transformation, enhance the strength and sophistication of its businesses and create new businesses by investing in startups via CVC such as IN Venture.
<Reference>
■ Profile of IN Venture
| | | |
| --- | --- | --- |
| Established | : | June 2019 |
| Location | : | Tel Aviv, Israel |
| Managing partners | : | Eitan Naor, Eyal Rosner |
| Origin of name | : | "INnovation, INtegrity, INvestment" |
■ Sumitomo Corporation's co-creation efforts with startups
Given the importance of dynamically employing new technologies in its own digital transformation (DX), Sumitomo Corporation is ensuring that its CVC locations in five countries worldwide share strategies and visions, actively investing in startups that have innovative technologies/ideas and creating businesses. It is also developing a framework for rapidly incorporating advanced technologies by concluding a partnership agreement with Plug and Play Japan and by launching HAX Tokyo, an accelerator program supporting the growth of startups in the hardware sector.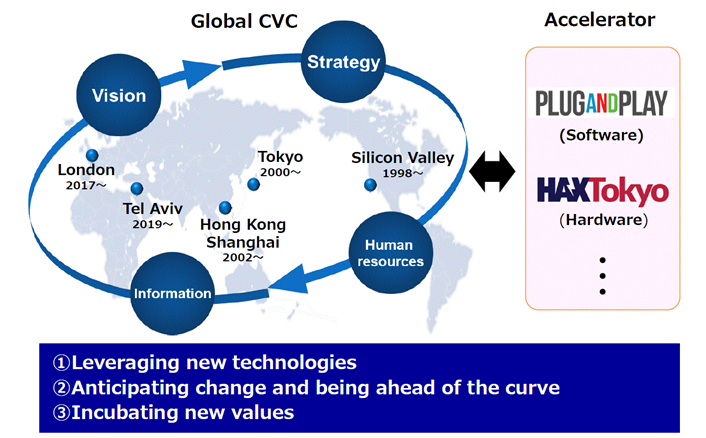 ■ Sumitomo Corporation's Material Issues
Sumitomo Corporation Group positions "Six Material Issues to Achieve Sustainable Growth with Society" as an important factor in developing business strategies and in the decision-making process for individual businesses. Going forward, we will pursue sustainable growth by resolving these issues through our business activities. This project especially contributes to "the Development of Local Communities and Industries" and "Establishing a Foundation for Comfortable and Enriching Lifestyles".