Jul. 22, 2020
Sumitomo Corporation
Announcing the Conclusion of an Exclusive Agent for Lithium Carbonate Produced in the United States for Sale in Japan, Korea and China
Sumitomo Corporation (Head Office: Chiyoda-ku, Tokyo; Representative Director, President and Chief Executive Officer: Masayuki Hyodo) entered into an exclusive distributorship agreement with US MAGNESIUM LLC (Head office: Utah, USA; "USMag") for lithium carbonate for sale in Japan, Korea and China. Sumitomo Corporation plans to begin selling USMag's lithium carbonate in August 2020.
Lithium carbonate is a raw material for producing lithium-ion batteries that are essential sources of power for automotive batteries, laptop PCs and other mobile devices. There is also strong demand for the material in industrial applications, including as additives for thermal glass and other glass products, and as absorbents used in refrigerators. Even as demand for hybrid and electric vehicles is expected to grow, Japan imports almost all of its lithium carbonate, and there is a need for raw materials that can be procured stably over the long term. Lithium carbonate can be extracted from brine water—a type of water that contains salts—or from ore, but in either case, its manufacture is concentrated in specific regions.
USMag's newly commissioned lithium carbonate facility was built in its existing manufacturing complex that has been operating on the Great Salt Lake for over forty five years. In this complex, brine water from the Great Salt Lake is concentrated in solar evaporation ponds, purified, and electrolyzed to produce magnesium metal and byproduct mixed salts that are rich in lithium chloride. US Mag is the largest single site magnesium producer in the world and is now processing the lithium rich salts. In 2018 USMag piloted and designed a plant to convert new, and existing stockpiles of, byproduct salts into high purity lithium carbonate.
The on-site byproduct salt feedstock makes USMag's lithium carbonate plant unique. The environmental impact of the lithium business is minimized as the use of previously generated, concentrated and purified byproduct salts eliminates the need for certain mining operations. Additionally, the utilization of natural solar energy for concentration in the evaporation ponds reduces the need for fossil fuels in the process. These same factors also provide for a low cost profile compared to traditional lithium producers, either based on brine water or hard rock mining of ore. Finally, the availability of enough stockpiled byproduct salts to feed the lithium carbonate plant for over fifteen years in the future, combined with minimal geopolitical risks, provides a stable source of lithium products for both the short and long term.
Sumitomo Corporation has been working with USMag for 20 years in the transaction of graphited anode blocks. Going forward, Sumitomo Corporation plans to import about 10,000 tons of lithium carbonate annually, and aims to sell these products mainly to industries associated with ceramics and glass, as well as to the lithium-ion battery industry. Sumitomo Corporation's lithium carbonate business is committed to ensuring stable supplies of critical minerals and supporting the clean energy society.
<Overview of US MAGNESIUM>
Company name
:
US MAGNESIUM LLC
Location
:
Salt Lake City, Utah, USA
President
:
Ron Thayer
Founded
:
1972
Primary products
:
Metallic magnesium, water purification chemicals, and various salts used in de-icing and fertilizer industries.
Lithium carbonate (commercial production scheduled to start in July 2020).
<Reference data>
■USMag's commercial plant (In front) and high concentration of lithium chloride (Back)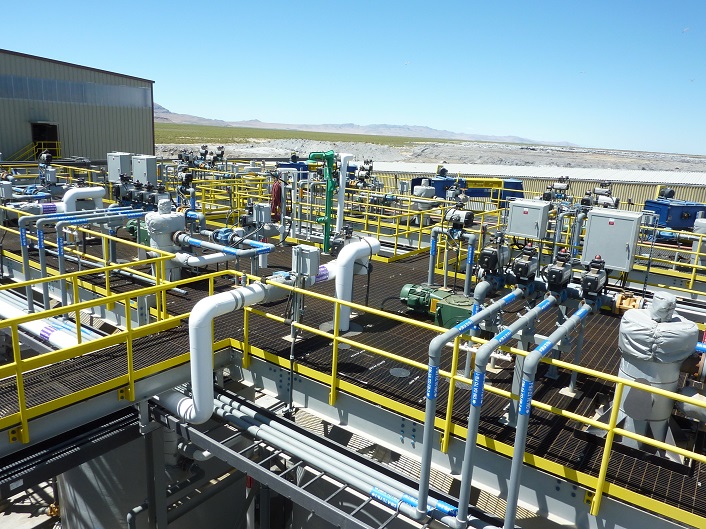 ■USMag's solar evaporation ponds (In front) and the Great Salt Lake (Back)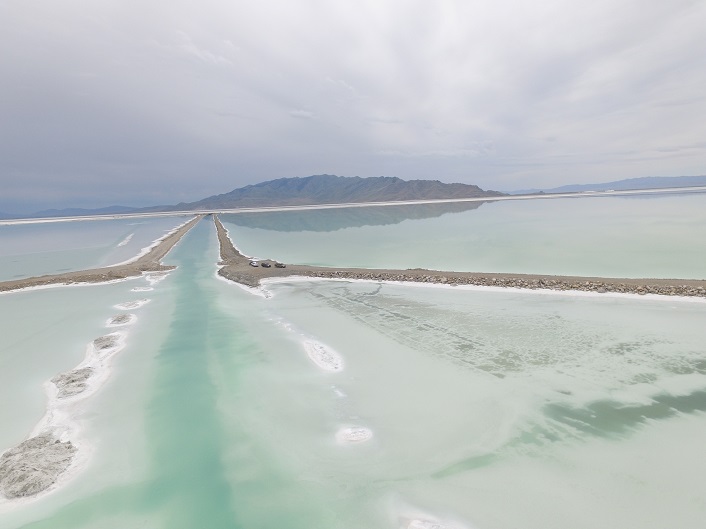 ■Sumitomo Corporation's Material Issues
Sumitomo Corporation Group positions "Six Material Issues to Achieve Sustainable Growth with Society" as an important factor in developing business strategies and in the decision-making process for individual businesses. Going forward, we will pursue sustainable growth by resolving these issues through our business activities. This project especially contributes to "Achieving Harmony with the Global Environment" and "Contributing to the Development of Local Communities and Industries".