Jul. 30, 2020
Sumitomo Corporation
Launching Proof of Concept Project of "kaigo FIKA",
Caregiver Retention Support Service
Sumitomo Corporation (Head Office: Chiyoda-ku, Tokyo; Representative Director, President and Chief Executive Officer: Masayuki Hyodo) has launched a Proof of Concept (hereinafter "PoC") project with the aim of achieving full-scale commercialization of the caregiver retention support service, "kaigo FIKA."
The retention and development of caregivers is an urgent issue for the hyper-aging society in Japan, where it is expected that there will be a shortage of 550 thousand caregivers in 2025. Despite this situation, the caregiving sector has structural problem resulting in high turnover rates of caregivers with working experience less than three years caused by human relationships, benefits, and career design system. (Note)
"kaigo FIKA" is an HR development workshop supporting caregiver retention. FIKA refers to the Swedish tradition of teatime communication with colleagues. In the workshop, with relaxing atmosphere, we create team building between caregivers not having enough communication because of their busy work and shift-work system. We will collect various data through the workshops, visualize them and provide suitable solution for the clients.
In this PoC project, we have been implementing "kaigo FIKA" for several caregiving facilities in Tokyo, collecting and analyzing data since June 2020. We are collaborating with partners, Goyokiki Co., Ltd. (Head Office: Itabashi-ku, Tokyo; Representative Director: Morihisa Furuichi; hereinafter "Goyokiki"), and M2 Holdings Inc. (Head Office: Chuo-ku, Tokyo; Representative Director: Kenji Shuto; hereinafter "M2 Holdings"). Goyokiki takes a role of kaigo FIKA operation and M2 Holdings analyzes the data. Our future plan is to support management for the operators of caregiving facility and develop "pro-fiker system" (side-job support for the skilled staff). We will also develop a team building platform specialized for the caregiving sector.
This project was selected as an excellent business idea in Sumitomo Corporation's "intrapreneurship" program, "0→1 Challenge 2019." Through "kaigo FIKA", Sumitomo Corporation seeks to resolve the social issues such as the shortage of caregivers. We aim for providing high-quality services to residents by the caregiving facility operators and contributing to a rich and sustainable hyper-aging society.
(Note) Ministry of Health, Labour and Welfare information on "Current Conditions in the Caregiving Industry" (Mar. 18, 2019)
Care Worker Support Center Foundation information on "Current Caregiver Labor Conditions" (Aug. 9, 2019)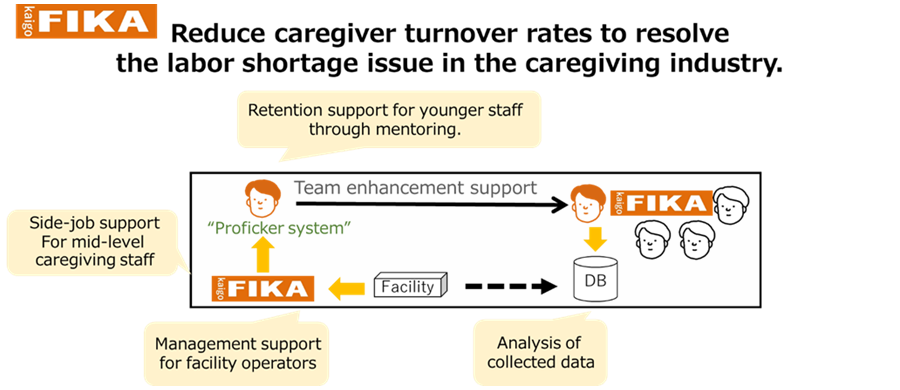 [Overview of partner companies]

Goyokiki Co., Ltd.
| | | |
| --- | --- | --- |
| Founded | : | Dec. 2001 |
| Location | : | Itabashi-ku, Tokyo |
| Representative | : | Morihisa Furuichi, Representative Director |
| Area of business | : | Livelihood support business (100 yen homework service, Tasukaru (Helpful) Service); community support business |
| Company website | : | https://www.goyo-kiki.com |

M2 Holdings, Inc.
| | | |
| --- | --- | --- |
| Founded | : | Aug. 2019 |
| Location | : | Chiyoda-ku, Tokyo |
| Representative | : | Kenji Shudo, Representative Director |
| Area of business | : | Development, design, and consulting for IT system; IT and computer training; cloud consulting |
| Company website | : | https://mmh.co.jp |
■Sumitomo Corporation's Material Issues
Sumitomo Corporation Group positions "Six Material Issues to Achieve Sustainable Growth with Society" as an important factor in developing business strategies and in the decision-making process for individual businesses. Going forward, we will pursue sustainable growth by resolving these issues through our business activities. This project especially contributes to "the Development of Local Communities and Industries", "Establishing a Foundation for Comfortable and Enriching Lifestyles", "Providing Diverse "Accessibility" and "Developing Human Resources and Promoting Diversity".