Mar. 31, 2021
Sumitomo Corporation
Start of construction of a biomass-fired thermal power plant in Sendai City, Miyagi Prefecture
Sumitomo Corporation (Headquarters: Chiyoda-ku, Tokyo; President and CEO: Masayuki Hyodo), together with Sumitomo Corporation Tohoku Co.,Ltd.(Headquarters: Sendai City, Miyagi Prefecture; President: Tsutomu Morikawa), has commenced construction of the biomass-fired thermal power plant (hereinafter referred to as "Biomass Power Plant") in Sendai City, Miyagi Prefecture through Sendai-ko Biomass Power GK (hereinafter referred to as "Company"), which is wholly owned by the Sumitomo Corporation Group.

The Biomass Power Plant will be located on industrial site (roughly 3.4 hectares) on Sendai Shiogama Port premises located in Miyagino-ku, Sendai City. With a generation capacity of 112 MW, it will be capable of supplying power to roughly 260,000 households. Sumitomo Corporation will import and supply wood pellets certified under international forest certification systems. The Company is actively considering utilization of domestic resources as well. The total cost of the project is roughly 90 billion yen, with commercial operation scheduled to begin in October 2025.

The Green Growth Strategy announced by the government in December 2020 aims to realize a carbon-neutral society by 2050, and has set out a rough target for increasing the proportion of renewable energy in power generation to 50-60 percent. Based on this, the Fifth Strategic Energy Plan, which is the foundation of Japan's energy policy, is expected to be revised by the end of 2021. The expansion of introduction of renewable forms of energy in Japan has become a pressing issue, and of these forms of renewable energy, biomass power is classified as a base-load power source that is operable 24 hours a day, its advantage being its stable power supply.

As a response to climate change issues, Sumitomo Corporation Group aims to make its business activities carbon-neutral by 2050. In our power generation businesses as well, we plan to raise our proportion of renewable energy to at least 30% on a net ownership capacity by roughly 2035.

Regarding biomass power generation, we have a track record of developing biomass power plants at three locations in Japan (Niigata Prefecture Itoigawa biomass power plant: 50 MW, Aichi Prefecture Handa biomass power plant: 75 MW, and Yamagata Prefecture Sakata biomass power plant: 50 MW) through Summit Energy Corporation, a wholly owned subsidiary. In carrying out the construction and operation of this Biomass Power Plant, we will be leveraging the abundant experience in biomass power generation we have accumulated in these projects, our aim being to provide a stable supply of power generated from renewable energy to the Tohoku region.

Through our renewable energy businesses, Sumitomo Corporation is committed to continuing to serve the cause of realizing a carbon-free society.
<Reference material>
Sumitomo Corporation: Policies on Climate Change Issues(PDF/299KB)

(Power plant location map)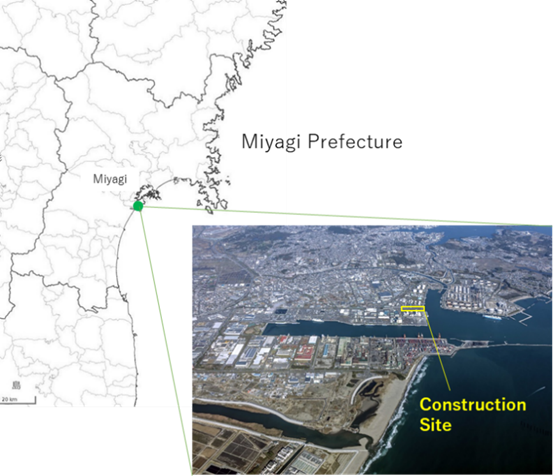 Sumitomo Corporation's Material Issues
Sumitomo Corporation Group positions "Six Material Issues to Achieve Sustainable Growth with Society" as an important factor in developing business strategies and in the decision-making process for individual businesses. Going forward, we will pursue sustainable growth by resolving these issues through our business activities. This project especially contributes to the following material Issues.

Achieving Harmony with the Global Environment
Contributing to the Development of Local Communities and Industries
Establishing a Foundation for Comfortable and Enriching Lifestyles
Providing Diverse "Accessibility"
---
Developing Human Resources and Promoting Diversity
Enhancing Governance