Apr. 28, 2021
Sumitomo Corporation
Investment in Sunseap Group Pte. Ltd., a Clean Energy Solutions Provider in Asia-Pacific Region
Sumitomo Corporation (Head Office: Chiyoda-ku, Tokyo; Representative Director, President and Chief Executive Officer: Masayuki Hyodo) has made an investment in Sunseap Group Pte. Ltd. (Head office: Singapore; hereinafter, "Sunseap"), a clean energy solutions provider engaging in distributed solar power generation, large-scale solar power projects (PVIPP), energy retail, VPP business*1, ESCO business*2, and more in the Asia-Pacific region.
Sunseap operates a distributed solar power generation business, with net ownership capacity of approximately 220 MW in Singapore and other parts of the Asia-Pacific region, boasting the top market share in Southeast Asia. In addition, based on the customer platform of its distributed solar power generation business, Sunseap also undertakes clean energy retail, VPP and ESCO businesses by leveraging the environmental value of solar energy. Furthermore, the company provides comprehensive clean energy solution services catered to the needs of different customers and countries, as exemplified by its floating solar power generation and electric vehicle (EV) charging businesses in Singapore and its PVIPP business in Vietnam and other Asian countries.
Electric power providers are rapidly accelerating decarbonization, decentralization and digitalization (3Ds) as they face the need to tackle climate change issues, the widening demand for renewable energy, and the prevailing social implementation of AI and IoT. In response to such changes, Sumitomo Corporation will collaborate with Sunseap to provide comprehensive clean energy solution services tailored to the needs of customers in Japan and abroad. Notably, in Japan, the Company will partner with Shikoku Electric Power Company, Incorporated and Sumitomo Mitsui Finance and Leasing Company, Limited, both of which have also invested in Sunseap, to build an agile business platform by consolidating the strengths of each company involved.
In April 2021, Sumitomo Corporation established the Energy Innovation Initiative (EII), a new business organization that aims for the creation of next-generation businesses contributing toward achieving a carbon-neutral society. The Team Power Frontier*3 launched as part of the EII will continue promoting clean energy business focusing on distributed solar power generation. In addition, by proactively developing and advancing businesses that contribute toward expanding power and energy services, the Company aims to address key social issues specified in June 2020, including "mitigation of climate change" and the "circular economy," and contribute toward achieving a carbon-neutral society.
VPP (virtual power plant) is a business format in which geographically dispersed small-scale renewable energy power generation facilities, power storage systems, and others are controlled and managed in an integrated manner, allowing them to function as if they were parts of a single power generation plant. The power generation service is provided to power grids.
ESCO (energy service company) is a business format in which systems and facilities expected to save energy and their related services are proposed and provided to customers to receive remuneration commensurate with the achieved reduction in the customer's utility costs and other expenses.
Team Power Frontier: Originally launched in October 2018 as the Team New Frontier in the Global Power Infrastructure Business Division of the Infrastructure Business Unit, the organization was transferred to EII and renamed Team Power Frontier. Before the organization was renamed, it invested in M-KOPA Holdings Limited, which runs a pay-as-you-go (PAYG) business for electricity users in Africa by combining data and digital technology with distributed solar power generation facilities, as well as cultivated new frontiers in electric power business.
<Reference>
■Corporate profile of Sunseap
| | | |
| --- | --- | --- |
| Name | : | Sunseap Group Pte. Ltd. |
| Location of head office | : | Singapore |
| CEO | : | Frank Phuan |
| Established | : | 2011 |
| Outline of business | : | Distributed solar power generation, large-scale solar power IPPs, clean energy retail, ESCO, VPP, and more in the Asia-Pacific region |
| Website | : | https://www.sunseap.com/SG/index.html |

■Scheme of Solar Power Generation and Clean Electricity Retailer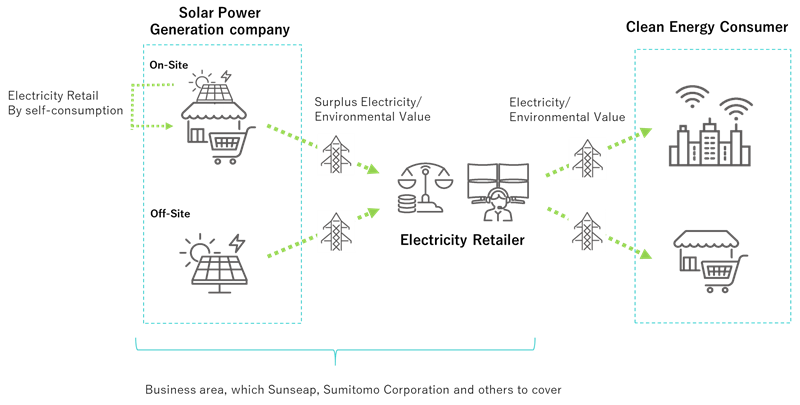 For On-site model, we install a PV plant on the roof or on the site of consumer and sell electricity to them directly by the way of self-consumption. The surplus electricity generated at the site and its environmental value will be sold to a clean energy consumer at a different location.
For Off-site model, we install ground mounted/ floating solar at a suitable location and sell electricity and its environmental value to a clean energy consumer.

■Photo
Distributed solar power generation business in Singapore operated by Sunseap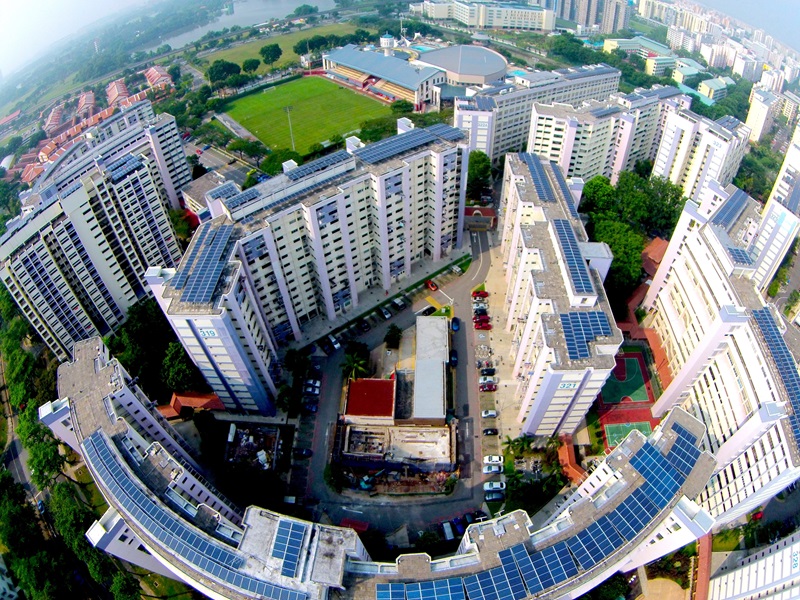 Large-scale solar power generation plant in Vietnam operated by Sunseap
Sumitomo Corporation's Material Issues
Sumitomo Corporation Group positions "Six Material Issues to Achieve Sustainable Growth with Society" as an important factor in developing business strategies and in the decision-making process for individual businesses. Going forward, we will pursue sustainable growth by resolving these issues through our business activities. This project especially contributes to the following material Issues.
Achieving Harmony with the Global Environment
Contributing to the Development of Local Communities and Industries

Establishing a Foundation for Comfortable and Enriching Lifestyles

Providing Diverse "Accessibility"
---

Developing Human Resources and Promoting Diversity

Enhancing Governance