Sep. 29, 2022
InnoJin Inc.
Sumitomo Corporation
ImaCreate Co., Ltd.

Joint Development of a VR Amblyopia Digital therapeutic for Children
InnoJin Inc. (hereinafter, "InnoJin"; which conducts research, development, and business that utilizes IT in medical care and healthcare), Sumitomo Corporation, and ImaCreate Co., Ltd. (hereinafter, "ImaCreate"; which conducts research and development of virtual technologies with embodiment that affect our realities) announced the signing of an agreement for the joint development of an app to treat children with amblyopia (lazy eye) using virtual reality (VR), and that a product for performing clinical studies has been completed. Going forward, efforts will be made toward receiving approval based on clinical research, therapeutical trials, and the Pharmaceuticals and Medical Devices Act, with the aim of acquiring approval within fiscal year 2025.
"Digital therapeutics" refers to software that treats a specific condition or disease by utilizing digital technology. Such apps are expected to be of benefit in treating conditions and diseases that are difficult to achieve complete cures for using existing drugs, and that require patients to improve their lifestyle habits, transform cognitive and behavioral patterns, and have direct stimulus applied to their organs. Digital therapeutics are something that medical professionals prescribe as medical equipment, and as such, they are expected to be applicable for insurance coverage upon receiving approval in accordance with the Pharmaceuticals and Medical Devices Act.
Amblyopia is a disorder that causes weak eyesight because of abnormal visual development, in which the eyesight cannot be amply corrected even with the use of eyeglasses. This disorder affects about three percent of children, and the number of people who have this disorder is increasing at a pace of about 30,000 patients per year. The main method of treating amblyopia is to use eye glasses with an eyepatch to cover the health eye The eyepatch is used to cover the good eye for a certain duration every day, making the patient forcefully use the eye with amblyopia to encourage its visual development. However, children are often unwilling to receive this treatment, which means that it requires commitment from the children's families to continue with this treatment, adding significant stress to both the patients and members of their families. And because of the decline in adherence to the practice of shielding the healthy eye, the efficacy of the treatment is decreasing. What is wanted in this situation is an amblyopia treatment method that will be less stressful for both the patients and their families.
The VR amblyopia Digital therapeutic that was developed this time by the three companies displays different VR images to the left and right eye respectively, with the aim of achieving the same level of benefits as the eyepatch treatment. Since the VR amblyopia Digital therapeutic allows children to receive treatment using contents that they would naturally be drawn to, such as games and videos, it makes the treatment effective while also reducing the burden on the patients and their families. The VR amblyopia Digital therapeutic can also perform three-dimensional training through coordination of the eyes and the hands. Furthermore, this app can record the duration that the app was used by the patient, and this information can be used to help develop a more beneficial treatment plan.
InnoJin is a research and development company that develops Smartphone medical device, Digital therapeutics in the areas of ophthalmology. InnoJin aims to realize "human-centered" digital medical care with the digital transformation of existing medical care.
Sumitomo Corporation, through Summit Pharmaceuticals International Corporation, provides various services that support the research, development, and manufacturing of pharmaceutical products and also conducts pharmaceutical business in the United States. In the future, we will study ways to add value and develop businesses in multiple areas that include digital marketing and healthcare to help promote and spread the use of Digital therapeutics.
ImaCreate raises the mission of adding the human touch to data, people, and the world, and seeks to realize a world where everyone is able to be active with more freedom and more convenience, beyond the boundaries of time and place and the other various constraints of reality. To this end, the company is advancing research and development of virtual technologies with embodiment that act on our realities.
The three companies are proceeding with efforts to acquire approval for this Digital therapeutic as being medical equipment based on therapeutical trials and the Pharmaceuticals and Medical Devices Act, and is working to enhance the app's functions and its therapeutic objective with the goal of acquiring approval within fiscal year 2025. Through the development and deployment of this Digital therapeutic, we seek to contribute toward improving access to medical treatment, supporting the physical and mental health of people, and work toward the development of local communities.
Image from the VR Digital therapeutic using a kendama toy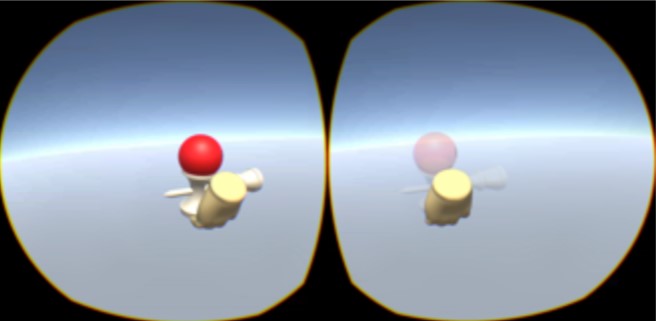 About InnoJin
| | |
| --- | --- |
| Company name | InnoJin Inc. |
| Established | December 2020 |
| Representative | Takenori Inomata |
| Address | 3-38-10 Hongo, Bunkyo-ku, Tokyo, Japan |
| Business | he following areas related to healthcare: business that utilizes IT, information gathering/analysis/provision, planning/production/sales/distribution of web contents and digital contents, consulting operations, research |
| Role in this development | Product supervision from an academic perspective, acquisition of medical evidence, application for approval as medical equipment |
About Sumitomo Corporation
| | |
| --- | --- |
| Company name | Sumitomo Corporation |
| Established | December 1919 |
| Representative | Masayuki Hyodo, President and CEO |
| Address | Otemachi Place East Tower, 2-3-2 Otemachi, Chiyoda-ku, Tokyo, Japan |
| Business | Deployment of multifaceted business activities that take advantage of the company's comprehensive strengths, including sales of diverse products & services, import & export, three-country transactions, and business investments both in and outside of Japan |
| Role in this development | Overall project management from development to application |
About ImaCreate
| | |
| --- | --- |
| Company name | ImaCreate Co., Ltd. |
| Established | January 2019 |
| Representative | Akihiro Yamamoto |
| Address | Room 101 KAY&KAY West, 5-22-7 Higashi-Gotanda, Shinagawa-ku, Tokyo, Japan |
| Business | Planning & development & operation of VR/AR/MR systems, VR/AR/MR consultations, seminars, event operations |
| Role in this development | Development of treatment contents |
About Digital therapeutics
Digital therapeutics, also known as digital treatments apps, are a type of software that uses digital technologies to prevent diseases, or to support or perform medical actions such as diagnosis and treatment. Such apps are used on their own, or in conjunction with drugs or other medical equipment
In Japan, Digital therapeutics were included in the "Software as a Medical Device" that could receive approval when the Pharmaceuticals and Medical Devices Act was enacted in 2014. Product development is being advanced primarily in areas where complete recovery is difficult to be achieved with existing pharmaceuticals.
Unlike general healthcare apps, Digital therapeutics undergo clinical trials to check their clinical effectiveness (evidence based), and will be included in insurance coverage when approval is acquired from the authorities.
Digital therapeutics are expected to deliver digital transformation in pharmaceuticals by bringing new approaches to treatment activities traditionally based on the administration of drugs.
Sumitomo Corporation's Material Issues
Sumitomo Corporation Group positions "Six Material Issues to Achieve Sustainable Growth with Society" as an important factor in developing business strategies and in the decision-making process for individual businesses. Going forward, we will pursue sustainable growth by resolving these issues through our business activities. This project especially contributes to the following material Issues.
Achieving Harmony with the Global Environment
Contributing to the Development of Local Communities and Industries

Establishing a Foundation for Comfortable and Enriching Lifestyles

Providing Diverse "Accessibility"
---

Developing Human Resources and Promoting Diversity

Enhancing Governance