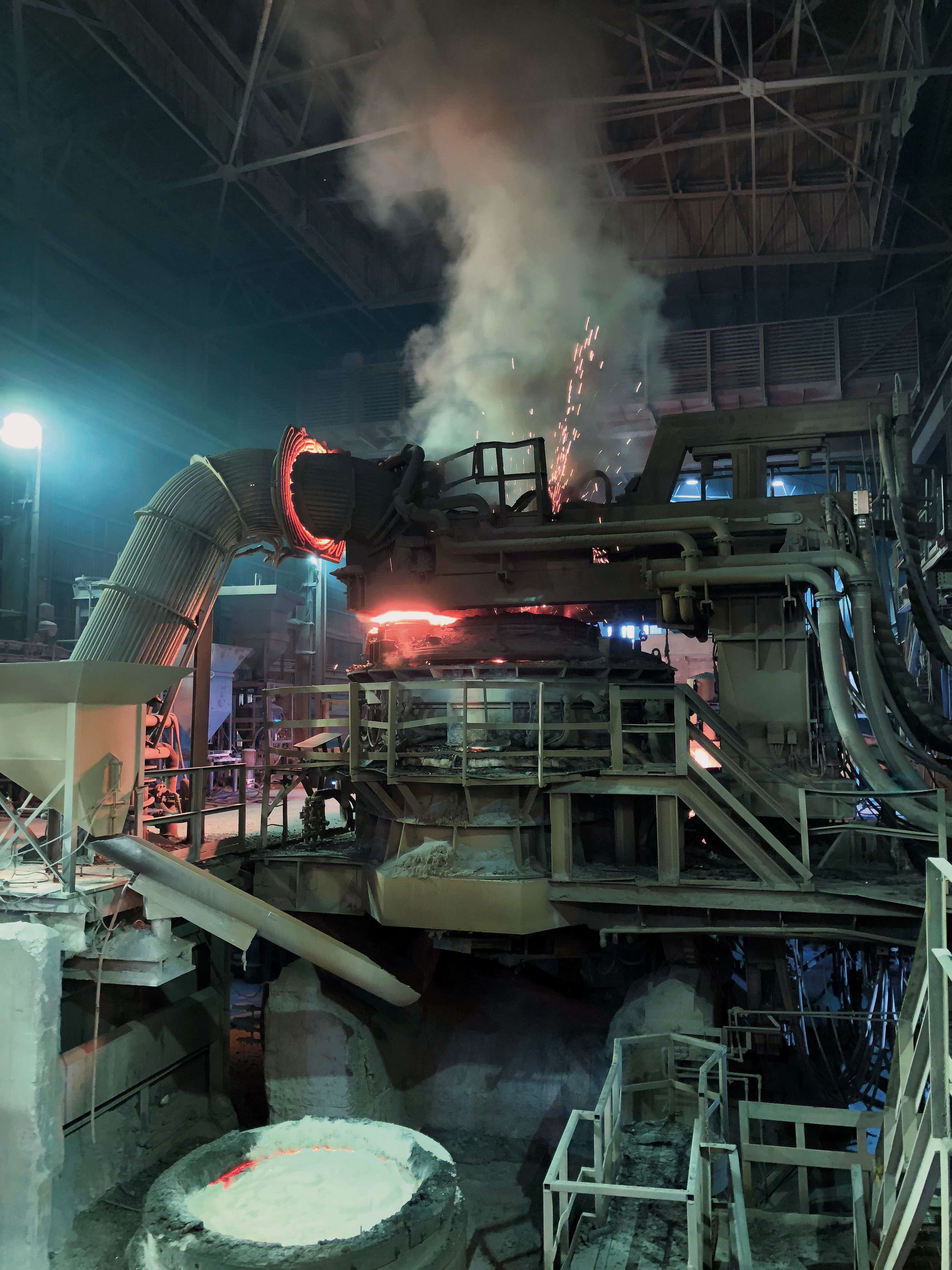 Global Cases
Arkansas Steel Associates Steps Up Its Game
U.S.A.
New Tech Helps Longtime SCOA Subsidiary Improve Data Collection, Operations and More
More than 150,000 miles of rail covers North America, across which moves more freight than any other system worldwide. Moreover, a component as important as the railroad track is the railroad tie plate – a thick, steel panel on the track between the rail and its support. Tie plates help to hold rails upright and stabilize their position, and that extends the lifetime of tracks. Sumitomo Corporation of Americas' (SCOA) longtime subsidiary Arkansas Steel Associates (ASA) recently implemented new technology solutions, courtesy of Rockwell Automation, to enhance manufacturing intelligence with very positive results.
Every single day, scrap steel arrives at ASA. That metal is then melted, casted, finished, placed in the shipping yard and then delivered to the customer. Each stage of the process relies on the meticulous attention to operating heavy-duty industrial equipment like the 50-ton per hour arc furnace, the 100-million BTU gas-fired reheat furnace, and a 1,000-ton press.
"Scrap is melted at our furnace where we take samples of the chemistry, which is dictated per each customer's specification," explained Chet Pinkerton, senior IT manager at ASA. "Once the correct chemistry levels are reached, the liquid steel is transported to our casting department. The liquid steel is essentially poured into a mold to form a steel billet. Billets eventually travel to our rolling mill where they are reheated, and then sent through many passes of our proprietary rolls to subsequently flatten and give our finished product its shape. Once the billet is formed, it travels to one of our 1,000 ton presses where it is cut and hole-punched per customer specifications."
In 1994, ASA began to overhaul their plant control systems. Hardwired relay controls were too difficult to maintain and nearly impossible to modify; single changes took a number of hours to complete and were prone to human error. By 2006, ASA was running the Allen-Bradley ControlLogix controllers supplied by Rockwell Automation.
While updating the plant's control layer, IT teams from both SCOA and ASA began considering additional opportunities to improve operations. What they found was an issue with workforce utilization: Operators had to balance the process of creating tie plates and handling data.
"Thousands of hours were lost each year while employees manually created reports for their supervisors' morning meetings," Pinkerton said. "And during the process, attention was split between the steel and
collecting data. Everyone needed to drop their pen and paper so they could focus on the task at hand."
ASA began to investigate the impact of this issue across their process, starting with the melt shop. Operators were struggling to accurately track data while simultaneously supervising the melting steel and adjusting for proper chemistry.
Then came another problem: transferring the steel from the melt shop to the ladle metallurgy-control system (LMS) and then to the caster area. Reliable, live process data was not available to operators downstream.
For instance, operators at the caster lacked real-time insight into the steel's temperature. Sometimes, this led to the temperature dropping too much; then the caster couldn't use the steel and had to send it back for reheating, taking time and energy that could have been spent on the next batch.
Once opportunities throughout the process were identified, ASA selected a manufacturing analytics platform to improve workforce utilization by automating data collection, analysis and reporting. And to automate these time-consuming, manual processes, the IT team selected the company that had already helped to simplify their control layer: Rockwell Automation.
SCOA's IT Planning and Promotion Department had a hand in the process, and Director Stephen Sinocchi was pleased to hear that ASA's IT collaborated successfully with the production supervisors and shipping management to provide manufacturing intelligence solutions.
"In 2015, SCOA IT helped ASA improve the company's IT control environment and automate business processes," Sinocchi said. "I believe the strengthened IT control environment provides a solid foundation for ASA IT to extend the manufacturing analytics platform to the business. This is a terrific example of how SCOA IT and group company IT can work together to improve the business. "
"High resolution data is captured via PLCs (programmable logic controllers) throughout the facility," explained Pinkerton as to how the data is collected. "Whether it be pressures, motor currents, temperatures, flows, etc., it is all stored in millisecond timeframes back to our company historian server where it is compressed until needed."
"We trusted the data coming from the ControlLogix controllers, so our challenge was to automatically put actionable information into the hands of operators, supervisors and maintenance when it was most useful," said Pinkerton. "The services team from Rockwell Automation became an extension of Arkansas Steel, deploying the solution, and integrating the control and information layers."
Freed from handling data, operators now can focus on the process while gaining a real-time view into the batch that arrives next. Each morning, managers automatically receive a "heat sheet report" detailing the work from the day before.
Supervisors quickly adopted this heat sheet report as a tool for confirming production quality. The report provides a single view into the melt shop, LMS and caster. By contextualizing multiple data sources, the report provides comprehensive information about the process, as well as any additions of chemistry and allow additions required by specific recipes.
Supervisors realized this manufacturing analytics platform has "continuous improvement" capabilities, which are also identical to SCOA's philosophy of "Kaizen". Pinkerton knew reducing manual reporting alone would be of value across the plant, but the ability to analyze plant-level data more easily helped solidify his commitment to extend the platform.
"Once we saw the success of operators, supervisors and maintenance teams who used FactoryTalk VantagePoint software, there was no afterthought about applying our learnings to the rest of the plant," continued Pinkerton. "Productivity gains from automated reporting are important, but the trustworthy, easy-to-access analytics help us meet our real KPI yield."
Much like the supervisors who were involved early in the process, those in the shipping yard also needed access to the information solution. Imagine a process where operators take a bucket full of tie plates, and calculate the weight and recording features; here was a process that needed improvement. Through the new tech solutions now available, managers can now check every piece of information relevant to delivering products at the rate and quality promised to customers. Each morning, supervisors immediately know the details of tie plates that move through the yard.
When ASA first deployed the manufacturing intelligence platform, annual yield was between 86 to 87 percent. All these new opportunities for better processes has increased the yield to an average of between 89 and 90 percent.
The morning heat-sheet report has been a major contributor to the improved yield. Managers now take the analysis of what happened during the previous day, and identify issues or operational opportunities; no doubt that ASA will see even higher yields as the new data shows even more ways to improve.
For more information, contact Ricky Ishikawa at Ricky.Ishikawa@arkansassteel.com