Global Cases
Summit, a supermarket continually evolving in line with customer's tastes and lifestyles
japan
More than 50 years of "Sincere Work"
Summit, a Sumitomo Corporation Group's supermarket, has 112 stores in Tokyo, Kanagawa, Chiba and Saitama, and has been committed to community-based service since its first store opened in Tokyo's Setagaya Ward in 1963. It has grown to become one of the leading supermarkets in the Tokyo metropolitan area, with FY2016 sales of 270 billion yen. By offering people safe and secure foods for their dining tables under the motto "Sincere Work," Summit has helped enrich the lives and fulfill the dreams of everyone involved.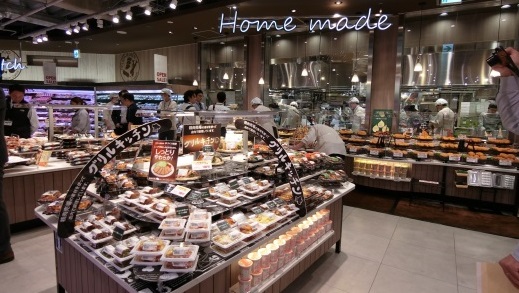 Creative approaches to product and store development
One characteristic of Summit is its thoroughly rationalized store management. Unreasonableness, waste and inconsistency of work have been systematically eliminated by introducing the Labor Scheduling Program (LSP) for work management, measuring the standard workload and work time values for all store tasks, and preparing task assignment sheets in line with these standards.
Since 2011, Summit has also been using the idea of "New Merchandising" ("New MD") in its store layouts, adapting designs, product selections, provision methods, and services to the changes in the lifestyles and needs of its customers to provide them what they want. This approach has been continually updated to keep up with the times, and New MD has thus far evolved as fourth phases.
In the fourth phase of New MD, particular focus has been given to increasing the number of products that can be eaten right away; vegetables, fish, meat and other products sold within the store are cooked or processed in the store to make available freshly prepared and delicious ready-made dishes. Stores are working to impress customers with freshness and deliciousness by presenting a wide range of products, including chicken steak made at the "Grill Kitchen" counter with fresh chicken from the meat section, and sushi made at the "Fish Kitchen Counter" using fish from the fresh fish section. Summit has adopted various creative approaches to developing products and store layouts offered by no other chain store, such as pizza cooked in-store in a special oven, freshly baked bread made from scratch, and "Try a Bite" corners where customers can actually taste a variety of products and seasonings.
Given the rise in the number of single-person households, vegetables are offered loose, in small packages, and in precut form. Some producers discard vegetables that are of acceptable quality but misshapen and thus hard to sell individually, but Summit buys up such vegetables in bulk from certain producers for use in making delicatessen dishes. At a time when food shortages around the world are such a problem, consuming misshapen vegetables constitutes an eco-friendly effort that reduces food waste.
Many stores have also created eat-in spaces where customers can eat items purchased in the store, and these areas serve as community spaces where customers living in the neighborhood can relax.
Make supermarket shopping in Japan enjoyable
"To Make supermarket shopping in Japan enjoyable" is Summit's business vision as of FY2017. The aim is to remain a popular supermarket supported by customers by changing product lineups, presentation methods, and store designs as needed to keep up with changes in people's tastes and lifestyles as well as the competitive environment.
A key idea is making maximum use of the advantages that come with being a member of the Sumitomo Corporation Group. The functions and established track record of our Real Estate Division can be leveraged to further improve property development, and collaboration in food procurement can be pursued with the Food & Agriculture Business Division. Tapping into the characteristics unique to the Sumitomo Corporation Group, which encompasses numerous Group companies that directly interact with consumers, Summit will continue growing alongside its fellow Group members.
Keyword
Living Related & Real Estate Business
Japan
Retail Service Operations