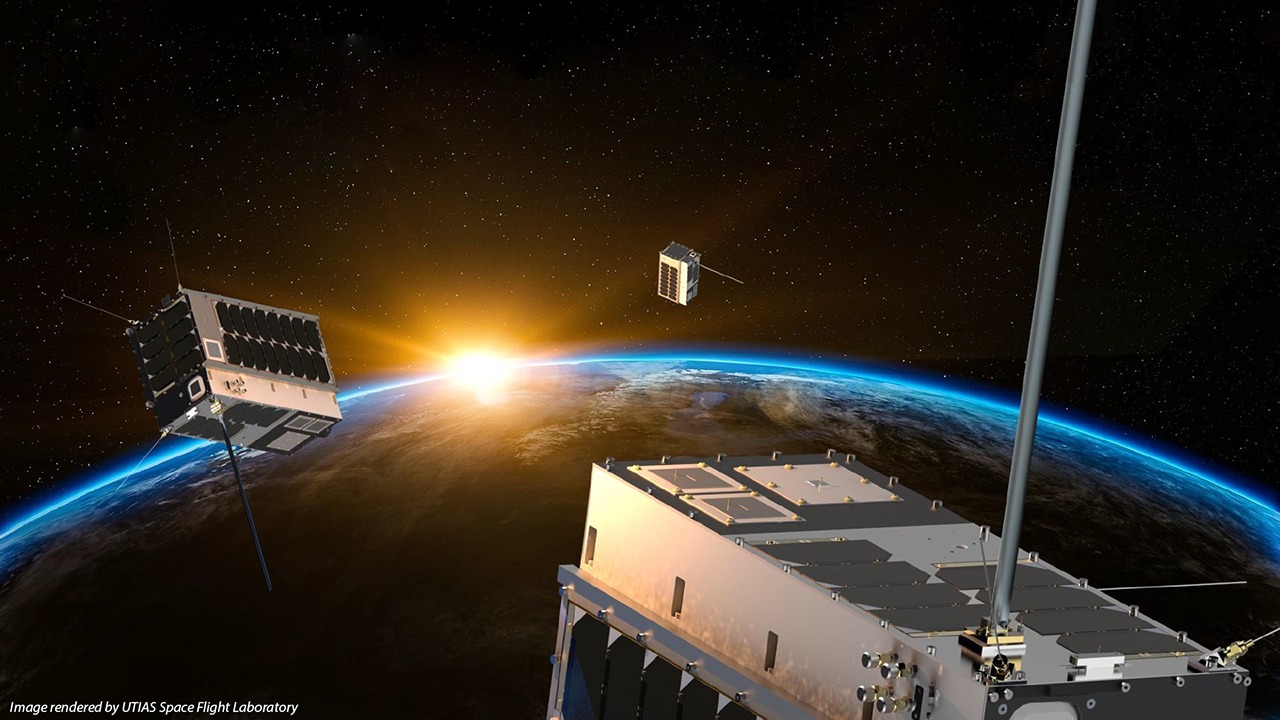 Global Cases
HawkEye 360 Takes Aim at the Future With Radio Frequency Analytics
U.S.A.
HawkEye 360 Takes Aim at the Future With Radio Frequency Analytics
Sumitomo Corporation of Americas recently invested in HawkEye 360, Inc., a Radio Frequency data analytics company that provides geospatial data analytics using commercial signal analyzing satellites. HawkEye 360 is the first commercial company using formation flying small satellites to create a new class of radio frequency (RF) geoanalytics.
The funds from the A-3 round will allow HawkEye 360 to accelerate development of the company's first commercial cluster. Through its investment in HawkEye 360, SC and SCOA aim to provide even more value to its customers in the aerospace and other industries by utilizing the Company's innovative services.
"We are very excited to work with HawkEye 360 as they establish this new class of RF termed 'geoanalytics' using data gathered from their small flying satellites," said Kevin Hyuga, SVP and GM of SCOA's Construction and Transportation Systems Group. "HawkEye 360's service is backed by their innovative technology and we see this investment as a way to contribute to their expansion plans to provide value-added service to customers of not only aerospace industries but also other potential industries globally."
HawkEye 360 is developing the first of its kind commercial satellite constellation to identify, geolocate, and process a broad set of RF signals. The company uses this unique data set and suite of proprietary processing and machine learning tools to create powerful data analytics products that solve challenges for global customers.
The products include maritime domain awareness and spectrum mapping and monitoring designed to serve a wide range of commercial, government and international customers. In December, the company celebrated the successful launch of the company's Pathfinder mission — its first cluster of three, formation-flying small satellites — aboard Spaceflight's SSO-A: SmallSat Express rideshare on a SpaceX Falcon 9 rocket. The satellites will deliver a unique source of RF data that HawkEye 360 will use to create first-of-its-kind RF-based analytics.
"By launching successfully, HawkEye 360 is now in the position to provide actual service to customers," observed Kirk Takeyama of SCOA's Aerospace and Defense Unit. "This is a very big step, because we had just the concept and no existing satellite as evidence of actual service until this successful launch. As of now, we will see the number of clusters increase, which allows us to provide more valuable service to the customers."
"The successful launch of our Pathfinder satellites is the biggest moment in our company's young history," said John Serafini, CEO, HawkEye 360. "I am extremely proud of what our 30-person team has accomplished over the past three years. We combined our varied expertise in small satellites, signals processing and data analytics to bring a new source of RF information to the market. This is the first time a commercial company has utilized formation-flying satellites for RF detection."
Now that the Pathfinder satellites have reached orbit, the company will initiate system checkout and begin to maneuver the satellites into position over the next several weeks. The satellites will be able to identify and precisely geolocate a broad set of RF signals from emitters such as VHS push-to-talk radios, maritime radar systems, AIS beacons, VSAT terminals, emergency beacons and more.
"The core of our business is RF analytics, which is dependent upon high-quality, geolocated RF data," said Chris DeMay, CTO and founder, HawkEye 360. "Each of these small satellites is equipped with a software-defined radio that can tune to different frequencies and pick up different RF signals. When we see the same signal from all three satellites, we triangulate it and figure out where the signal is coming from. We'll continue growing our constellation to improve revisit rates with our next set of satellites already under development for launch later in 2019."
2018 also saw HawkEye 360 participate in the Brooke Owens Fellowship Program – an award winning, volunteer-led program awarding internships and senior mentorship to exceptional undergraduate women seeking careers in aviation or space exploration. The program announced 41 young leaders as recipients of 2018 Brooke Owens Fellowships. After completing a rigorous and highly competitive application and multi-phase interview process, each Fellow has been placed into a paid summer internship at one of the nation's leading aviation or space companies. HawkEye awarded their internship to Alexandra Gartner, Yale University, Electrical Engineering, Class of 2019.