Global Cases
Tubular Transportation and Management Gets
Texas-size Upgrade with Summit Industrial Park
U.S.A
To a child, a backyard can become any place that bursts forth from his or her imagination. Whether it's a castle, a battlefield, a maze or even the moon, that yard has the potential to be whatever that child can envision. Similarly, SCOA saw the possibilities in an undeveloped property located in the Permian Basin in Ector County, Texas; through hard work, synergy and DX initiatives, Summit Industrial Park (SIP) – also known as West Odessa Rail Logistics LLC – became a reality that was once only imagined: A top-notch consolidated and streamlined operations hub to serve tubular supply-chain transport for SCOA, its group companies, and more.
"Each of the distributors had solutions in place to solve the unique challenges of working in West Texas," Michael Thomas, GM of West Odessa Rail Logistics LLC (SCOA subsidiary) explained about the property, located just outside Odessa, Texas, "but as we consolidated distribution companies, it became clear that the different solutions were fragmented. The idea to develop a central stocking location for SCOA's OCTG distribution companies, BLPS and P2E, was the beginning. That developed into the concept of an industrial park that could be leveraged for any SC business venture that is targeting the Permian Basin/West Texas area."
The $20 million investment resulted in a 50-acre project (with another 50 acres to be developed by 2024) that promotes cost savings opportunities by way of its location, operations consolidation, and the DX solutions for process efficiency and standardization. These operations upgrades put SIP into a league of its own when it comes to tubular transportation management: Loading efficiencies, inventory optimization, and even shortening "days-to-bill" all serve to lower transportation costs and minimize redundancy.
"The most difficult part of this process was actually the decision to invest in and develop a new site in West Texas during the 2020 economic downturn and the crisis in the oil industry," Thomas confirmed. "Uncertainty and volatility pushed all stakeholders to scrutinize the strategy, costs, and long-term value of the project. This extra rigor was challenging but ultimately that made for a better defined, leaner, and fitter business plan. Once groundbreaking started in late October 2020, the change in the West Texas labor force became evident. Finding qualified contractors, labor, and building materials all served as challenges. Building a local network has been key to overcoming the lack of resources and gaining priority, and the record low temperatures, as well as electrical grid issues, in February 2021 also created construction difficulties."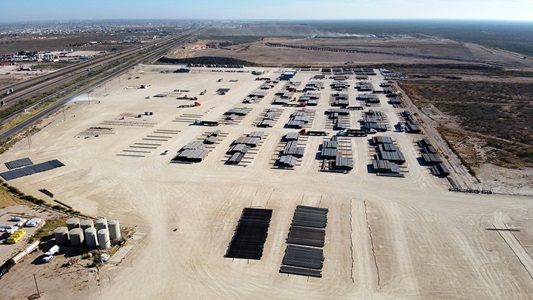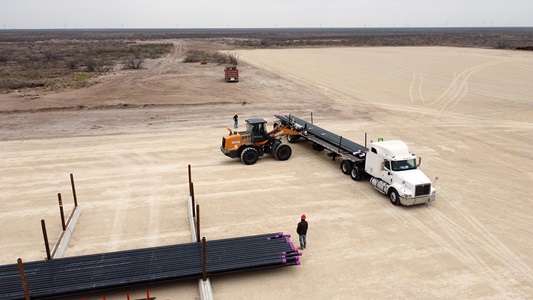 When operations began earlier this year, SIP served about 190 trucks per week, increasing to approximately 350 trucks per week in the fall. Eventually, SIP will be serving 40 railcars and 450 trucks per week.
SIP's yard management system, together with iTIMS (Tubular Inventory Management System) and SC Trace (a pipe tracking system under development by SCGTS), will track every piece of pipe in and out of the yard. Synergy was also evident as trucks and heavy equipment were brokered from InCompass, a joint venture between SCOA Logistics and B&L Pipeco Services. SCOA Logistics also assisted in understanding the feasibility of a centralized yard, meaning consolidating from 25+ storage locations in the Permian Basin to the SIP hub-and-spoke concept.
When operations began earlier this year, SIP served about 190 trucks per week, increasing to approximately 350 trucks per week in the fall. Eventually, SIP will be serving 40 railcars and 450 trucks per week. In terms of operational storage capacity, the project can handle 30k tons presently with expansion to 57k tons in the near future.
"As the oil price has recovered since April 2021," he said, "that caused a steep increase in activity and demand for the services that we provide. Additionally, closure of two major service providers in the area, pushed us to increase our capabilities. Our staff and operating contractor have met the challenge head on."
From the inception, SIP had the goal to establish new levels of sustainability support through the reduction of CO2 emissions and the Company's carbon footprint. By reimagining local and long-haul transportation as well as creating new digital processes that offer real-time data access and eliminate paper reconciliation, SCOA is using DX solutions and renewable energy to help deliver on its sustainability promises. "Sustainability benefits provided by this project include the introduction of rail transportation by the first half of 2022, which results in 70% fewer CO2 emissions compared to that of truck transportation, reducing our carbon footprint by about 10K tons of CO2 annually. Additionally, a 54.4Kw rooftop solar array was installed on the new office in September. This will provide enough electricity, estimated to be 98.7MWh annually, to power the entire operation and sell surplus energy back to the West Texas power grid. The clean energy produced on the site will offset up to 103 tons of CO2 each year."
Thomas summarized by stating that "Summit Industrial Park is positioned to be a leader in West Texas through its level of service, timeliness, sustainable practices, and innovation for years to come."
As part of SCOA's ESG initiatives, the 160 panel, 54.5kW rooftop solar array will provide 100% of the SIP's electricity needs. Through a net metering agreement with the energy provider, SIP will sell surplus power during the day then buy renewable energy at night when the array is not producing electricity.