Chemical, Electronics, Mineral Resources & Energy Division
Division Highlight
The Chemical, Electronics, Mineral Resources & Energy Division covers a wide - range of products, comprising petrochemicals including organic chemicals and plastics, inorganic chemicals, performance chemicals, electronics materials and life science related materials. Through our worldwide network, we are doing business in numerous industries competitively and reliably. Our division consist of serval business line as follows:
Petrochemicals business line: 1.1) Organic chemicals field, we are handling varieties of Olefins, aromatics, phenol chains, solvents, variety of monomers, etc. 1.2) Plastics field, supplying plastic related materials like plastic resin, film sheet, synthetic rubber and so on, for several applications such as automotive industries , home appliances, office automation, packaging, and so on. We are providing "Just in Time Delivery" function for our customers convenience.
Electronics Materials business line: this field, we are supplying various materials and chemicals for electronic field such as materials for flexible circuit boards used for mobile phones, digital cameras, etc.
Inorganic & Performance Chemicals business line: this field, we are handling bulky products like Sulfuric Acid, copper slag for cement industry, also so wide application of raw materials for cosmetic, dyestuff & auxiliaries in textile industries, and so on.
Life Science business line: this field, we are handling various kind of products in Fertilizers, agrochemicals, pharmaceuticals, animal health products ingredient for cosmetics and personal care, etc.
We make effort with the goal of contributing to the human life that is richer society and people around the world through global trading and investment activity.
Petrochemicals Dept. No.1 (Organic Chemicals)
Business Highlight
We have a full array of worldwide trading capabilities and a comprehensive range of related service functions. Our intention is to make an on-going contribution to the industrial world with continued competitiveness and reliability. In our Petrochemicals Department No.1, we are mainly handling Organic Chemicals, including importing, exporting, triangle business and domestic activities. Our mission is to meet your entire product and business requirements. With over one hundred locations worldwide we have the ability to supply various kinds of chemicals that you need. Demand for chemicals has been growing along with rapid industrial growth. We are dedicated to be experts in supplying various kinds of chemical products which are mostly used in industrial applications. Moreover, we emphasize partnerships based on mutual trust, making broad global contributions and to continue to create more chemicals for the future. To service customers, we also have a well organized logistics operation such as tank facilities and transportation planning. With our broad line of organic chemical products and logistic operations, we strongly believe that we can distribute products to the customer right on time without delays or problems.
We also always seek the opportunity to setup the high added value project in order to contribute on Thailand Petro Chemical Industry and try to build sustainable profitable organization through such investment activity.
Olefins
Sample of Products
Ethylene, Propylene, Crude C4, Butadiene, Butene-1, Raffinate, etc.
Aromatics
Sample of Products
Benzene, Toluene, Xylene, C9, etc.
Alcohols
Sample of Products
Methanol, Ethanol, IPA, NPA, N-Butanol, Isobuthyl Alcohol, 2-Ethyl Hexyl Alcohol, etc.
Acids
Sample of Products
Maleic Anhydride, Phthalic Anhydride, Acetic Acid, Adipic Acid, etc.
Esters
Sample of Products
Ethyl Acetate (EAC), Buthyl Acetate (BAC), N-Proply Acetate (NPAC), etc.
Glycols and Glycol Ethers
Sample of Products
Monoethylene Glycol (MEG), Diethylene Glycol (DEG), Triethylene Glycol (TEG), PM, PMA, etc.
Acrylates
Sample of Products
Methyl Acrylate (MA), Ethyl Acrylate (EA), Butyl Acrylate (BA), 2-Ethyl Hexyl Acrylate (2-EHA), etc.
Ketones
Sample of Products
Methyl Ethyl Ketone (MEK), Methyl Isobutyl Ketone (MIBK), Di-Isobutyl Ketone (DIBK), Acetone, Cyclohexanone (ANONE), etc.
Phenol Derivatives
Sample of Products
Phenol, Bisphenol-A (BPA), Epoxy resin, etc.
Monomer
Sample of Products
Methyl Methacrylate Monomer (MMA), Styrene Monomer (SM), Vinyl Acetate Monomer (VAM), etc.
Petroleum
Sample of Products
Bunker Oil, Crude Oil, Fuel Oil, Gas Oil, Kerosene, LPG, Gasoline, etc.
Petrochemicals Dept. No.2 (Plastics / Automotive)
Business Highlight
We sell various kinds of plastic resins to automotive industry customers which are mainly imported from Japan, and other countries such as South Korea, Singapore and Malaysia. In addition we are distributor for local suppliers such as AsahiKasei Plastics (Thailand), Siam Polystyrene (DOW), Polyplastics Marketing (T), Thai Toray Synthetics, IRPC, IRPC A&L and others. We are also researching to develop and provide innovative new plastic resins to our customers.
Plastics Resins
Sample of Products
Commodity Plastics: PP, HDPE, LDPE, PS, ABS, AS, ASA
Engineering Plastics: PA, PPE, PC, PPS, POM, PBT, LCP, PTFE
Synthetic rubbers: EPDM, Acrylic Rubber, ECO, Prepolymer Urethane (Isocyanate), Other rubber additives
Petrochemicals Dept. No.3 (Plastics / OA,HA,Packaging)
Business Highlight
We are sale representative and distributor of Polyolefin and non-Polyolefin. Our department is supply plastics resin for Home Appliance, Office Automation, and Packaging. We are selling competitive plastics resin and centralized purchasing system and are sourcing from several sources such as Japan, Korea, and Singapore. We provide various related information such as market information, inventory, credit management, and Just in Time Delivery services. For molding subcontractors, cost reduction can be minimized by mixing with other resin materials. We can apply the BOI privileges which is under ITC (International Trading Centre). We have our own logistic company which is Sumisho Global Logistic and have warehouses which are located at Bangna, Bangpoo, Laem Chabang, Prajinburi, and Navanakorn. Not only general cargo but also dangerous goods, cold insulated products. With our long term experience and skills. We are professional and have high responsibility dealing business.
Plastics Resin
Sample of Products
Commodity Plastics: PP, HDPE, LDPE, PS, ABS, AS, ASA.
Engineering Plastics: PA, PPE, PC, PPS, POM, PBT, LCP, PTFE
Plastics film
Sample of Products
Polypropylene, Low Density Polyethylene, Linear Low Density Polyethylene, High Density Polyethylene, EVA.
Electronic Materials Dept.
Business Highlight
At our Electronic Materials Department, we are a solution provider for electronics industry especially, Flexible Printed Circuit (FPC). We offer high quality products from suppliers in Japan, Taiwan, etc. Flexible Printed Circuit is an important part for electronic products such as mobile phone, hard disk, camera, etc. We are proud to be a part of your business success. With our long term experience and strong connection, we commit to do our best to our customers and society.
Functional materials for electronics industry
Sample of Products
CCL (Copper clad laminate), CL (cover layer), Dry film, Shield film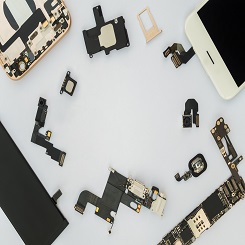 Chemicals for electronics industry
Sample of Products
Cleaner, Starter, Black Hole
Processed materials for electronics industry
Sample of Products
CPP film, Fluoro elastomer foam
Inorganic & Performance Chemicals Dept.
Business Highlight
Unhindered demand and supply for a wide variety of chemicals is now a major factor across the globe. Our chemical business unit enjoys cooperation among the other groups of Sumitomo Corporation to provide materials to satisfy world and domestic markets. Whether synthetic or natural products, we ensure to locate the best and most reliable sources to support the entire production stream to our customers. Our working flow through the wide range and network of business activities includes the import and export of fine chemicals, inorganic chemicals, functional chemicals, variety of industrial gases and so on to fit the market needs. Our accumulated knowledge and long experience in many industries has enabled us to develop to become a professional and responsible partner who you can trust in the business world.
Chemicals and raw materials for various Industries
Sample of Products
Rubber: Resorcinol, Soxinol, Silica, DTHFP etc.
Powder Coating Paint: TGIC
Coating: Silica
Copper Scrap
Dyestuff
Sample of Products
Reactive Dye, Disperse Dye
Raw materials for cosmetics and personal care
Sample of Products
Physical sunscreen: Titanium Dioxide, Zinc Oxide, Dispersion
Moisturizer: Isopropylene Glycol, Aminocoat, Malbit, Squalane, etc.
Active ingredients: Pellicer, Natural Extracts
Sensory adjust: Polyurethane beads, Boron Nitride, Sericite, Mica
Oral care: Silica
Detergents: SLES, SLS, other Anionic Surfactant
Rice Bran Oil and Derivatives
Sample of Products
Rice Bran Oil, Rice Wax, etc.
Raw materials and aggregates for Concrete and Cement
Sample of Products
Copper Slag, Blast Furnace Slag, Fly Ash and Silica Fume
Minerals & other raw materials
Sample of Products
Sulphur
Sulphuric Acid
Aluminium Hydroxide
Aluminium Oxide
Gypsum
Steel Making Slag
Ferric Chloride
Hydrochloric Acid
Sodium Hydroxide
Copper Sulphate
Selenium
Silica Sand
Zircon Flour
Dolomite
Fluorspar
and etc.
Petroleum, Energy Fuel, Industrial & Specialty Gases, Refrigerants
Sample of Products
Petroleum: LPG, Propane
Energy Fuel: Coal, Petroleum Coke
Industrial and Specialty Gases: Liquid Argon, Liquid Nitrogen, Liquid Oxygen, Liquid Carbondioxide, Argon, Argon Mixed Hydrogen, Argon Mixed Carbondioxide, Carbondioxide, Oxygen, Acetylene
Refrigerants: R410A, R32 and other refrigerants
Life Science Dept.
Business Highlight
Our Life Science is covering 4 main business categories: Medical science (Pharmaceuticals & Cosmetics ingredient); Animal healthcare, Agriscience, and Crop science. We are collaborating with our SC group networks all over the world, in order to secure quality supply source & supply ability consistency. Also, we invested in potential manufacturers to strengthen their technology & international standard to serve global demands.
Pharmaceuticals
Sample of Products
2-Cyanopyrazine, API
DEET
Ingredient for cosmetics & Personal care
Sample of Products
Pigment: Bismica series
Pearl Pigment (Sparkling effect): Acropearl series
Spreadability & film-former: Isohexadecane, Isododecane, etc.
Sensory adjust: Mica, Bismuth Oxychloride, etc.
Animal Health
Sample of Products
Veterinary Diet
Feed additive for Poultry & Swine
Vaccine & Drug for Petcare
Supplement for Petcare
Vaccine & Drugs for Poultry & Swine
Agrochemicals
Sample of Products
Pesticides such as Insecticides, Fungicide, Herbicide, etc.
Crop Science
Sample of Products
Compound Fertilizer for Specific crops e.g. Palm, Rice, etc.
Straight Fertilizer
Bulk Blend Fertilizer
Agronutrition: Biostimulant, Foliar fertilizer