Global Cases
To be "Food basket of the world"
instead of "Breadbasket" of Europe:
Agricultural inputs and service business
contributes to Ukrainian agriculture.
Corporate Communications Staff Explores the World
Mass Media Relations Team, Corporate Communications Department

Kazuaki Asada

After joining Sumitomo Corporation in April 2019, I had engaged in operation of the Company's website, Facebook page as part of the publications team until October 2020; since November, I have covered the Transportation & Construction Systems Business Unit, Mineral Resources, Energy, Chemical & Electronics Business Unit, Finance, Accounting & Risk Management Group, and Asia-Pacific region as a member of the press team. My favorite foods are doner kebabs, burritos and bánh mì, and I prefer indica rice to japonica rice. While my colleagues may wonder at times if I really grew up in Japan, I am a true-born Japanese.
Sumitomo Corporation began exporting business of crop protection products (CPPs) in the 1970s and expanded our business realm to importing and wholesaling in the countries to which we export CPPs in the 1990s. We embarked on a further downstream business in the value chain in the 2010s, which is a business of selling agricultural inputs directly to farmers. Along with the new strategy, in 2011 we invested in Alcedo in Romania, in 2015 in Agro Amazonia in Brazil, and in 2018 in Spectr-Agro in Ukraine. . I paid an online visit to Spectr-Agro's service center, opened at the end of 2020.
Ukraine satisfying global food demand
The East European country of Ukraine has a population of about 40 million and a land area of around 600,000 square kilometers. A little-known fact is that borscht actually originated in Ukraine.
Ukraine's top primary industry is mining, supported by abundant iron mines in the eastern part of the country and the vast coalfields of the Donets Basin. Agriculture is the next largest industry. Agricultural products constitute the country's leading export item, accounting for approximately 50% of all exports. Years ago, Ukraine was called "Europe's breadbasket" but it is fast becoming the "world's food basket" as its agricultural exports make their way to Africa and Asia as well as Europe.
Do you know the word "chernozem"? Chernozem, which means "black soil" in Ukrainian, is a fertile soil rich in nutrients that contains a large amount of humus formed when dead grass and other organic matter is broken down by microorganisms. Ukraine is said to possess about one-fourth to one-third of the world's black soil, which has been a major factor in the country's bountiful agricultural production.
Spectr-Agro, a member of the Sumitomo Corporation Group, has realized steady growth as a company supporting Ukraine's agricultural production. Further details about this company, which sells agricultural inputs such as seeds, fertilizers, and CPPs directly to farmers, are offered below.
Promoting better agriculture to Ukraine
Ukrainian agriculture, blessed as it is with chernozem and a bountiful "sow and grow" environment, has an edge in both productivity and export power. While it is true that crops can be produced there using fewer fertilizers and CPPs than in other countries, the introduction of modern agricultural inputs makes it possible to increase production and meet rapidly increasing world food demand.
Spectr-Agro has been providing farmers with agricultural guidance to improve their productivity and has established an entrenched brand presence by conducting farmer-friendly business via 21 branches across Ukraine serving some 4,000 customers.
Sumitomo Corporation acquired a 51% stake in Spectr-Agro in 2018. Selling agricultural inputs directly to farmers, the furthest point downstream in the CPP value chain, is an initiative characteristic of our agricultural business.
Behind the decision to make this investment was the network that constitutes one of the strong points of an integrated trading company. Since the 1990s, We have been expanding its CPPs distribution business around the world using the "Summit Agro" and "Sumi Agro" brands. As part of this network, Summit Agro Ukraine discovered the strengths of one of its key customers, Spectr-Agro, in the course of its day-to-day interactions.
Spectr-Agro has leveraged its synergies with the Sumitomo Corporation Group to achieve steady growth, jumping from its fourth-place industry ranking at the time of investment to the second place. Particularly strong in CPPs and seeds, Spectr-Agro is looking in its next move to expand its sales of agricultural machinery. Accordingly, it opened a large-scale service center in the suburbs of the capital Kyiv at the end of December 2020.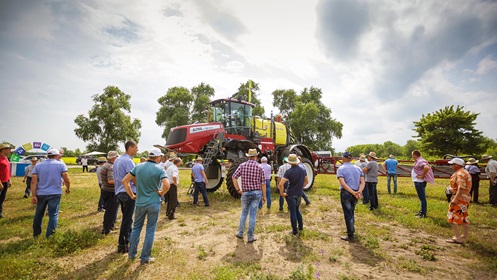 The Service Center that provides high-level services with farmers
I visited the service center online with Kaoru Hosoda, temporarily repatriated to Japan due to the COVID-19 pandemic. I urge everyone to "tour" the service center online to gain a sense of its scale. (Click inside the frame to "tour" the entire service center.)
As you pass through the service center's entrance with gallery-like interior, you can find huge agricultural machineries looked like it had been misplaced. It causes you to worry that there might not be any way out for these giants. The key functions of Spectr-Agro's first service center are agricultural machinery sales and after-sales support.
Ukraine was part of the Soviet Union until 1991, and a good number of the agricultural machines introduced under the socialist system are still in use today. Purchasing agricultural machinery, with costs as high as hundreds of thousands of dollars for a larger machine, is a big decision for farmers. Spectr-Agro salespeople give advice from the farmer's point of view and strive to let them purchase the necessary agricultural machinery with satisfactory.
Befitting the extent of the site and the size of the agricultural machinery on display, the service center's interior is also vast. After passing through a corridor featuring an adorably small tractor, you emerge into a spare parts storage area. Keeping multiple types of spare parts on hand helps prevent farmers from having to stop their work, where every moment of every day counts, due to equipment failure. The service center not only sells parts but can also provide maintenance services.
The service center's various other facilities include accommodation and kitchen spaces for employees from across Ukraine as well as conference rooms for agricultural guidance sessions. Most Spectr-Agro employees have a bachelor's degree in engineering or agriculture and have expertise in agricultural machinery. The company has its employees study and share insights relating to agriculture as they learn how to offer suitable agricultural guidance, and then apply this knowledge when they provide advice to farmers. This has helped improve the Spectr-Agro brand and earn the trust of customers.
Spectr-Agro plans to cover Ukraine's entire agricultural production area by adding three or so more service centers over the next three to four years. The company is driven by a sense of mission to improve agricultural productivity in Ukraine, which is becoming the world's food basket, by offering such functions as just-in-time provision of agricultural inputs, appropriate agricultural guidance, and thorough maintenance programs. All of this should help the anticipated expansion of Sumitomo Corporation's agricultural inputs & service business.
Why we chose Sumitomo Corporation as a partner
Mr. Volodymyr Lobach, Representative, Spectr-Agro
Spectr-Agro has grown steadily since its inception in 2009, but we did not have access to the resources needed to realize the ideas we had come up with. We thus sought further growth by partnering with Sumitomo Corporation, which has excellent human resources, investment capacity, and global creditworthiness and knowledge. As a result, we have increased our customer base by more than 30% in the two years since Sumitomo Corporation's investment, and have grown to the point that we have been able to welcome 100 new employees.
Our decision was right. This service center is an important investment for expanding support to farmers, and it could be called a crystallization of our partnership. We will continue working alongside Sumitomo Corporation to contribute to Ukrainian agriculture.
A look back at the investment decision
Kaoru Hosoda played a part in bringing about the investment in Spectr-Agro, and he has now been seconded to that company. Recalling his earliest days there, he noted, "I clearly remember the view at the HQ on my first day of work. Some staff were interested in me, some were skeptical of me, and some were… Simply I was a new-comer. The first one or two months were tough especially." That is not entirely surprising. The company focuses on domestic sales in Ukraine, so the number of English speakers among its 370 employees could be counted on one hand. It is easy to imagine that the staff might view with suspicion a foreigner who had come aboard after some firm in a distant country called Japan had acquired a stake in the company. Nevertheless, Hosoda continued offering proposals aimed at benefitting Spectr-Agro, eventually winning over colleagues with his enthusiasm, so that now "we are able to work as a family without any barriers due to language or remote work".
Networks, knowledge and deep pockets are among the strengths that an integrated trading company brings to the table, but I sensed that the ability of on-site personnel to deeply immerse themselves in the locale, the community and local organizations is of great significance. Seeing Hosoda at the forefront of his field encouraged me to re-double my own resolve to work just as hard.
Keyword
Europe
Mineral Resources, Energy, Chemical & Electronics Business
Retail Service Operations