Global Network

Japan and Overseas Regional Organizations
Japan Regional Organizations
At Sumitomo Corporation, General Manager for Japan Regions plans Japanese market strategies jointly with related business group and support their implementation.Aiming to expand the Japanese businesses of the entire Sumitomo Corporation Group, including group companies and business group, cross-organizational collaborations are promoted to demonstrate the group's integrated strength.
Business in Japan is operated by: three regional offices (the Kansai Office, Chubu Office and Chugoku Office), under which three branches (the Shikoku Branch Office, Niihama Branch Office and Hamamatsu Branch Office) have been formed; and three subsidiaries (Sumitomo Corporation Hokkaido, Sumitomo Corporation Tohoku, and Sumitomo Corporation Kyushu).
These offices and subsidiaries operate local-oriented businesses in each region, and their activities are supported by Planning & Coordination Dept. for Japan Region and Business Promotion & Development Dept. for Japan Region under General Manager for Japan Regions.

Planning & Coordination Dept. for Japan Region
We are promoting cross-organizational collaboration within and among group companies in Japan, and supporting each organization to implement their strategies through corporate functions.
Business Promotion & Development Dept. for Japan Region
In addition to facilitating strategic collaborations and sales cooperation between regional organizations and business group/companies, we support each organization with new business developments.
Overseas Regional Organizations
The overseas regional organizations have been consolidated into five broad regions— East Asia; Asia & Oceania; Europe & CIS; Middle East & Africa; and the Americas—in order to further strengthen the functions of each regional business, such as the ability to initiate new businesses and secure and develop human resources. This reorganization also makes it possible for us to solidify the foundation of each regional organization and efficiently allocate our corporate resources into growing markets around the world.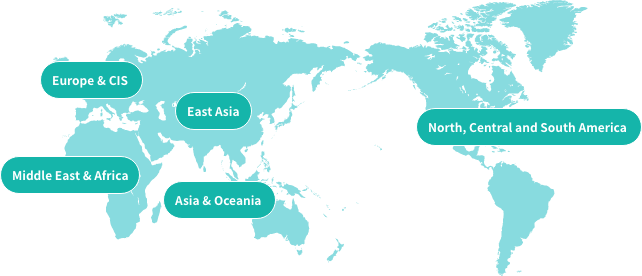 These broad regional organizations work in close collaboration and share common product and regional strategies with business group of the Tokyo Head Office, leading the creation of business overseas by fully utilizing our strengths and functions so as to enhance our earning power on a global basis.
Messages from Regional Heads