Jul. 12, 2012
Sumitomo Corporation
Acquisition of Coal Mining Interest from Australia's Aquila Resources Ltd.
Sumitomo Corporation (Head Office: Chuo-ku, Tokyo; President and CEO: Kuniharu Nakamura) is pleased to announce that it has acquired a 50% stake in the Isaac Plains ("IP") coal mine joint venture in Queensland, Australia held by a subsidiary of Aquila Resources Limited, an Australia-based company engaged in the exploration of coal and other minerals (Executive Chairman: Tony Poli; Head Office: Como, Western Australia, Australia; hereinafter "Aquila") for A$430 million.
Sumitomo Corporation and Vale Australia (IP) Pty Ltd. (hereinafter "Vale"), a subsidiary of Vale S.A., a leading mineral exploration company in Brazil, will mutually engage in mining and selling resources of the IP coal mine, jointly holding IP coal mining interests on a 50/50 basis. The IP coal mine is an open cut mining operation that commenced production in 2006, with an annual production capacity of 2,800,000 tonnes (of which coking coal for steel production accounts for approximately 70% and steam coal for electricity generation approximately 30%), mostly for the purpose of supplying coal for users in Asian countries including Japan. The IP coal mine, for which the right to use railway and port infrastructure has already been secured, is a comparatively low-risk and productive coal mine that possesses effective measures to guard against floods.
In addition, Sumitomo Corporation has also agreed to a right to participate between 20% to 50% in the exploration rights of mining areas in Queensland currently owned by Aquila (up to a maximum of 21 mining areas in total). Upon completion of evaluation of fair market value ("FMV") of the exploration rights currently underway by a third party organization, Sumitomo Corporation will determine its level of participation in the exploration rights as well as its participating ratio based on the FMV. Sumitomo Corporation positions this participation as one approach to acquire a potential development project for the growth of mid- to long-term earnings.
Sumitomo Corporation plans to accumulate valuable assets in resources industries in order to maintain sustainable growth in the medium- and long-term. On the other hand, potential acquisition opportunities including coal mining assets, have become more and more limited these days. Given that it takes much time to develop new resources once an investment decision has been made to begin supplying resources from a mine, which has a limited lifespan in terms of productivity, it is essential to take a proactive investment strategy and human resource development plan that looks ahead five to ten years or more into the future.
In exploring opportunities to collaborate with sizable or leading mineral resource companies as part of its investment strategy, Sumitomo Corporation believes it to be extremely important to have successfully created stable business bases to reinforce the relationships involved in joint projects with Vale and Aquila through discussions on the acquisition of the IP coal mining stake and on exploration rights. In addition, the acquisition of IP coal mining interests is the first deal in which Sumitomo Corporation will act in a primary role in coal mining operations having 50% ownership. At the same time, Sumitomo Corporation will accumulate expertise and know-how for use in future projects and will cultivate human resources.
Sumitomo Corporation will support a sustainable supply of coking and steam coal with the aim of helping stabilize coal supplies throughout the world, and particularly to foster the growth of steel and electricity businesses in Asian countries, including Japan.
<Transaction Chart>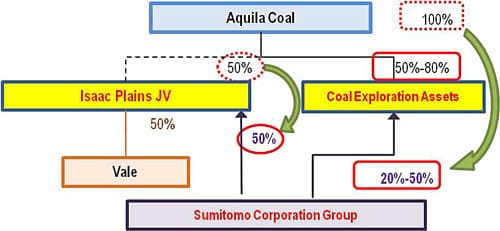 <Profile of Aquila>
-- Official Company Name
:
Aquila Resources Limited
-- Location
:
Como, Western Australia, Australia
-- Establishment
:
March 2000
-- Representative
:
Tony Poli
-- Description of Business
:
Independent company primarily engaged in the mining of coal,iron ore, manganese ore and other resources related to steel materials.
The company was listed on the Australian Stock Exchange (ASX) in June 2000