Mar. 24, 2022

Sumitomo Corporation
Expanding Our Grocery Retail Business in Vietnam
-Strengthening our cooperation with BRG Group to open approximately 50 FujiMart stores by 2028ー
Sumitomo Corporation (Head Office: Chiyoda-ku, Tokyo; Representative Director, President and Chief Executive Officer: Masayuki Hyodo) has signed a shareholders' agreement (hereinafter, "this Agreement") to extend its partnership with BRG Group Joint Stock Company (hereinafter "BRG Group") (Note 1), one of Vietnam's leading, private, multi-sector, enterprises, regarding the full-scale development of the FujiMart grocery supermarket chain (hereinafter "FujiMart"). Based on this Agreement, our plan is to aggressively expand throughout Vietnam, and we aim to open approximately 50 new stores by 2028.

In recent years, the overall grocery retail market in Vietnam has been expanding rapidly due to rising personal incomes and improved living standards bolstered by economic growth. In addition, growing consumer awareness in areas of food security and safety, including hygiene measures taken to fight COVID-19 infections, has led to a shift from traditional retail outlets run by individual proprietors to modern stores, such as supermarkets and convenience stores which offer superior levels of safety and convenience.

Sumitomo Corporation and BRG Group opened the first FujiMart store in Hanoi in 2018, with three currently in operation, and have been verifying market characteristics as well as business feasibility through the operation of these stores. This Agreement was entered into with the aim of aggressively pushing forward with the development of multiple stores. Our plan is to open 5 to 10 new stores per year from FY2022 onward, and we aim to establish a network of approximately 50 stores throughout Vietnam by 2028, including in Ho Chi Minh City. FujiMart offers a product mix, sales floor design, and freshness management tailored to local needs that are based on Japanese-style supermarket operations that utilize the know-how accrued through our operation of the Summit chain, a chain of grocery supermarkets operated by Sumitomo Corporation with approximately 120 stores mainly in the Tokyo metropolitan area. Going forward, we will be promoting digital transformation and improve our operational efficiencies to meet the needs of our customers in Vietnam.

Defining "retail consumers" as one of the key themes for our next generation Growth Strategy in our medium-term management plan "SHIFT 2023," Sumitomo Corporation operates, in addition to the Summit chain, Simple Mart, a chain of small-scale grocery supermarkets in Taiwan. In our FujiMart operations, we will apply the expertise in merchandising, store operations, and store layout and design, etc., which we have accrued in our retail businesses thus far, and by doing so, create a lifestyle infrastructure that will enable Vietnamese consumers to purchase daily groceries with peace of mind. We are also working with BRG Group, our strategic partner in Vietnam, on the North Hanoi Smart City Project (Note 2). We are committed to contributing to the development of Vietnam by meeting the growing demand for urban development due to the country's growing economy and population, and in doing so, create a foundation on which the people of Vietnam are able to build comfortable and exciting lives.
Note 1: BRG Group
A conglomerate engaged in real estate, finance, golf course, retail, and automotive businesses, etc. BRG Retail, the wholy-owned company of BRG Group is operating a countrywide series of BRGMart stores, offering a wide range of fresh and household goods and BRG Intershop stores, selling mainly imported products with the aim to meet domestic diversified customer demand.
Note 2: North Hanoi Smart City project
Together with BRG Group, we are developing an urban area of 272 hectares in the Dong Anh District in the northern part of Hanoi, Vietnam. The aim of this project, which will take the form of a phased development with subdivisions divided into phases 1-5, is to create a "sustainable city."
(Reference material)
■ Photo of FujiMart Store No. 3 (carries roughly 8,000 items, including fresh foods and daily necessities)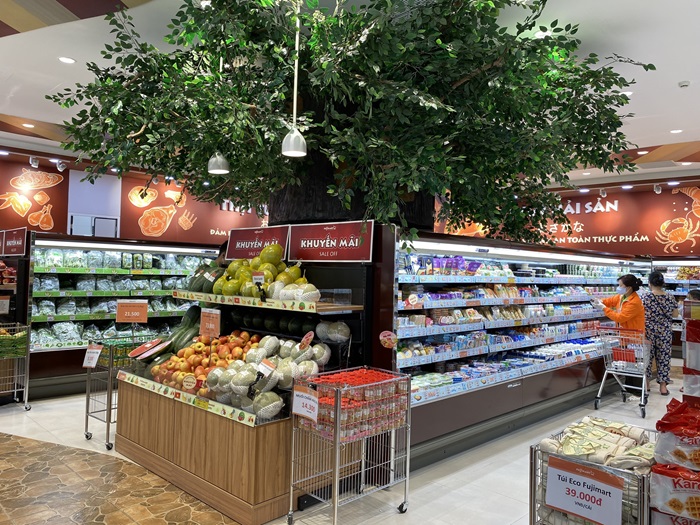 Sumitomo Corporation's Material Issues
Sumitomo Corporation Group positions "Six Material Issues to Achieve Sustainable Growth with Society" as an important factor in developing business strategies and in the decision-making process for individual businesses. Going forward, we will pursue sustainable growth by resolving these issues through our business activities. This project especially contributes to the following material Issues.
Achieving Harmony with the Global Environment
Contributing to the Development of Local Communities and Industries

Establishing a Foundation for Comfortable and Enriching Lifestyles

Providing Diverse "Accessibility"
---

Developing Human Resources and Promoting Diversity

Enhancing Governance